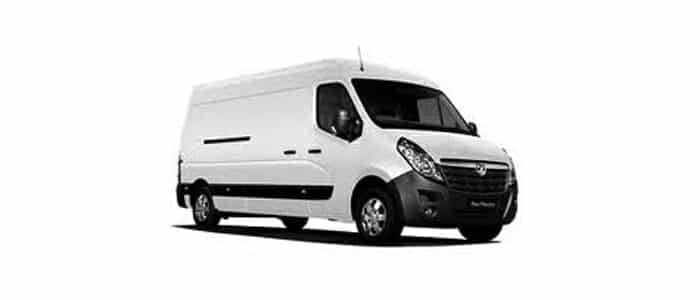 The Vauxhall Movano is a huge seller in the British market, and is one of the most commonly seen freezer vans on British roads. Perhaps that is due to the exceptional versatility of the Movano. It's available in an extremely wide range of sizes and weights, making the Movano one of the most adaptable large refrigerated vans available today.
There are four different lengths of the Movano available, and three different heights. All of the Movano sizes are available in both front wheel and rear wheel drive versions, and there are three different engine specifications to choose from. Refrigerated load volumes go all the way up to a mighty 17 cubic meters, with payloads of up to 2254kgs possible. Even the smallest Movano can pack away 7.8 cubic meters of refrigerated goods. This makes the Movano versatile enough for almost any application where a large refrigerated van is required.
All of the Movano's engines are 2.3 litres, with a six speed gearbox for long distance motorway driving. The engines are available in 100bhp, 125bhp and 150bhp power outputs. Interestingly, the 125bhp engine is also available with Vauxhall's Tecshift automated gearbox, which also has six different gears. The Movano offers a reasonably competitive 35mpg fuel consumption, which compares favourably to other vans of this size. Vauxhall also make ecoFLEX technology available as an option for refrigerated van owners who need even greater fuel efficiency. The very largest Movano versions pump out 249g/km of CO2, but this can be brought down to 199g/km in the ecoFLEX models.
The Movano is one of the most enjoyable large refrigerated vans to drive. The suspension is particularly good, even when the van is completely empty. The braking system is also very responsive.
Vauxhall are renowned for creating highly reliable commercial vehicles, and the Movano exemplifies this. It only needs to be serviced every 25,000 miles, or once every two years.
Vauxhall have worked hard to create a cab interior that is practical as well as attractive. There is no shortage of storage opportunities, and they have also included several features that mean the Movano can be used as an effective mobile office. The driver's seat is also incredibly comfortable. It can be adjusted in six different ways, and also has armrests. This means that Movano drivers of all sizes can handle long journeys with ease.
The standard specification is packed with equipment. The most reassuring feature is the load adaptive electronic stability control, an essential piece of equipment that ensures safety in refrigerated van driving. There's also ABS and EBD, and some more frivolous but still very welcome features such as electric and heated door mirrors and electric windows. The included remote central locking with deadlocks and remote control anti theft alarm can help bring down insurance premiums.
Most businesses that are looking for a large refrigerated van will find something to suit them in the Movano. The wide range of sizes and weights make it one of the most versatile commercial vehicles on the road.
New Vauxhall Vehicles
USED Fridge Vans In Stock by Size
Vauxhall Movano Van Refrigeration Systems
There is no shortage of refrigeration systems available to pick from.Depending on the goods being transported, the temperature required can vary from 30C to -30oC. Although the most frequently encountered arrangement is to have a solitary loading compartment, there are specific scenarios in which a Vauxhall Movano refrigerated van will have a lot of compartments, each kept at a different temperature. For certain applications, it's going to be necessary to possess a refrigeration van which will continue to work even when the engine is switched off. One common use for this type of Vauxhall Movano refrigerated van is al fresco serving of chilled food at weddings, festivals and other outdoor occasions. When this is needed, we will need to use a backup power system. This means the electricity is drawn from a peripheral power supply, such as a standard single phase or three phase connection, keeping the product perpetually cold through the occasion. Our relationships with major Vauxhall Movano freezer van equipment manufacturers means that we can create excellent value bespoke solutions, irrespective of your prerequisites.
Freezer/Refrigerated Van Insulation
It is equally as important to pick the best type of insulating material for the Vauxhall Movano freezer van as it is to choose the best sort of refrigeration system. We believe there's certainly no better alternative for insulation material than Styrofoam. It is not only extremely light, and that means you can carry a heavier load, in addition, it has incredible thermal insulation properties. We use it in every vehicle we provide. A different thickness of Styrofoam will be utilized for different levels of insulation, with comparatively thin Styrofoam (50mm) employed in cooled compartments, moving to 100mm thick Styrofoam for deep freeze compartments. After the insulating material is installed, a protecting 'finish' will be implemented. This is done in two ways: wet-lay or dryline. In our opinion, wet-lay is the best method, particularly for carrying food. The inside of the compartment is coated with a resin, which dries to make an impregnable coating on top of the insulation.Many of our Vauxhall Movano freezer vans engineers have even won awards for their work, and we are extremely fortunate to work with them. If the finishing of resin inside the Vauxhall Movano refrigeration van is broken at any given point, it can be fixed exceptionally readily. This is an additional benefit of the moist-lay coating. Dryline coating utilizes rigid panels that are installed in the refrigeration vans and then lined using a sealant. We've found that this sealer can sometimes harbour mould, an enormous danger in food transportation and the primary reason we use wet-line coating exclusively.
Vauxhall Movano Refrigeration Van Engineers
They are the ones we all turn to for answers to the many day-to-day questions we get from clients, and they're the unsung (with the exception of this uncommon pat on the back!) hero's in regards to keeping the build process smooth and furthermore, on time for our clients! Our engineers can also be tasked with producing bespoke refrigeration systems for customer's specific requirements, in both large and little Vauxhall Movano refrigerated vans.
Van Warranty
You will get a 12-month manufacturers warranty on all of our products, no matter if they come in our new or second-hand Vauxhall Movano freezer vans. That's because all of the refrigerated van conversion equipment and insulating material we supply is brand new. We always use Hubbard and GAH refrigeration equipment in both our small and large Vauxhall Movano refrigerated vans available for sale, unless you have some specific requirements that these companies cannot meet. We really believe this is the top equipment available on the market, and they've got an excellent after sales care service.They have engineers positioned throughout the UNITED KINGDOM mainland and visit the client's place of work (or wherever the van might be if out on deliveries) for any servicing / guarantee requirements.
Glacier Vehicles Video