Refrigerated Vehicle Conversion
We at Glacier Vehicles have developed a new light weight, durable, and cost effective insulation for refrigerated vehicles, allowing us to convert any panel van, regardless of make and model, into a fridge / freezer van for your needs. That's just one more way Glacier Vehicles aims to works with your unique needs.
Better Quality, Better Design
Glacier Vehicles is utilized by both small and large companies alike to turn their existing panel vans into a fleet of efficient refrigerated vehicles, thanks to our long-standing reputation for competitively priced, high quality conversions.
Our team of knowledgeable sales reps will get to know you and your business and understand your bespoke refrigeration needs in order to help pinpoint the type of conversion right for you. You can be rest assured that we will help you select a conversion that meets all of your business's bespoke, daily needs.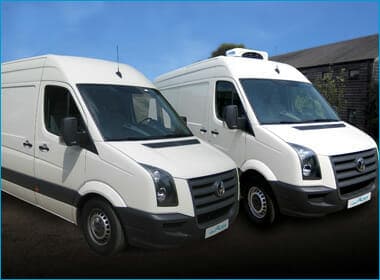 Refrigeration Systems
Much like insulation, the type of refrigeration system your van requires will be largely based on your business's daily requirements in product, drops, temperature, and so on. Glacier Vehicles isn't interested in mesmerizing you with a lot of technical talk, only to find the perfect refrigeration system for your vehicle and your needs.
Lead Time
Glacier Vehicles employs our very own team of engineers, and as such this allows us to offer one of the quickest installation and build times in the industry. Lead time will greatly depend on the required equipment as well as any bespoke installations, but we always make sure to provide you with a date for completion when we confirm your order.
Collection or Delivery?
Glacier Vehicles understands what it means to be so busy with your business you cannot afford to leave the property! We offer you the option for our team to pick up the van from your place of employment and drop it off again once the work is complete, allowing you to continue with the day-to-day of your business and let us worry about the conversion.