refrigerated vans for Beverages from Glacier Vehicles
Beverages are an essential part of outdoor events, from beachside weddings to concertsin the city centre. Even corporate gatherings and food fairs need cold drinks to wash down delicious desserts.
If you are in the beverage transport business, you need a reliable refrigerated van to get your products to a parched crowd conveniently and efficiently. Maintaining quality control can be difficult given various supply chains, traffic and safety concerns. But does it have to be?
At Glacier Vehicles, our specially assembled (and converted) refrigerated vans give beverage manufacturers, suppliers, and retailers the competitive edge with a mobile platform. Deliver your refreshing drinks to thirsty customers at festivals, galas, fairs and special events with our fully-equipped refrigerated vans. Your business could always use the extra advantage.
Assembling A Masterclass Vehicle For Drinks Transport
Perhaps the challenge you're facing is how to keep those cans of Kraft beer or bottles of soda at optimal temperature by the time the van driver gets to the other side of town, several miles away? We have all been there before, and it is a legitimate concern.
Experience has taught us that the payload after conversion is one of the most important things to consider when building a refrigerated van for a drinks distributor. This is because of the weight of the drinks and the safety-specific industry regulations for goods transportation.
Each make and model of the
panel van
has its own payload capacity after conversion. We also consider fuel consumption and the driver's comfort. Thanks to cutting-edge technology, our highly-insulated lining kits offer highly-competitive payload capacities within the UK market. The chiller van conversion is calibrated at 50mm insulation.
A unique conversion will allow your van to work at temperatures ranging from 0⁰C to 8⁰C, ideal for keeping beverages cool and refreshing between deliveries. Our engineers take their time to understand what you need to transport and recommend the best commercial van for your business' needs.
refrigerated van; Extra Features For An Unbeatable Advantage
Do you like to customise your vehicles in a specific way? Because we understand the importance of exclusivity. Our conversions range from small to large, used or brand-new vehicles. Let uswork our magic, both aesthetically and in cooling performance.
There are additional features available within our conversions. We believe you will find at least some of them valuable to your business. For example, our floor pallet protection is an optional add-on that provides extra protection for the floor and interior of the fridge van. It protects the inside from premature wear or damage when loading crates or pallets into the container.
Another useful feature is a range of load restraints. They prevent the movement of goods in transit, while providing safety precaution for the driver as he/she enters and exits the van.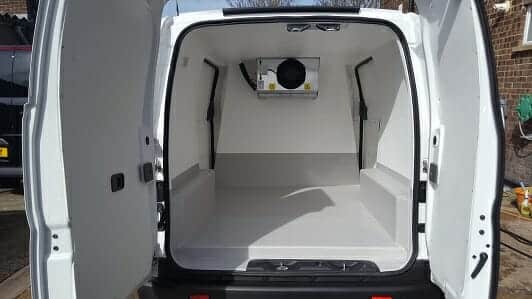 Product Details
At Glacier Vehicles, our drink-dispensing refrigerated van is your ideal business companion. Want to keep your customers happy? This van meets all delivery and safety requirements to keep your drinks in perfect condition at the point of supply.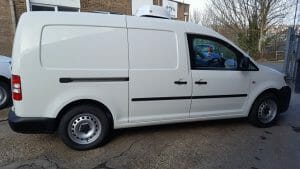 Our vans come in various makes and models, ranging from Ford to Mercedes, Citroen to Peugeot. Some are ready to go to work from site, others are open to the inclusion of additional features of your choice.
Our Toyota Hiace van features exterior drinks dispensing taps, as well as custom-designed shelving and storage features for your specific needs.
The Mercedes Vito van has a special transport cooling system with three partitions of high-cooling capacity. If you want a SlimLine™ evaporator attached to the ceiling of the cargo area, we can do it according to your spec.
Features Of Our Commercial refrigerated vans
When buying a commercial fridge van, it is good to know what you are getting. While we take conversion requests, some of our drinks supply vehicles come fully-equipped and business-ready.
Special features for quality performance include;
IVS moulded insulation units featuring 60mm HACCP- and ATP-compliant high-density foam
Securely-sealed fibreglass lining for high-thermal quality
Long-lasting, light composite flooring with an incorporated stainless-steel floor drain that allows quick cleaning and sanitisation.
Unloading and loading features at the sides and rear entry to enhance the vehicle's operational flexibility
Low voltage (LED) lighting
Retractable awning to cover the serving area
Power options for onsite operations including battery, plug-in, and solar devices
Benefits Of Buying A refrigerated van From Glacier Vehicles
Unlike some fitting companies, our vans are designed in perfect condition on the first go. We rarely get reworks because we understand your needs from the very beginning. Some benefits:
No need to tear down or set up anything- buy and drive
No waste- good provision has been made for cans, kegs, and barrels
We will display your brand name and logo boldly on the van exterior; a mobile billboard for your business as you drive around
The short refrigerant- at under 12"- enhances cooling efficiency while reducing maintenance costs
On a broader application, our refrigerated vans are perfect for soft drinks and alcoholic beverage suppliers with distant customers.
If you run  pubs, microbreweries or catering companies, you can conveniently set up a cold-drinks stand at any location and start serving within minutes.
Ensure Transport Compliance With Glacier Vehicles
Every year, the UK food and drinks industry supply chain distributes more than 6.3 billion crates of products.
Today, customers expect their deliveries to reach them within 24 hours and in pristine condition. This makes it essential for supermarkets and distributors to use only vehicles that can meet these requirements.
Contamination is a major threat for the food and drink industry; thus, hygiene is always a priority. One of the requirements of the Food Standards Agency (FSA) is that "Vehicles must be designed and built to allow for proper cleaning and/or decontamination".
Therefore, all Glacier Vehicles' commercial beverage and drinks fridge vans are equipped with easy-to-clean interiors and surfaces. They also contain adequate draining facilities to enable more efficient cleaning, allowing for quicker and safer deliveries.
Unhygienic vans don't just pose a risk to your customers but can spell disaster for your reputation. You don't want to spoil your good name. That said, you have nothing to worry about if you buy your vehicles from us. We will even deliver them to you, free of charge.