Are you in need of a large used fridge van for transportation of products or produce in your supply chain? If so, Glacier Vehicles has the large van you need for your logistics operation. We can help your business boost its performance and grow, by providing you with a large, used, temperature controlled vehicle at a great price! All our large used fridge vans are top of the line, providing you with maximum storage capacity, solid fuel economy, impressive comfort, and much more.
Once you let us know what you would like to accomplish with your large used fridge truck, we will be able to recommend the most suitable option for you from our superb range of refrigerated vehicles. Give us a call now on 0208 668 7579 for enquiries.
What is a Large Used Fridge Van?
Large used fridge vans are used by a variety of businesses across the UK for commercial purposes. A large fridge or refrigerator van is a truck with a large storage space, that has been installed with a refrigerator unit and insulation to keep its cargo cool during transportation. At Glacier Vehicles, we have a wide range of petrol and diesel large used fridge vans. Based on your budget and/or other needs, we can provide you with a new or older model large used fridge vehicle, from top manufacturers such as Mercedes, Peugeot, Ford, and Nissan.
If what you require is a used jumbo refrigerated van with extra storage space, we offer full fridge van conversion services that are tailored to meet your unique specifications and storage requirements. Also, if there's a specific type or model of large used fridge van you would prefer for your logistics and transportation needs, you can contact us to discuss the details. In the unlikely event we don't have your preferred large used fridge van in stock, we can source one for you in next to no time.
What Are Large Used Fridge Vans Used For?
As mentioned earlier, a variety of businesses in the UK have profited from owning their own large used fridge vans. This includes businesses in the hospitality, science, research, and medical industries. For instance, if your organisation frequently transports food, drinks, flowers, medical supplies, scientific material, or other cargo at specific temperatures, you will definitely benefit from owning your own refrigerator truck. The larger your large used fridge van is, the more cargo you will be able to transport in a single trip. Be assured that we have an impressive variety of fuel efficient petrol and diesel large used fridge trucks available for you to pick from, for your smooth and safe delivery of fresh or perishable products. Give us a call today if what you need is a large used fridge van that can provide guaranteed food safety, security, fuel economy, speed and large cargo space.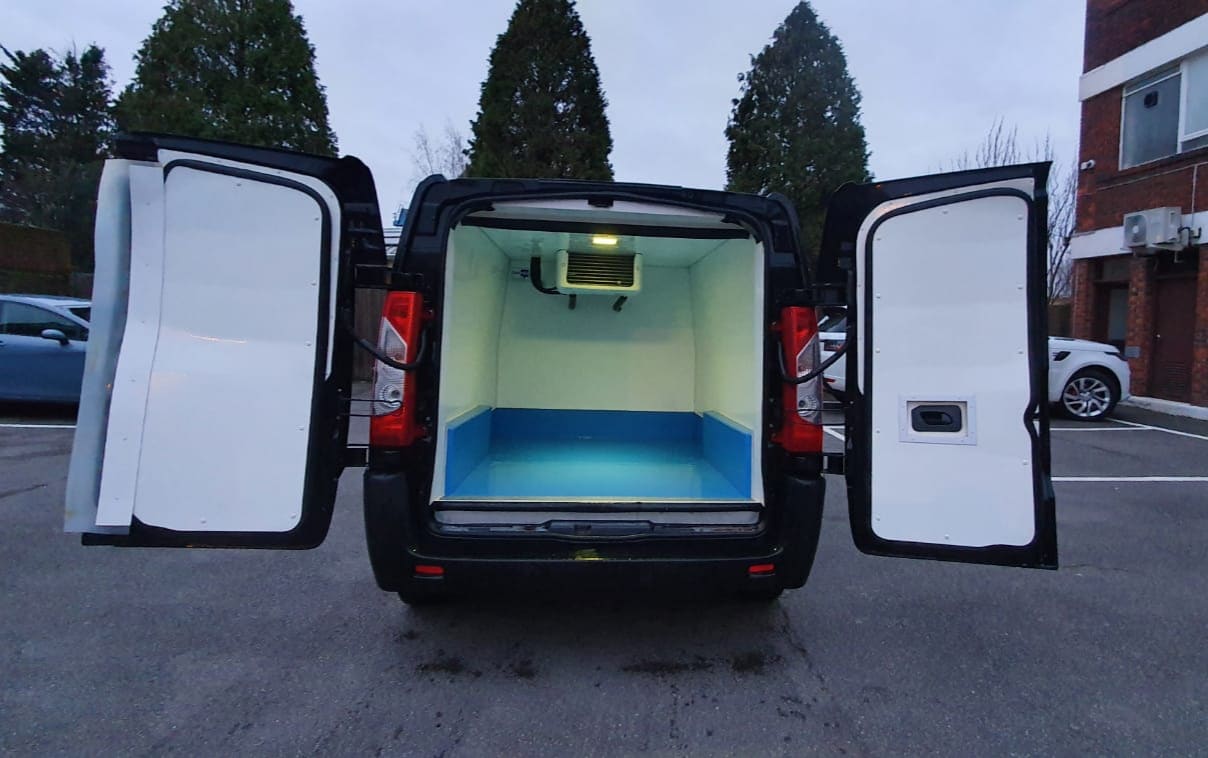 If transportation and delivery of perishables, or other delicate cargo requiring stable temperature-control, is key to satisfying your customers, let us help you deliver them with one of our large temperature controlled vehicles. Our large used fridge vans can be especially beneficial to your organisation if you need to transport your sensitive cargo across long distances. A large used fridge van from Glacier Vehicles will keep your cargo chilled over long periods of time and distances, thanks to our professionally installed top of the line insulation and refrigeration systems. Regardless of whether you specialise in the supply chain, cold chain, or distribution industry, we have got your transportation and logistics company covered.
Styrofoam :
Depending on your specification for a large van conversion or preference when buying a large used fridge van from our lot, we install Styrofoam with density of 50mm and up to 75mm thickness. This helps to minimise cooling escaping the van.
Wood boarding : The wood used in this process is treated to prevent rot that can result from moisture from condensation. This will keep sensitive cargo such as food products safe. The wood treatment is carried out with food safe, anti-bacterial fungicide.
Fibreglass : Fibreglass is installed as interior sheeting for insulation purposes. This material is considered the most effective material to be used for insulation due to its superb ability to minimise heat transfer. The fibreglass also acts as a keying agent for the GRP resin, which is applied next.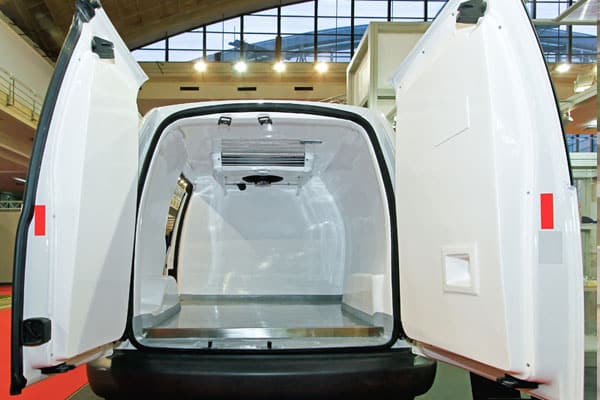 GRP resin interior : The interior of the large used fridge van will be finished with GRP (Glass Reinforced Polyester) resin with a wet lay roller. This is similar to resin flooring, which makes the cargo area of the large refrigerator van 100% hygienic when dry, as well as easy to clean.
Another aspect of the cooling system of our temperature-controlled vans is the direct drive mechanism. This functions by using the engine to directly power the refrigeration compartment of the van. The engine system is modified to generate enough power to safely and effectively power the fridge system which incorporates a condenser, a compressor, and an evaporator.
Temperature control
Temperature control is another crucial aspect of the design of our large used fridge vans. It takes advantage of air from outside which is drawn in and circulated to hot parts to keep them cool. The cooling compartment of the fridge truck also comes with a thermostat that allows you to effectively regulate cooling in the fridge compartment.
The partition wall that separates the cargo area from the driver cabin is mounted in a way that ensures the cool temperature of the cargo hold doesn't inconvenience the driver or passenger.
Thermal insulation
The cargo/storage area of our large used refrigeration vehicles feature an insulated airtight compartment. Insulation for temperature control is essential in a refrigerator van as it restricts the cooling from escaping the truck and keeps external heat from coming in. We deliver high performing cooling trucks by using not only high-quality insulation material, but also installing them in thicker layers of up to 50mm that can maintain the temperature of your cargo at a little over zero degrees centigrade. The insulation you will find in our large used fridge vans is far beyond what you are accustomed to in your home fridge.
What Components are used in your Large Used Fridge Vans?
To produce large refrigerator vans that are capable of optimal, consistent cooling for long periods, we install top of the line refrigeration systems. Most of our refrigerator vehicles feature modern GAH refrigeration systems. GAH is a global leader in transport refrigeration. Our large used fridge vehicles feature a 2 temp fan kit and a dual compartment insulated coolbox/cargo compartment. The fridge van can attain and maintain temperatures of between 0 to 5 degrees Celsius with this setup.
Within the cargo hold, what you will find is a well-lined interior surface of insulated panels which our engineers have equipped with light GRP sheeting. This delivers durability and long-term safety in a used fridge van purchased from us. The interior also features load bearing floor panels that can be customised by our specialists to suit your business needs. After installation of the refrigeration system, all our vehicles go through multipoint checks, and comprehensive MOT testing to guarantee the cooling vehicle is fully prepared for the rigorous transportation or logistics needs.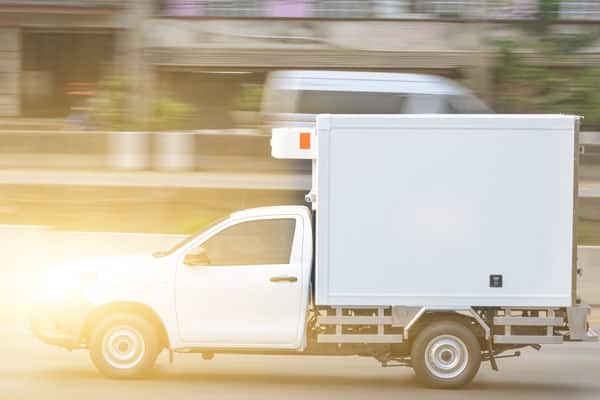 Large Used fridge van Cargo Options
Depending on what you intend on using your large fridge truck to transport, we can provide you a large used refrigeration van with the following cargo options:
Meat rails
Slide drawers
Slip Resistant floors for wet loads
Standby capability
Extra shelving or racking
Strip curtains
Types of Large Used fridge van
Our stock list of large used fridge vans cover a wide variety of manufacturers, models, and designs. You can contact us for a LWB (Long Wheel Base), MWB (Medium Wheel Base), or a SWB (Short Wheel Base) vehicle. LWB is the distance between the centre of the rear wheel and the centre of the front wheel. An LWB vehicle has the longest available base length. Vans with long wheelbases, as in the case with most of our large used fridge vans, offer greater comfort on rough roads and feel more stable at speed. Such vehicles also come with far more storage space. Bear in mind that the size of an LWB vehicle will vary from manufacturer to manufacturer, and from model to model. For a large used fridge van with a long wheel base that matches your specifications and unique needs, please contact us for a consultation on 0208 668 7579, or via email.
Recommended Vehicles
The medium to large used cooling trucks we have in stock are 3 to 4 pallet vans, which makes them between 2.9m and 4.2m in internal length. They are capable of carrying a payload of between 800 kg and 1300 kg with ease. Once you tell us your unique specifications and goals for the fridge van, we can recommend you a suitable and budget friendly option from one of the following:









Every large used cooling van sold by us undergoes thorough HPI checks and performance tests before it is delivered to a customer. This is how we have, over the years, maintained our distinct reputation for consistent delivery of reliable and safe vehicles, that help our clients take their business to new heights.
Van Features
As standard, all our vans come with the following:
MOT Test: This is a yearly test that we perform on large used fridge vans before delivering to you. The test covers vehicle safety, roadworthiness, and exhaust emissions. Proof of an MOT test is proof that you are receiving a vehicle that'll perform to your satisfaction without hiccups.
Multi Point Check: The vehicle will also go through a comprehensive multi point check that covers mechanical and structural inspections, including a main functions and controls check, and a check of the interior and bodywork.
Service.
Warranty: All our used fridge vans come with the remainder of their manufacturer's warranty. We also provide an excellent 12 month warranty on all vehicles sold by us. And to boost your confidence, the brand new fridge system installed on your vehicle will come with a 12 month warranty of its own.
Call Outs to mainland UK (extendable option): We are available for call outs to all parts of mainland UK.
Free of Charge Delivery: Regardless of where you are in the UK, we can have your selection of large used fridge van delivered right to your doorstep at your convenience. This service is available regardless of whether you are buying one or multiple used vans.
Conversions are New: You have our guarantee that while the vehicle might be pre-owned, the refrigerating system installed is brand new. All large used fridge vans on our lot are newly converted to ensure you are getting a vehicle capable of optimal performance for years to come.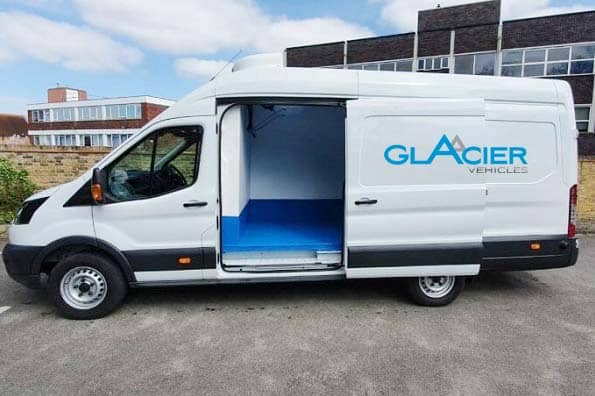 Standby Facility: Our cooling vehicles come with standby facilities which can be plugged into a regular outlet. This can be very useful for fridge van owners that are in the catering industry or those that deliver their services on the road.
Glacier Vehicles is unique in the industry with not only several decades of experience and unmatched knowledge of all types of Refrigerated van on the market, but also in our dedication to our customers over our own bottom line.
Optional Extras
Aside from the standard features above that come with all our vehicles, you can choose to customise the large used fridge van of your choice with the following options:
Alarm: We can install an alarm system to your refrigerator truck for extra security.
LED daytime running lights: This option is especially beneficial for businesses that operate in regions with low visibility during the day. The lights will cut through snow and rain to not only illuminate the road, but also warn other road users of your presence.
Air Conditioning: This will provide added comfort for drivers and passengers in your large used fridge van while on the road.
Bluetooth: This is great for those who want the ability to pair their phone with the truck, so they can have hands-free access to it while driving.
Cruise Control: A comfort feature that allows the driver to relax a bit when there's nothing but straight, open road ahead.
Rear Parking Sensors: To avoid dinging your vehicle against other vehicles or structures while parking, we can provide you a large used van with this very useful feature.
Sat Nav: This installation will help ensure the driver of your van never gets lost again, and make delivery appointments on time using the fastest route.
Visit us at our office in Surrey, or give us a call on 0208 668 7579 to discuss custom features you would like your large used fridge van to have. We would also be happy to provide you a free no-obligation quote.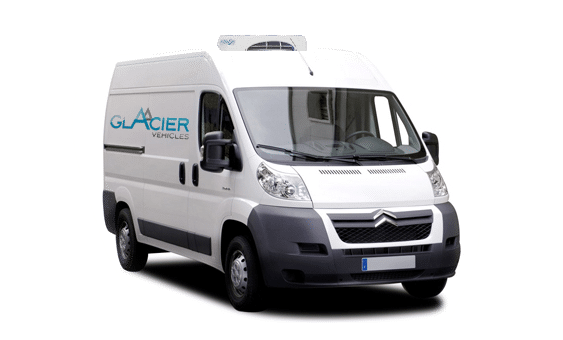 How many large used fridge vans do you keep in stock at your dealership?
Our stock list is regularly changing as we are constantly selling and updating our stock with newly used vehicles. Because our stock is regularly updated, you are bound to find something new and interesting that we have on offer, regardless of when you check on us.
In the unlikely event we do not have the specific make and model of large used fridge van you desire, we will be happy to speak to our experts about sourcing the one you desire on your behalf. We are confident that we can find and deliver the refrigerating truck of your choice at a price that will make you happy.
How much do Large Used Fridge Vehicles Cost?
Glacier Vehicles is committed to delivering top-of-the-line large used cooling vans at attractive prices. Prices of used large fridge vans will vary from van to van based on their model, brand, and other factors, ranging anywhere between £15,000 and £27,000. To facilitate your purchase, you can access our flexible payment options and financing solutions. This will help you spread the cost of your purchase over months or years while you enjoy possession and use of your fridge van. Be assured that we have a flexible finance solution that matches your unique requirements.
We can also advise you on insurance, motor vehicle tax and VAT, and whether a diesel or petrol engine will be more cost effective for your business operations. For an accurate quote on price of the specific vehicle you desire, please give us a call today on 0208 668 7579 for a free quote.