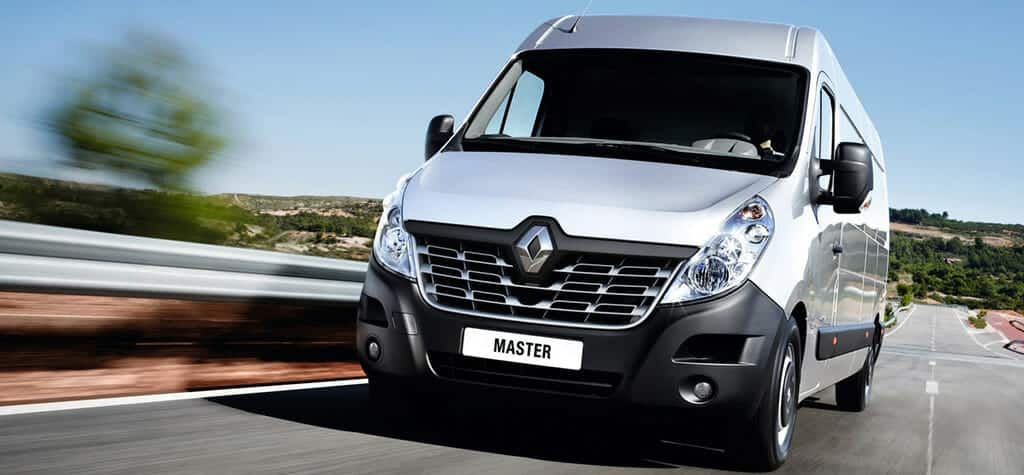 Are you looking for a freezer van that can meet the demands of your logistics business? The new Renault Master should be high up on your list of possible additions to your fleet. With a wide range of model options, spacious cabin and large amount storage space, the 2016 Renault Master is a large panel van with a difference.
Engine Options
The Master comes with Business and Business Plus specifications. refrigerated van businesses can choose from four wheelbase lengths and three roof height options.  The engine features the latest technology from Renault and is available in 110bhp, 125bhp or 150bhp turbocharged engine options.  Fuel economy on the Master is impressive, as it returns between 40.9mpg and 44.8mpg depending on the engine model you go for; although not market leading this is certainly solid in terms of the average MPGs out there at the moment. There is equally the option of a semi-automatic gearbox if you would rather not go with the 6-speed manual gearbox that comes as standard on the van.
Load Space
On the Renault Master, load space and accessibility are extremely good.  There is a sliding door that opens between 1,050mm and 1,270mm, which can fit a Euro pallet in both directions, and there are up to ten anchorage points on the floor for when there is need to keep your load stable. The Master also has the capacity to take up to 2245kg weight; not too shabby!
Inside the Cabin
On the "Business Master", there is a DAB radio and electric front windows, whilst the "Business Plus" Master also features air conditioning and rear parking sensors.
There is plenty of storage space on the cabin of the Master as well, allowing valuable items to be kept away from plain sight. This includes storage spaces under the seat.  The design of the storage spaces ensures ease of reach and is symptomatic of the terrific functionality of the design of this van.
For optimal connectivity, there is a mounted Smartphone cradle, USB and Bluetooth connectivity.  On the Business Plus model, you can fold the passenger seat in the cabin to create a flat, sturdy table that can double as a work space.  The model also features the much talked about wide view mirror, which is designed to help you see into your blind spot.
Safety Systems
Regardless of the Renault Master option you choose, you will enjoy state-of-the-art ESC, hill start assist, extended grip control, as well as Trailer Swing assist (technology for ensuring controlled maneuverability even at full payload capacity).
Our verdict on the new 2016 Renault Master here at Glacier Vehicles is that it is a reliable and practical work vehicle that offers a wide range of options, allowing you to tailor your van to meet your specific freezer van needs.