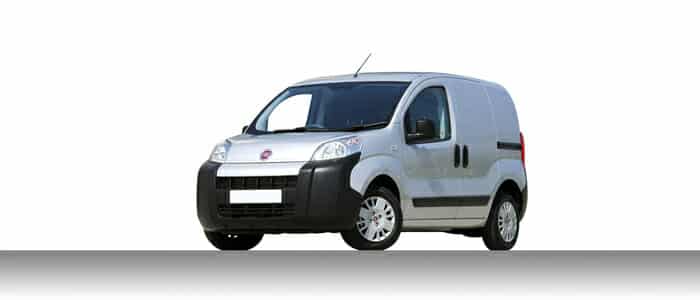 The Fiorino is a small refrigerated van with a refrigerated load capacity that belies its small size. It's incredible just how much can be stuffed into such a compact van. It's also a pleasure to drive, with great performance and highly economical fuel consumption.
The Fiorino has a refrigerated load bay with a cavernous 2.8 cubic meters of volume. This has an almost "Tardis" like effect, considering that the van is only 3.8 meters in length.  It's also incredibly easy to load, with a full size sliding door on the nearside and twin doors on the back. The suspension sits low on the ground, which makes it incredibly easy to load and unload heavy refrigerated items. Purchasers also have the option to add a second sliding door on the far side if required. The Fiorino also has no problems hauling a fairly mighty payload compared to its size. It can haul 660kg of refrigerated goods with no problems at all, which is comparable to some larger vans.
It's perfectly designed for driving in the urban environment. The small size, responsive steering and punchy engine makes navigating convoluted city streets a breeze.  While it isn't ideal for extremely long cross country journeys, it can handle higher speed jumps between nearby towns and cities without any problems.  Buyers can choose between two different engines. They are both 1.3 litre, with either a 75bhp output or a 95bhp output.
The extraordinary "Tardis"-like dimensions can also be found in the driver's cab. It really is remarkable how spacious this refrigerated van is. Even tall drivers will be comfortable in here, especially since the seat and steering wheel are adjustable for height. The standard specification includes plenty of excellent in-cab features such as a multi-function steering wheel, a powerful RDS stereo radio/MP3 compatible CD player, and Bluetooth functionality. Surprisingly for a van in this class, the standard specification also includes a Blue&Me Tom Tom satellite navigation system, which has become a practically essential piece of equipment for urban refrigerated deliveries. Even with goods safely stored in a chilled cargo bay, time can be of the essence with certain products. The van also comes equipped with ABS brakes (with an EBD electronic brakeforce distribution system) and a driver's airbag.
It's not only a very comfortable and spacious refrigerated van, it also scores well on the fuel emissions scale. Excellent fuel economy is to be expected on a commercial vehicle of this size, but the 65.7mpg on the combined cycle that the Fiorino achieves is impressive even in the context of its class.  The standard specification also comes equipped with an "Eco Drive" trip analysis system that analyzes trip data in order to increase fuel economy further. The Fiorino is the perfect refrigerated van for deliveries in urban areas. It packs a considerable punch for such a small commercial vehicle, with a surprisingly large payload volume and maximum load weight that you just won't find in many vans of this size.  It's also extremely economical, and has a reputation for reliability.
Fiat Fiorino Van Refrigeration Systems
There are a variety of refrigeration systems on the market today. A variety of temperatures are available inside refrigerated vehicles, from a relatively ambient 30c to a minus 30c deep freeze. These temperatures change according to the product within. Some Fiat Fiorino freezer vans possess a range of different compartments kept at differing temperatures. There can be two, and some even have three, although the most frequent arrangement is just to have a solitary refrigerated compartment in a single vehicle. Sometimes the continued operation of the Fiat Fiorino refrigeration van will undoubtedly be required even with no engine running at all. This scenario is most usually found with companies who want mobile Fiat Fiorino refrigerated vans to serve cold products during outside events. When this is needed, we shall need to use a backup power system. This means the power is drawn from an external power supply, such as a regular single phase or three-phase connection, keeping the merchandise perpetually cold through the event. Glacier Vehicles work with all the leading refrigeration manufacturers and can offer and fit the required refrigerator / freezer equipment to cover any bespoke requirement our customers have.
New Fiat Vehicles
USED Fridge Vans In Stock by Size
Freezer/Refrigerated Van Insulation
Choosing the right type of insulating material is essential also. This will work in tandem with the refrigeration system to create a temperature which is perfect for your merchandise. We use Styrofoam insulation exclusively, as we consider its blend of lightweight and thermal insulation properties make it the finest material to insulate a vehicle.For cooled temperatures ( 5oC to 0oC) 50millimeters Styrofoam is employed, for moderate frozen (0oC to -18oC) 75millimeter Styrofoam is used and for deep-frozen (-18oC to -30oC) 100mm Styrofoam is necessary. There are two different alternatives to 'finish' the insulation: wet-lay and dry-line. We believe that wet-lay is undoubtedly the superior method, as once the wet resin has been installed and completely dries, it creates a hermetically sealed environment for food products to be transported in. That is why it is the only method we use.Many of our Fiat Fiorino freezer vans engineers have even won awards for their work, and we are extremely fortunate to work with them. The internal coating that is created by the wet-lay insulation is also very simple to repair in case of damage to the Fiat Fiorino freezer van. The chief difficulty with the more recent dryline method of insulation, is that due to this being of a pre fab construction, once the roof, floor and walls have been installed in the rear of the panel van, the connecting sides of the panels are filled with a sealer which, as time passes, can perish and have cause for condensation to penetrate the insulation itself and cause mould to form, which is never good when carrying food produce!
Fiat Fiorino Refrigeration Van Engineers
They are the ones we all turn to for answers to the many daily questions we get from customers, and they are the unsung (with the exception of this infrequent pat on the back!) hero's in regards to keeping the build process smooth and furthermore, on time for our customers!In addition to the fitting the refrigeration systems, our engineers undertake any and all of the bespoke freezer van requirements our clients have.
Van Warranty
We want to provide a service that will enhance and benefit your business/ personal needs. You will get a 12 month manufacturers guarantee on all of our products, regardless of whether they are in our new or used Fiat Fiorino freezer vans. That's because all of the refrigeration equipment and insulating material we supply is brand new. We always use GAH and Hubbard refrigeration equipment in both our small and large  Fiat Fiorino refrigerated vans available, unless you've got some particular requirements these companies can't match. We actually believe this is actually the top equipment on the market, plus they've got an outstanding after sales care service.They have engineers positioned throughout the UK mainland and visit the customer's workplace (or wherever the van might be if out on deliveries) for any servicing / warranty requirements.
Glacier Vehicles Video