Glacier Vehicles Pharmaceutical
With a yearly turnover of £60 billion, the UK's pharmaceutical industry is one of the most profitable business sectors in the world. The demand for safety and better health has increased the need for seasonal vaccination programmes and revolutionary new vaccines.
It is of utmost importance that vaccines and medicines be kept in optimal conditions, as they are extremely fragile. The NHS has issued strong warnings in this regard. Failure to follow this can putthe user's health in danger and place healthcare organisations at risk of reputational damage and legal penalties. To avoid this, pharmaceutical companies must ensure that their fleets of refrigerated vans meet specified standards
Keeping Vaccines And Medicines At Optimum Temperatures
Pharmaceutical products lose their effectiveness when they are not stored in the right temperature and can then have a fatal effect when administered to patients, warns Public Health England. In line with this, the recommendation of The Royal College of Nurses (RCN) regarding temperature is that vaccines should be stored in bespoke vaccine fridges during transportation. Theideal temperature ranges for these arebetween +2°C and +8°C – depending on the manufacturers' recommendations. Failure to maintain this results in wastage and unwanted costs to the NHS.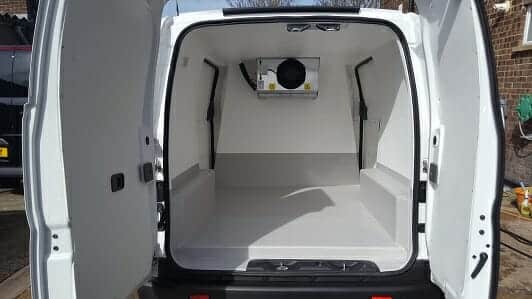 It has been suggested that vaccines can be frozen, however, frozen vaccines lead to bigger problems. Reactogenicity can result in the vaccines causing adverse reactions such as fever, bruising, redness and swelling in patients.
Therefore, it is important that the temperature be kept consistent at all times during transportation. To achieve this, vehicles have to be fitted with effective and high quality temperature controlled facilities. Even in cases of vehicle break down, the refrigerator system in the transport system must be able to keep pharmaceuticals cool and avoid any permanent damage. The financial cost of damaged products can beincredibly high, as shown by the loss of £255 million in 2017 alone. This has had a domino effect on the cost of vaccines, which have skyrocketed as a result. The NHS vaccine programs cost around £200 million a year, if there were even just one spoiled vaccine monthly in each surgery in the country, it would cost an extra £4 million a year. Do the math and see how much loss would be incurred on just vaccines. Temperature fluctuations are a big factor in the spoiling of vaccines and,besides the financial cost, patients could be in danger. All the more reason that only the best quality refrigeration vehicles should be used for pharmaceutical distribution.
Such important and temperature-sensitive cargo demands the very best care. Pharmaceutical couriers may need refrigerated vans with a range of temperature applications, and multi-temperature compartments to cater for complex operations. Additional standby facilities and temperature recorders can also enhance the stability of any cold chain that handles pharmaceutical products.
Glacier Vehicles Cares For Your Refrigerated Van Needs
The logistics of pharmaceutical transportation are complicated and can prove costly if proper precautions are not taken. Budget cuts are hitting the NHS and health care companies are becoming more financially wary. Every extra, unnecessary cost is being avoided as much as possible, that includes the extra cost incurred as a result of damage to the freight being transported as a result of incorrect temperatures or delayed journeys.
This is where Glacier Vehicles comes into place, with our reliable, top of the range fleet of refrigerated and freezer vans. Glacier Vehicles are the perfect candidate for pharmaceutical chains looking to maximize their transportation efficiency. With our comprehensive range of multi-compartment vans to choose from, you can rest assured that you are in the safest hands. Our understanding and appreciation of the nature of the pharma industry means that we can provide a range of vehicles designed to suit your different transport needs. We have specialists working round the clock, who are ready to help you in any way: from purchasing your vehicles to assisting you as you carry out your daily operations. Our transport services are carried out in conformity with Pharmaceutical Law and Good Distribution Practice. We transport goods with temperature ranging from -25 to +25 degrees, up to eight pallets, and with a capacity of up to 1000 kg. Moreover, we have dual-temperature vehicles which makes it possible to transport goods in two different temperature ranges simultaneously.
Facilities in our vehicles include-
Refrigerated truck body with ATP certification
Cooling unit with 24-hour Mobile Service Assistance
GPS
Online Temperature Tracking System
Load area Temperature Mapping
Sanitation certificate
Vehicles less than 4 years old, with constant cooling and auto unit maintenance
An area of interest to many of our customer is that of uniformity in the temperature in the load area. This is to ensure that all products are delivered inthe optimum state. With that in mind, our refrigerated vehicles undergo diligent temperature mapping to confirm their suitability. However, we do more than that. We provide recording and monitoring systems and alarm equipment in addition to live GPS vehicle geolocation and GSM connectivity.
Our customers are the reason we exist, so it is only natural that we meet and consult with them before moving on to production. This is to ensure that we deliver just what is required and provide optimum productivity for your delivery fridge vans.
We offer stress-free, flexible solutions to your transport demands. When you choose refrigerated Glacier Vehicles, you are not only choosing a transport system, you are choosing peace of mind. We do not just provide the transport, we help you with the many strict legislative issues that surround the transportation of pharmaceutical products, and we take care of vehicle maintenance and servicing. Our vehicles designed for pharmaceutical transport have back-up facilities that keep your refrigerated vehicle powered in any emergency, ensuring that you will never put your cargo at risk due to old or faulty equipment.
Glacier Vehicles provides you with the most comprehensive fleet management solutions for pharmaceutical refrigerated vehicles. You are guaranteed the best vehicles, designed to meet specifications, health standards and the demand of the job, no matter what it is. With Glacier Vehicles, you will keep your cool.
Contact Us Today For A No-Obligation Consultation