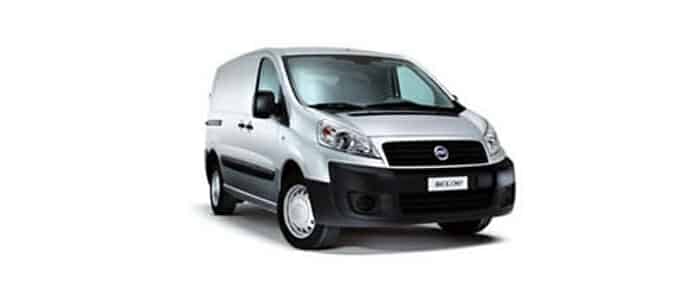 The Fiat Scudo is an italian manufacturered, small refrigerated van. The Scudo has been on the market for many years now, and in that time it has gained a dedicated following. It has been particularly popular as a refrigerated van. The latest model has made several improvements on the original. Customers have numerous options when purchasing a Scudo. There are two different wheelbase sizes, and a high roof is available in the longer wheelbase. The load volume in the smallest model is 5 cubic meters, moving up to a generous 7 cubic meters in the high roof, long wheelbase model.
The Multijet JTD diesel engine in the Scudo is an extremely highly regarded piece of engineering. Again, there are several different variants for customers to choose from. The smallest choice is a 1.6 liter, which has a respectable power output of 90bhp. This can comfortably haul a 1000kg frozen payload in the back. There are also two 2.0 liter engine variants, one supplying a 120bhp and one with a highly respectable 136bhp. The highest power, 136bhp engine can move a 1200kg payload. It is also fitted with an automatically cleaning Diesel Particulate Filter for greater engine performance and longevity, which is an excellent extra feature that could save businesses a considerable amount of money in the long run.
Like most refrigerated vans of this size, the Scudo has a front wheel drivetrain. The smallest engine has a five speed gearbox, and the larger 2.0 liter engines have an extra gear for greater power over long distances. All versions come with power steering.
Loading and unloading the Scudo is incredibly simple, which is particularly vital when you are working with refrigerated transportation. There are sliding doors on each side, and two rear doors that can open to a full 180 degree angle for maximum ease of loading. Unlike many similarly sized and priced refrigerated vans, the standard specifications include sliding doors on each side. In the short wheelbase model, the Scudo has 5 cubic meters of payload room. The long wheelbase version has 6 cubic meters, and this moves up to 7 cubic meters in the tall roof version. The high roof allows a maximum load height of 1700mm, an increase from the 1440mm height found in the standard roof version.
The driver's cabin is very much like the interior of a car. Because this is a fairly small refrigerated van, you sit just as low as you would be if you were driving a car. This makes the Scudo very easy to drive, even for someone who has never driven a refrigerated van, or any other commercial vehicle before. The seat is fully adjustable, and the steering column can be adjusted for reach. There is plenty of room for storage, and the seats are very comfortable.
The standard specification includes a range of excellent features, including ABS brakes, a transponder immobilizer, central locking with extra security from deadlocks, electric windows, a powerful RDS stereo with MP3 compatible CD player.
New Fiat Vehicles
USED Fridge Vans In Stock by Size


Fiat Scudo Van Refrigeration Systems
A wide variety of distinct refrigeration systems are available.Depending upon the product being transported, the temperature needed can range from 30C to -30oC.Whilst most businesses need one loading compartment, many businesses require dual (even triple) loading compartments, giving them the ability to transport two / three products at distinct temperatures simultaneously. Sometimes it is necessary for the Fiat Scudo refrigeration van to work-even with no engine running. This is most common with Fiat Scudo refrigerated van that will be used to serve cold food at outdoor events. The exclusive means to make this happen is by using a standby power supply.This provides the capacity to plug the refrigeration system into an external power supply (single-phase or three-phase), keeping their produce cool / frozen for an indefinite period. Glacier Vehicles source equipment from all of the most reputable refrigeration van equipment companies, and we are pleased to create a bespoke system for your particular needs.
Freezer/Refrigerated Van Insulation
The type of insulation used will have just as big an influence on the interior temperature of the Fiat Scudo freezer van as the refrigeration system. We think there's no better option for insulation material than Styrofoam. It's not only extremely light, and that means you can take a heavier load, additionally, it has incredible thermal insulation properties. We use it in every vehicle we supply. The thickness of the insulating Styrofoam will change according to which temperature is necessary. We'll normally use 50mm Styrofoam for cooled compartments, 75millimeter Styrofoam for freezer compartments and an extra thick 100millimeter Styrofoam insulation for deep freeze. The insulating material can be 'finished' in two different manners: wet-lay or dry-line. In our view, wet-lay is the best method, particularly for transporting food. The interior of the compartment is coated with a resin, which dries to make an impregnable coating on top of the insulation.We value our engineers enormously, and so does the wider engineering community. That is why they have won several awards for their work on Fiat Scudo freezer vans.Another benefit to the wet-lay process is that should the resin become damaged by way of pallet loading and so forth, it's very easily rectified straight back to an as new condition. Dryline is a more innovative method for creating freezer vans, but we feel it is not an improvement to the usual wet-lay coating. It consists of multiple panels which are joined using a sealer, which can degrade and cause the development of mould, a large risk in the transportation of food.
Fiat Scudo Refrigeration Van Engineers
They are the ones we all turn to for answers to the many day-to-day questions we get from customers, and they're the unsung (except for this infrequent pat on the back!) hero's when it comes to keeping the build process smooth and more importantly, on time for our clients!In addition to the fitting the bespoke refrigeration systems, our engineers undertake any and all of the bespoke requirements our customers have.
Van Warranty
Every single product and service we market comes with a complete 12 months manufacturers guarantee. That covers the insulating material and also the actual refrigeration system. Even in our used vehicles, the conversions are brand new. We have discovered that GAH and Hubbard are the best refrigeration equipment manufacturing companies in the world, and we will use their products in both our little and big Fiat Scudo refrigerated vans for sale unless you specify otherwise. This isn't just for their outstanding quality, but also their high levels of after-sales service. These companies have technologists all on the mainland UK, and can come to a convenient place for you personally if the Fiat Scudo refrigeration van has any issues.
Glacier Vehicles Video