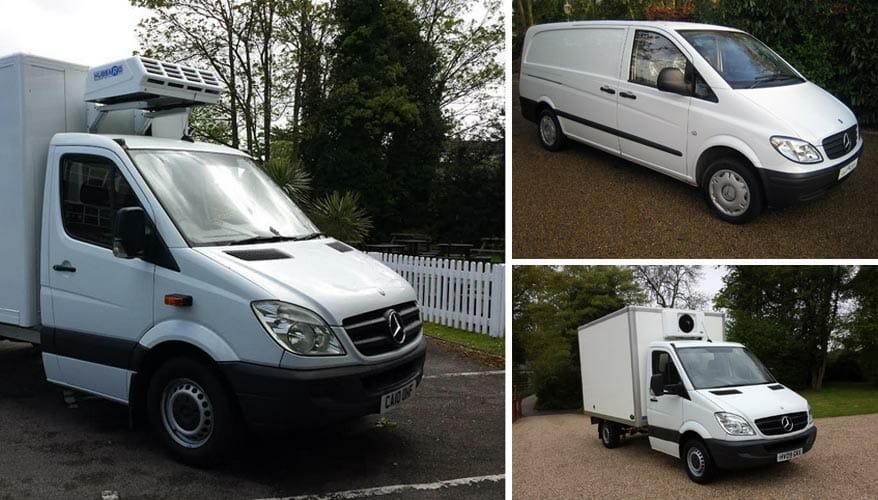 The 2015 Mercedes-Benz Sprinter refrigerated van offers a range of tools and opportunities unparalleled by other models of its kind, from being a lavish, comfortable people carrier, to being a robust and practical asset to anyone looking for a refrigerated vehicle. This time around, an upgraded 4×4 drive system with low-range function and standard Crosswind Assist has been implemented to ease the transportation of refrigerated cargo. It is because of the opulent amount of possibilities like these offered by manufacturer, that the Sprinter is one of the most highly customizable refrigerated vehicles available to you now.
Its 3.0-liter V-6 BlueTEC diesel engine generates 188 horsepower and 325 pound-feet of torque, and the new 4×4 option for the Sprinter increases its all-weather and all-terrain capability, ensuring a smooth, enjoyable drive, as well as a safe one for refrigerated cargo. On the 4X4 models, the body is lifted by 4.3 inches in the front and 3.1 inches in the rear, adding extra ground clearance to increase its high slope climbing ability by 20 percent, essential for long distances over varying terrain. This, with the low-range gear (as an optional add-on) further enhances rough terrain and steep slope ability, allowing your refrigerated vehicle to reach greater distances, increasing your options and possibilities.
Furthermore, the 2015 refrigerated Sprinter van utilizes and develops the same equipment, aesthetic, and handling of the 2014 model. This includes the visual updates made last year, such as the new front bumper, higher hood, and revised taillights. There are even more upgrades to available safety technology, including Collision Prevention Assist, Blind Spot Assist, High beam Assist, and Lane Keeping Assist, all of which are paving the way in refrigerated van design and safety.
For non-4×4 models, a second diesel engine option is available, a 2.1-liter four-cylinder rated at 161 horsepower and 265 pound-feet of torque. Four-cylinder models come standard with a seven-speed automatic transmission.
A robust, safe, and luxurious driving experience, essential for refrigerated vehicle drivers
Although it may first and foremost be a robust, utilitarian tool, the refrigerated Sprinter van combines easy handling and navigation, offering great visibility thanks to efficient design and layout. Also, much like its predecessors, it is a famously comfortable drive, essential for long distances carrying refrigerated vans, with improved seat cushions in the front and a revised Upfitter program in the rear, two stellar examples of how Mercedes are maximizing efficiency and comfort for the modern refrigerated vehicle driver.
For enhanced safety and comfort, a backup camera is available as an option, along with Parktronic parking assist. Navigation is also optional, provided by the Becker MAP PILOT system. The Crosswind Assist system is also now standard, offering aid in keeping the Sprinter in the desired lane during heavy crosswinds, further ensuring the safe delivery of the cargo in your refrigerated vehicle. Other features included as standard on the adaptable Sprinter refrigerated van include a 5.8-inch color display, Bluetooth connectivity, SD media input, a USB 2.0 connection, and auxiliary input.
The sprinter is a truly unique refrigerated van, customizable in almost every area to fit your needs. Unlike most refrigerated vehicles on the market, the Sprinter is available in both standard form and in highly customizable "upfitted" forms. According to Mercedes-Benz, 75 percent of all refrigerated Sprinter vans are sold with some form of upfitted modification.
The 4×4 2015 Mercedes-Benz refrigerated Sprinter van is on sale now.