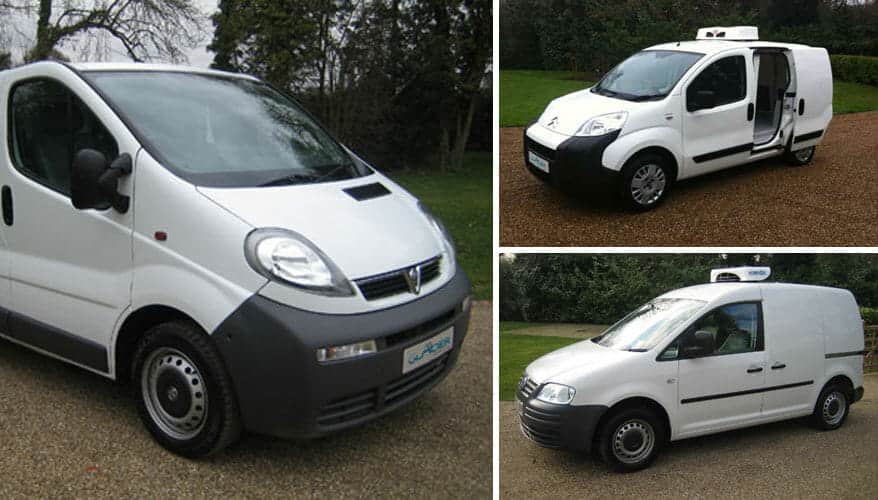 In the last blog post, we explained the difference between the various types of refrigerated vehicles on the market, as well as the different defrosting methods available. In this post, we'll look at other key things to consider when purchasing a refrigerated van and explore whether you should purchase a manufacturer conversion. Let's begin by taking a look at some optional extras you can purchase for your van.
Plug-in electric stand-by
There are many optional extras that you can choose to have added to your refrigerated van. One popular option that we'll be looking at today is a plug-in electric stand-by. An electric stand-by lets you plug your van's refrigerator into a power socket, allowing you to refrigerate goods overnight. This also allows you to get your van down to temperature before loading it up, which is almost always beneficial.
Financially, opting for a plug-in electric stand-by is a smart decision, as you may be able to get much of the £800-£1000 you would need to spend on one back when you sell it.
Resale value
Another thing to consider is the potential resale value of your refrigerated van. If the resale value configures into your purchasing decision, keep in mind that those with a 75mm Styrofoam lining and a plug-in electric stand-by are going to keep their value the best.
What is ATP, and why is it important?
ATP stands for Accord Transport Perishable, which is a set of safety standards that determine whether your van and refrigeration are capable of transporting food safely. While not necessary in the UK, you will need to become ATP certified before you can legally transport any perishable food to or within mainland Europe. If this is part of your business plan, then you'll be best served by buying a refrigerated van or having a conversion carried out by a company that works to ATP standards. They will also be able to provide ATP certificates for their vans or arrange for certification testing for yours.
Where to purchase your converter
One option is to simply buy a van that is already configured for refrigeration. However, if you already have a panel van that you want to convert, you have a couple of options. The first is to head to the dealer and purchase a dealer/manufacturer-approved converter. The advantages here are that there are plenty of high-quality manufacturer-approved converters on the market, and they come with a guarantee. Going through a dealer also allows you to streamline the financing process, which can be beneficial if you want to keep it simple.
Simplicity isn't everything, though. You'll want to spend some time shopping around to make sure you're getting a good deal. Compare prices between pre-fab manufacturer conversions and after-market conversions. Pay particular attention to the level of customisation and customer support that the company offer.
Specialty conversions
You can also purchase a specialty conversion directly from a converter, rather than going to the dealership. Choose a converter that's approved by the Vehicle Certification Authority, which means that the converter can guarantee that their conversions are in line with European legislation. They should also provide documentation to this effect.
Choose an excellent converter and let them know thedetails of your business, and you'll benefit from their extensive knowledge. For example, if you're using your van to carry fish, a good converter will know to install a strip beside the side door to keep any spilled water from leaking into the side door runners where it's nearly impossible to clean out (without this sort of protection, you'd end up with smelly fish water stinking up your van in no time). In another example, if you need to transport Euro pallets you'll need the insulation to be installed so that there's a 1300 mm space between the wheel boxes. Customisations like these are straightforward if they're included at the beginning, but are expensive to add in later, so make sure to be upfront with your converter about the requirements for your business.
Let them know what products you'll be transporting, what temperature you need to maintain, how many deliveries you plan on making per day and whether you require a stand-by. This will ensure they can meet your needs at the lowest cost for you.
At Glacier Vehicles, we're proud to offer specialised conversion solutions for your needs. We've developed a new, light-weight insulation that allows us to convert any panel van into a refrigerated or freezer van, so if you need a specialized solution, contact us today.