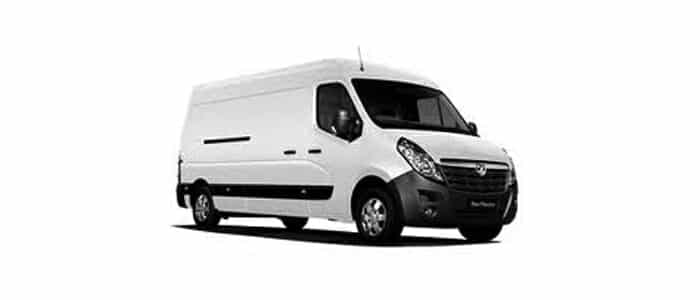 The Movano is one of the largest commercial vehicles that Vauxhall offer, and it is the one that is most commonly converted for use as a freezer van. This is perhaps due to the huge range of different sizes that the Movano is available in, making it versatile enough for most freezer van haulage and delivery uses.
The Movano is available in four different body lengths, with three heights to choose from. These body lengths and heights can be configured in any combination. The largest Movano, with the longest body length and largest height, can pack away a mammoth 17 cubic meters of frozen goods. Even the smallest Movano variant can deal with 7.8 cubic meters, which is extremely impressive.
Load weight is often a big consideration for freezer van delivery drivers, and the Movano does particularly well in this area too. The most powerful Movano can move 2,254kgs of goods. This is ample for almost any delivery run, and most long distance haulage applications too.
The Movano comes with a choice of three different 2.3 litre diesel engines: a 100bhp model, a 125bhp model and a 150bhp model. All of these engines come fully equipped with a six speed manual gearbox, which makes the Movano even more suitable for long distance haulage. With this gearbox, the largest and most powerful Movano variants are ideally suited as the backbone of a cross country cold chain logistics strategy. Of course a six speed gearbox can be advantageous in other freezer van applications too, such as deliveries over a larger area. The Movano is one of very few large freezer vans to include a six speed gearbox as standard in the smaller engine variants.
The Movano does fairly well when it comes to fuel economy. It can easily achieve 35mpg on the combined cycle, even with a full load in the back. This fuel economy can be further boosted with Vauxhall's ecoFLEX option, a set of fuel saving upgrades that can be installed in the 100 and 125bhp variants of the Movano.
Vauxhall are known for building extremely reliable engines, and this reliability is exemplified by the excellent service intervals for the Movano. You will only need to take your Movano to the garage every two years, or even 25,000 miles.
The Movano comes fully equipped with safety equipment to make it one of the safest large freezer vans on the road, even in the standard configuration. These include a load adaptive electronic stability control system, an essential piece of kit for any large freezer van. There is also an ABS system with electronic brake distribution.  As well as the safety features, the Movano comes fully loaded with all of the equipment that you'd expect from a modern commercial vehicle, and even a few extras such as electric door mirrors, remote central locking and a remote controlled anti theft alarm.
Overall, the Movano can be regarded as one of the most versatile large freezer vans on the road. It's no surprise that it's so popular.
New Vauxhall Vehicles
Used Freezer Vans In Stock by Size
Vauxhall Movano Van Refrigeration Systems
A wide range of distinct refrigeration systems are available. Some merchandise only need to be stored under 30c, whereas other goods must be transported inside a Vauxhall Movano freezer van with temperatures as low as -30c. Some freezer vans possess a range of different compartments kept at differing temperatures. There can be two, and some even have three, although the most frequent arrangement is only to have a solitary refrigerated compartment in a single vehicle. Sometimes it is necessary for the Vauxhall Movano refrigeration van to work even with no engine running. This situation is most typically found with companies who need mobile refrigerated vans to serve cold products during outside events.In this situation, a stand-by facility will be necessary. This gives the capability to plug the refrigeration system in to a peripheral power supply (single-phase or three-phase), keeping their produce cool / frozen for an indefinite period. Our associations with major Vauxhall Movano refrigeration van equipment manufacturers means that we can create excellent value bespoke solutions, no matter your prerequisites.
Freezer/Refrigerated Van Insulation
Picking the proper type of insulating material is essential too. This will work in tandem together with the refrigeration system to maintain a temperature which is ideal for your merchandise. The combined light weight and highly thermal qualities of Styrofoam make it the perfect material for refrigerated vehicle insulation, which is the reason why we use it exclusively in our refrigerated vehicles. A different depth of Styrofoam will be useful for different levels of insulation, with relatively thin Styrofoam (50mm) utilized in cooled compartments, moving to 100mm thick Styrofoam for deep freeze compartments. After the insulation is installed, a protective 'finish' will be applied. This is done in two different ways: wet-lay or dryline.Wet-lay is the more conventional approach, and the one which Glacier Vehicles embrace, due to the proven fact that after the 'wet' GRP resin has been applied and dried, the loading area becomes a 100per cent sealed, washable and hygienic loading environment. We value our engineers enormously, and so does the wider engineering community. That is why they have won several awards for their work on freezer vans. The internal coating that is created by the wet-lay insulation is also incredibly easy to fix in the event of damage to the Vauxhall Movano freezer van. Dry line coating uses stiff panels which are installed in the Vauxhall Movano refrigeration vans and lined with a sealer. We've found that this sealer can sometimes harbour mould, a tremendous risk in food transportation and the main reason we use wet-line coating exclusively.
Vauxhall Movano Refrigeration Van Engineers
Our clients often have questions concerning the build process, plus our engineers are the very best people to turn to for all of the technical details. In addition they work hard to keep our  Vauxhall Movano freezer vans build process running smoothly, satisfying the generally tight time constraints of our valued customers. Our engineers can also be tasked with making bespoke refrigeration systems for customer's unique requirements, in both large and small Vauxhall Movano refrigerated vans.
Van Warranty
Purchasing a refrigeration car from us signifies you will be given a full 12 month manufacturers guarantee on all equipment. The reason being it's completely new, even in our used Vauxhall Movano freezer vans.Unless otherwise specified by the customer, we fit GAH and Hubbard refrigeration equipment as these companies products are of fantastic quality, and their after sales care is to match. If any problems occur with the refrigeration compartment in your freezer van, these companies will both send an engineer to your location to repair the issue instantly, no matter where you happen to be.
Glacier Vehicles Video