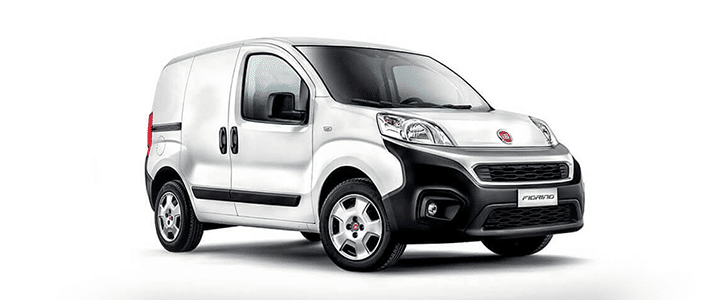 If you're looking for a compact refrigerated van, the Fiat Fiorino could just be the ideal choice. As you might expect, engines are economical, making this the perfect option for refrigerated van businesses whose operations involve regularly shuttling around town.
Fiat Fiorino Cargo 2018: Features and Models
The Fiorino is the smallest of the Fiat's fleet of vans; it is a compact, one-box urban van that provides greater load capacity than you'd find in similar car-based vans, such as the Vauxhall Corsavan or the Ford Fiesta. The driver's seat of the Fiorino Cargo is wrapped with a hinged-mesh bulkhead, while the van itself is fitted with a passenger seat that can be folded flat to make room for longer loads.
The Fiorino is also available in an Adventure model, designed for occasional use in off-road settings. This model is equipped with larger wheels, increased ground clearance and the Italian company's Traction+ electronic differential locking system.
If you opt for a standard spec model, you can expect basic features, as well as a speed limiter; electronic stability control with ABS and EBD; lumbar support and steering height; a nearside sliding side door; a CD/radio player; and seat height adjustment. With the SX model, you'll also get electric mirrors and windows, as well as central locking and deadlocks.
Fiat Fiorino Cargo 2018: Cabin and interior
At Glacier Vehicles, we really like the cabin quality, as it feels well-constructed and boats a sleek interior. Most of the controls and switches you'll see are taken from Fiat passenger vehicles like the Grande Punto and the Panda, which certainly make for a solid choice. It's also easy to find a good driving position, which is important considering that most drivers of refrigerated vans are behind the wheel for prolonged periods every day. There are at least a dozen storage compartments, including a laptop space, door pockets for one litre drinks and a document shelf.
Fiat Fiorino Cargo 2018: Driving and Practicality
The Fiorino might be small, but it comes with the advantage of manoeuvrability and versatility. It has a tight turning circle and its length of less than four metres means you can squeeze it into small spaces. You can purchase the van with one or two sliding doors, while it's practical enough to allow a Euro pallet that can fit nicely between the wheel-arches. Even though the steering is on the light side, it certainly feels safe and handles well round corners.
Fiat Fiorino Cargo 2018: Running Costs and MPG
The cheapest version of the Fiorino comes with a 1.4-litre Fire petrol engine, accompanied by a combined fuel economy of 40.1mpg and 76bhp. Meanwhile, that figure is 79bhp for the 1.3 MultiJet Diesel model, which is fully compliant with Euro 6 standards. If opting for the Ecojet version, you can add efficiency measures such as stop-start, resulting in CO2 emissions of 104g/km and a combined fuel figure of 72.4mpg. The Fiorino is a solid choice if yours is a small business that needs a reliable van which is cheap to run.
Fiat Fiorino Cargo 2018: Safety and Security
The Fiorino is fitted with electronic stability control (ESC), which was previously unavailable when the first model was introduced. All versions of this van feature remote central locking and anti-lock braking system (ABS) with electronic brake force distribution. For better grip on slippery surfaces, you can choose the Adventure model, which is equipped with mud and snow tyres.
The driver's airbags and nine-bar steel ladder (fitted between the load compartment and the driver) serve as standard protection. At a slightly extra cost, you'll enjoy the option of adding a pair of side airbags and passenger airbag. Also, the side doors of the van are designed to remain in place and usable during and after an accident.