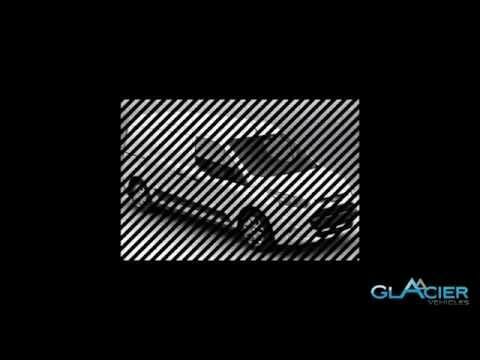 The Ford Transit Custom was just launched last year, but already it has garnered a significant amount of praise from drivers and the automotive press. Most notably, it picked up the prestigious 2013 Van of the Year prize, cementing the Custom's reputation for one of the most successful vehicle launches in years. As the name suggests, the Custom is based on the Transit, Ford's market leading light commercial vehicle. The Custom takes some of the best parts of the Transit and improves upon them in a slightly smaller package. This makes it a fantastic choice for business owners looking for a medium refrigerated van.
The Custom makes for an excellent refrigerated system in many ways. The most immediately apparent is the high quality interior. The inside of the cab is very similar to some of Ford's range of cars, with great build quality throughout. Controls are chunky and sturdy, making it extremely easy to adjust the heating while driving.  There is also a decent amount of storage in the cab for refrigerated goods delivery documentation and the driver's personal effects.
Like most of Ford's range of commercial vehicles, the Custom is available in five trim levels: Base, Trend, Limited, Sport and Econetic. Each of these levels comes with a different set of standard equipment, but the standard specification on the lowest level isn't bad. It comes with electric windows, an in-car entertainment system with a radio, USB and Bluetooth connection, tinted glass, central locking, a useful blind spot eliminator on the door mirrors, and a gear shift indicator which helps with fuel economy. Higher trim levels boast extras such as DAB radio, auto lights and wipers, an alarm, passenger airbag, body coloured rear bumpers, and more. Drivers looking for the best possible fuel economy will find the Econetic trim perfect for their needs. In this trim level, many advanced innovations work to bring fuel consumption down to an incredible 48mpg.
Once you get behind the wheel of this refrigerated vehicle, you'll quickly realize the other major strength of the Transit Custom: drivability. This thing drives like a dream; with exceptional ride quality and a super responsive steering system that handles the vehicle incredibly well whether it is fully laden with a heavy refrigerated cargo or completely empty.
Of course the real reason that you purchase a refrigerated van isn't the equipment, or the drivability, it's to get refrigerated cargo from A to B. The Custom is available in two different wheelbase models, both of which offer a decent amount of load space. The smaller wheelbase has a respectable load volume of 6 cubic meters, which the larger wheelbase model offers 8.3 cubic meters of space.  As far as payload weight goes, the most powerful Custom model can cope with a meaty 1507kgs of refrigerated cargo, while the smallest engine easily manages 714kgs.
When you look at the facts, it's no surprise that the Custom won the Van of the Year competition in 2013. And when you are behind the wheel of this refrigerated vehicle, the decision seems obvious.
New Ford Vehicles
USED Fridge Vans In Stock by Size
Ford Transit Custom Van Refrigeration Systems
There are various different varieties of refrigeration systems being made. Some products only need to be stored under 30c, whereas other goods should be transported inside a  Ford Transit Custom freezer van with temperatures as low as -30c. Whilst most businesses need one loading compartment, many businesses require double (even triple) loading compartments, giving them the ability to transport two / three products at distinct temperatures simultaneously. Occasionally the continued operation of the refrigeration van will likely be required even with no engine running at all. This is most common with Ford Transit Custom refrigerated van which will be used to serve cold food at outdoor events.In this situation, a standby facility will be required. These kinds of freezer vans will then be linked to an external power supply, usually a regular three phase or single-phase source. This has the result of keeping the products stored inside cooled, even with the engine totally off. Our proficient engineers will source equipment from major Ford Transit Custom refrigeration van system manufacturers and match them in a vehicle to meet your specific requirements, no matter what they are.
Freezer/Refrigerated Van Insulation
It is just as important to pick the best type of insulation for the freezer van as it is to select the right sort of refrigeration system.In all cases, Glacier Vehicles utilizes Styrofoam insulation which, whilst very lightweight (helping the vehicles payload), is a dense and highly thermal material. The thickness of the Styrofoam is the thing that establishes the level of insulation. For cooled compartments we use 50millimeter Styrofoam, for frozen compartments we'll use 75millimeters and we reserve the use of 100millimeters Styrofoam for deep freezer compartments that can maintain a temperature as low as minus 30c. There are two different choices to 'finish' the insulation: wet-lay and dryline. In our view, wet-lay is the most effective method, specifically for carrying food. The inside of the compartment is coated with a resin, which dries to produce an impregnable coating on top of the insulating material.Our engineers have even won several awards for their skills in creating Ford Transit Custom freezer vans, and we feel extremely lucky to have them on board. If the finishing of resin inside the Ford Transit Custom refrigeration van is damaged at any point, it can be fixed extremely easily. This is an additional advantage of the wet-lay coating. The dry line coating uses multiple panels inside the Ford Transit Custom freezer vans instead of a single, impregnable coating. These panels have sealant between them, which frequently breaks down and promotes the development of mould. This may lead to critical problems in a vehicle built to transport food.
Refrigeration Van Engineers
They are the ones we all turn to for answers to the many day-to-day questions we get from customers, and they are the unsung (with the exception of this infrequent pat on the back!) hero's when it comes to keeping the build process smooth and furthermore, on time for our customers! Our engineers are also in charge of our unbelievable bespoke refrigerated vehicle service, where they will work to create a system specifically designed for your mobile refrigeration needs in both big and small Ford Transit Custom refrigerated vans.
Van Warranty
All of the equipment that we supply is brand new, even in our used freezer vans. What this means is that you will be covered by a complete 12 month manufacturers warranty for your own peace of mind. We always use Hubbard and GAH refrigeration equipment in both our little and big Ford Transit Custom refrigerated vans available for sale, unless you have some specific requirements these companies cannot match. We actually believe this is actually the most effective equipment on the market, and they've got an outstanding after sales care service. These companies have engineers all over the mainland UK, and can come to a convenient location for you personally if the Ford Transit Custom refrigeration van has any issues.
Glacier Vehicles Video