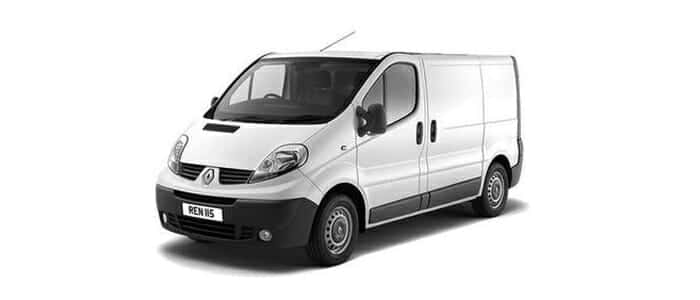 The Renault Trafic is generally considered to be one of the best choices on the market if you are looking for a freezer van in this class. It has numerous advantages over the competition, most notably a particularly large payload and an excellently designed driver's cab. The engine is also efficient and reliable.
Underneath the hood of the Trafic you'll find a reasonably powerful 2.0 litre diesel engine. Drivers can choose from a highly efficient 90bhp model, or a 115bhp model if they need a bit of extra power to handle larger payloads. Both engine variants were built as part of a joint venture between Renault and Nissan. Freezer van drivers and the automotive press generally regard engines coming out of this factory to be extremely reliable. Renault and Nissan's engineering team have also endeavoured to make it extremely efficient, with a fuel economy of 37.7mpg on the combined cycle.
These engines are also powerful enough for almost any type of freezer van use. If you are planning to use the Trafic for urban deliveries then the 90bhp engine is absolutely perfect, whereas if you are planning on moving large amounts of frozen goods over long distances then you'll probably want to opt for the slightly more powerful 115bhp variant.
The Trafic has one of the largest payloads of any freezer van in this class. Even the smallest, short wheelbase low roof model can easily cope with 1005kgs of frozen goods. The largest model carries an impressive 1248kgs of payload. The cargo bay is extremely well designed, and can accommodate a standard sized pallet in between the wheel arches. The nearside sliding door, included as standard, can also be used to load a pallet. The rear doors swing open a full 180 degrees, which makes loading and unloading much easier if you are using a forklift or a loading bay.
When the Trafic was introduced in 2001, the interior of the driver's cabin was somewhat revolutionary. It was one of the first driver's cabs to be really designed with the comfort of the driver in mind. All of the instruments and switches are extremely easy to use and are in easy reach of the driver. The vast majority of them can be controlled without taking your eyes off the road. When you do need to read an instrument, you can generally do so with a quick glance, as they are handily located just in front of the driver.
The standard specification on the Trafic is one of the most generous of any freezer van in this class. As well as the aforementioned sliding nearside door, you'll also find safety and security features such as ABS and EBD and remote control central locking with deadlocking. The latter is a particularly useful feature if you are planning on unloading in the urban environment, especially if you are a solo driver. There are also peripheral features such as electric windows, electric and heated door mirrors, a Tom Tom live sat nav and even rear parking sensors.
If you are looking for a large freezer van with this type of payload and power, the Traffic is an excellent choice
New Renault Vehicles
Used Freezer Vans In Stock by Size


Renault Trafic Van Refrigeration Systems
There are various various kinds of refrigeration systems being manufactured. Some products only need to be stored under 30c, whereas other products need to be transported within a Renault Trafic freezer van with temperatures as low as -30c. Although the most frequently encountered arrangement is to have a solitary loading compartment, there are specific scenarios in which a Renault Trafic refrigerated van will have a lot of compartments, each kept at a different temperature. Some Renault Trafic refrigeration vans should operate even when the engine is fully switched off. This is most common with refrigerated van which will be used to serve cold food at outside events. The singular way to do this is to use a standby power supply. These forms of Renault Trafic freezer vans will then be linked to a peripheral power supply, generally a regular three phase or single phase source. It has the effect of keeping the merchandise stowed inside cooled, even with the engine totally off. Glacier Vehicles work with all the main refrigeration manufacturers and can supply and fit the required refrigerator / freezer equipment to cover any bespoke requirement our clients have.
Freezer/Refrigerated Van Insulation
The type of insulation used will have just as big an influence on the inner temperature of the Renault Trafic freezer van as the refrigeration system. The combined light weight and highly thermal qualities of Styrofoam make it the ideal material for refrigerated vehicle insulation, which is why we use it exclusively in our refrigerated vehicles. A different thickness of Styrofoam will be employed for various levels of insulation, with relatively thin Styrofoam (50mm) used in chilled compartments, moving up to 100mm thick Styrofoam for deep freeze compartments. Two different types of 'finish' are employed to coat the insulating material after installation. These are called dryline and wet-lay.Wet-lay is the more traditional method, and one which Glacier Vehicles adopt, because of the fact that when the 'wet' GRP resin is implemented and dried, the loading area becomes a 100% sealed, washable and hygienic loading environment. Many of our freezer vans engineers have even won awards for their work, and we are extremely fortunate to work with them. The wet-lay resin coating is also very straightforward to fix in the event the interior of the Renault Trafic freezer van is damaged. Dry-line is a more innovative method for creating Renault Trafic freezer vans, but we believe it's not an improvement to the traditional wet-lay coating. It consists of multiple panels that are linked with a sealant, which can degrade and trigger the development of mould, an enormous danger in the Transport of food.
Renault Trafic Refrigeration Van Engineers
They are the ones we all turn to for answers to the many day-to-day questions we get from clients, and they're the unsung (with the exception of this infrequent pat on the back!) hero's in regards to keeping the build process smooth and more importantly, on time for our customers! Our engineers likewise have the skills to create fully custom refrigeration solutions tailored for almost any customer requirement in both small and big Renault Trafic refrigerated vans.
Van Warranty
Whether you are purchasing a new or late, low-mileage used vehicle, the conversions (both insulating material and refrigeration system) are brand new and supplied with the complete 12 month Manufacturers Warranty. We always use GAH and Hubbard refrigeration equipment in both our small and big Refrigerated vans available for sale, unless you've got some special requirements these companies can't fulfill. We actually believe this is the best equipment on the market, and they have got an excellent after sales care service. If any issues occur with the refrigeration compartment in your Renault Trafic freezer van, these companies will both send an engineer to your location to repair the problem immediately, no matter where you happen to be.
Glacier Vehicles Video