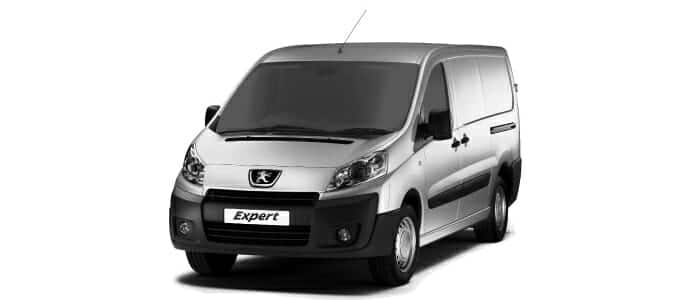 The Peugeot Expert has been on sale in the UK for a long time, but it has recently been updated in a dramatic way. The appearance has been changed slightly, but the main difference is underneath the hood where the engines have been completely overhauled. These recent changes have made the Expert a great choice for those looking for a medium sized refrigerated van.
The main advantage of the overhauled engine is the incredible fuel economy that the Expert now achieves. It now manages to run for 44.1 miles on a gallon of fuel, which is testament to the efficiency of Peugeots new engines. This refrigerated van is available with two different sizes of engine, a 1.6 liter and a 2.0 liter. Both of these can be purchased in either 90bhp or 120 bhp power outputs. There is a five speed gearbox, and CO2 emissions are tested at 168g/km.
These engines are fairly powerful too. There are two different sizes of wheelbase, the short, and the long, and in both wheelbase sizes the Expert can haul a formidable amount of refrigerated goods. The smallest and least powerful version of the Expert can deal with 988kgs, and the more powerful engines can move 1200kgs of goods with ease. Load volumes range from 5 cubic meters to 7 cubic meters, which is as good as any other refrigerated vans in this class of vehicle. Accessing the cargo bay is just as easy as you'd expect, with two large doors in the rear and a sliding door on both sides. On many competing refrigerated vans you'd need to pay extra for one or both of these side sliding doors, and this makes the Expert a good investment if you are looking for a refrigerated van that is suitable for urban refrigerated deliveries where you may not be able to find a perfect parking spot to load and unload the vehicle.
While the Expert is certainly not a beautiful vehicle, the exterior has been designed for practicality. There is a heavy plastic nose guard and front bumper, which is incredibly useful considering how often commercial vehicles get knocked and scuffed in some types of businesses. This plastic protection can also be found on the back, and there are a few scuff guards on the sides too.
The standard specification is reasonably basic, but does come with all the essentials and a few extras thrown in. There is ABS with Emergency Braking Assistance, which is an incredibly valuable safety feature that can make all the difference in a hairy situation. It's also easy to see the value of the transponder immobilizer and the remote control central locking with deadlocks. Nice little extras include a powerful RDS stereo radio/MP3 compatible CD player that adequately fills the driver's cab with a rich, clear sound.
All in all, the Pugeot expert is a very good choice if you are looking for a medium sized refrigerated van. It's equally capable of motorway journeys and urban deliveries.
New Peugeot Vehicles
USED Fridge Vans In Stock by Size
Peugeot Expert Van Refrigeration Systems
There are a variety of refrigeration systems available on the market nowadays. The temperature inside the refrigerated van may differ drastically, from highs of 30c right down to minus 30c for merchandise that need extremely cold storage. Many large Peugeot Expert freezer vans have different sections that are kept at different temperatures, even though most have a single compartment. For specific applications, it is going to be essential to possess a Peugeot Expert refrigeration van that can continue to work even when the engine is switched off. One example is businesses that cater outdoor events where continual cold storage is needed. For scenarios such as these, a back-up facility is required. This helps it be possible to run the Peugeot Expert refrigeration van system off a normal single phase or three-phase external power source, stopping the product from spoiling.Glacier Vehicles work with all the major refrigeration manufacturers and can offer and fit the necessary refrigerator / freezer equipment to cover any bespoke requirement our customers have.
Freezer/Refrigerated Van Insulation
It is equally as important to pick the best type of insulation for the Peugeot Expert freezer van as it is to select the best type of refrigeration system. We use Styrofoam insulation exclusively, as we consider its blend of light weight and thermal insulation qualities make it the greatest material to insulate a vehicle.For chilled temperatures ( 5oC to 0oC) 50millimeters Styrofoam is employed, for medium frozen (0oC to -18oC) 75millimeters Styrofoam is used and for deep-frozen (-18oC to -30oC) 100millimeter Styrofoam is required. After the insulating material is installed, a protecting 'finish' will be implemented. This can be done in two ways: wet-lay or dryline. We feel that wet-lay is the most effective method, and this is the only one we use. A resin is applied to the inside of the compartment and left to dry, creating a totally sealed washable coating on the insulant.Our engineers at Glacier Vehicles have even won several awards for their skills in creating Peugeot Expert freezer vans, and we feel extremely lucky to have them on board. The wet-lay resin coating is also quite straightforward to fix in the event the interior of the freezer van is damaged.The primary trouble with the more recent dry line method of insulation, is that due to this being of a pre fab construction, once the roof, floor and walls have been installed in the back of the panel van, the joining surfaces of the panels are filled with a sealant which, as time passes, can perish and have cause for condensation to penetrate the insulation itself and trigger mould to form, which is never good when carrying food products!
Peugeot Expert Refrigeration Van Engineers
They are the key members of the team that we refer any customer questions to, and they are instrumental in ensuring our Peugeot Expert freezer vans are delivered within our customers time requirements. Our engineers will be glad to create something for you, if you are looking to get a bespoke refrigeration vehicle, whether you want big or small Peugeot Expert refrigerated vans.
Van Warranty
All of the equipment that we supply is brand new, even in our used Peugeot Expert freezer vans. This means that you will be covered with a full 12 month manufacturers warranty for your own peace of mind.Unless otherwise specified by the customer, we fit GAH and Hubbard refrigeration equipment as these companies products are of excellent quality, and their after sales care is always to match. They have engineers positioned throughout the UNITED KINGDOM mainland and visit the customer's workplace (or wherever the van might be if out on deliveries) for any servicing / guarantee requirements.
Glacier Vehicles Video