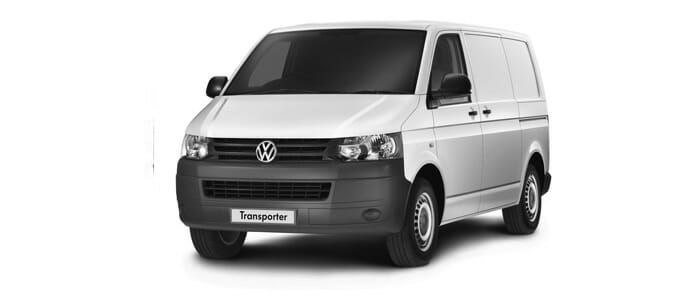 Whatever refrigeration needs a company may have, the Volkswagen Transporter is a great place to start. For hauling heavy loads, this spacious medium fridge van is optimal. There are both double and single-cab chasses available for the Transporter depending upon a business's needs. Plus, companies can save money in the long run with Volkswagen's BlueMotion Technology option and range of advanced 2.0 litre TDI diesel engines.
Transporter Standard Features
There simply is not enough room here to list all of the features of the Transporter medium refrigerator vans for sale, but some of the highlights are:
• Electronic Brakeforce Distribution
• Electronic Differential Lock
• Height adjustable head restraints
• Passenger and driver airbags
• Sheet steel flooring
• At least six load lashing rings
Under the Hood
For used refrigerator vans these days, one of the biggest burdens on a company and biggest running costs is fuel. When they developed the advanced turbodiesel technology found in the Transporter, Volkswagen used their decades of experience to create a 2.0 litre TDI engine range. Fuel consumption is reduced by up to twenty percent compared to previous models. And, the Transporter is able to deliver more power.
Featuring significant torque and power for heavy loads, the Transporter's range of engines in their medium fridge vans for sale are led by a 180PS twin turbo 2.0 litre BiTDI unit. If fuel efficiency is the number one priority, then the 84PS 2.0 litre TDI is the best option. There is also an ultra-efficient BlueMotion model of the Transporter that can cut emissions and fuel costs even more.
Load Sizes
To make delivering refrigerated goods as efficient and simple as possible, there are lots of options that come with the Transporter line of refrigerator vans. The load volume can reach as much as 9.3 cubic metre with a load height of 1.94 metres when the Transporter has the option roof packs. Plus, with the longer of the two wheelbases, items almost three metres long can fit.
It is a breeze getting cargo in and out with low floor heights of 566 millimetres. And, with eight lashing rings with the longer wheelbase version (six with the shorter), your load will be secure. Even in the smallest Transporter used medium refrigerator vans for sale, two .8m by 1.2m Euro pallets can fit easily.
New Volkswagen Vehicles
USED Fridge Vans In Stock by Size


Volkswagen Transporter Van Refrigeration Systems
There are many various kinds of refrigeration systems being made. The temperature inside the Volkswagen Transporter  refrigerated van can differ dramatically, from highs of 30c down to minus 30c for merchandise that need exceptionally cold storage. Although the most common arrangement is to have a single loading compartment, there are specific scenarios in which a Volkswagen Transporter refrigerated van will have several compartments, each kept at a different temperature. Sometimes it's important for the refrigeration van to work-even with no engine running.For instance, businesses who do outside events such as weddings and festivals, may need to maintain their produce refrigerated without the engine running. The only means to make this happen is to use a standby power supply. These forms of Volkswagen Transporter freezer vans will then be linked to a peripheral power supply, generally a standard three phase or single-phase source. This has the result of keeping the merchandise kept inside cooled, even with the engine fully off. We supply a wide range of products to meet the needs of any client, and we'll happily fit equipment that is specifically configured for your particular needs.
Freezer/Refrigerated Van Insulation
As with refrigeration systems, the sort of insulating material used depends upon the loading temperature required. After years of experience, we've concluded that the best insulating material for vehicular use is Styrofoam. The lightweight keeps payloads high, and it's thermal qualities keep temperatures cold. For this reason we use it in every vehicle we supply. The thickness of the Styrofoam is what establishes the degree of insulation. For chilled compartments we use 50mm Styrofoam, for frozen compartments we'll use 75millimeters and we allow the usage of 100millimeter Styrofoam for deep freezer compartments that will maintain a temperature as low as minus 30c. There are two distinct alternatives to 'finish' the insulating material: wet-lay and dryline. Glacier Vehicles believe that wet-lay is definitely the superior process, as once the wet resin has been installed and completely dries, it produces a hermetically sealed environment for food products to be transported in. For this reason it's the only method we use.We value our engineers enormously, and so does the wider engineering community. That is why they have won several awards for their work on Volkswagen Transporter freezer vans. If the coating of resin within the Volkswagen Transporter refrigeration van is damaged at any point, it can be repaired exceptionally easily. This is an additional advantage of the wet-lay coating.The chief trouble with the newer dryline method of insulation, is that due to this being of a pre-fab construction, once the roof, floor and walls have been installed in the back of the panel van, the joining surfaces of the panels are filled with a sealant which, over time, can perish and have cause for condensation to penetrate the insulating material itself and cause mould to form, which is never good when carrying food products!
Volkswagen Transporter Refrigeration Van Engineers
They are the ones we all turn to for answers to the many daily questions we get from customers, and they're the unsung (with the exception of this uncommon pat on the back!) hero's when it comes to keeping the build process smooth and moreover, on time for our customers! If you are interested in a bespoke fridge van solution (see more of our bespoke options) for your refrigeration vehicle needs, whether you want large or small Volkswagen Transporter refrigerated vans, our engineers will be happy to create something for you.
Van Warranty
Purchasing a refrigeration automobile from us signifies that you will be given a full 12 month manufacturers warranty on all equipment. The reason being it is completely new, even in our used freezer vans. We have found that GAH and Hubbard are the greatest refrigeration equipment manufacturing companies in the world, and unless you specify otherwise we'll use their goods in both our little and big Volkswagen Transporter refrigerated vans available for sale. This is not only for their exceptional quality, but additionally their high levels of after sales service. If any problems occur with the refrigeration compartment in your Volkswagen Transporter freezer van, these companies both send an engineer to your location to repair the problem straight away, no matter where you happen to be.
Glacier Vehicles Video