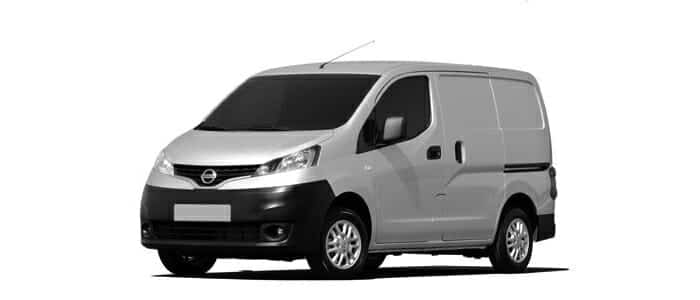 The Nissan NV200 is an extremely popular urban delivery van from the highly regarded Japanese manufacturer Nissan. It is popular all over the world, and is often used as a refrigerated van. It's a small van that manages to pack in an impressively large amount of goods for the size.
There are two different engines available in the NV200: a reasonable 89bhp output version and a heftier 110bhp output model. Both engines are 1.5 liter diesels manufactured by Renault, Nissan's partner in this venture. The more powerful engine has a six speed gearbox for longer journeys, while the smaller engine's five speed gearbox works well on short jaunts and in urban situations.  The fuel economy that these engines achieve is deeply impressive, with 57.6 MPG being easily attained on the combined cycle.
As impressive that figure when considered alone, it becomes even more staggering when you also consider the incredible load capacity of the NV200. This small refrigerated van can fit an extremely large amount of goods inside. 4.2 cubic meters of goods are easily packed away into the cargo section. In practical terms, that means you can fit two standard sized Europallets into the back, which is very surprising for a refrigerated van of this size. The 1.5 liter engine can haul refrigerated payloads of 739kg.
It's an excellent refrigerated van to drive in the urban environment, partly because of the size. It's extremely maneuverable, even in the tight, twisty roads that many British towns and cities have. It's perfect if you are in the business of delivering refrigerated goods from a central warehouse to retail locations around a city, or for short hops between smaller towns.
The loading and unloading of the NV200 also suits the urban environment. There are two side doors available in the standard specification, one on the near side and one on the offside. This is particularly useful for unloading the vehicle in narrow streets or other awkward town centre situations. Of course there are also a pair of doors on the rear of the vehicle for you to load and unload the van in a more familiar way. As you'd expect from a refrigerated van of this size, the loading height is fairly low, which makes it easy to get things in and out.
Just like the refrigerated cargo area, the inside of the driver's cab is also deceptively large. It's spacious and comfortable for drivers of almost any dimensions, and the interior is well designs, with controls easily at hand.
The standard specification of the NV200 is extremely generous, with ABS and EBD included for maximum braking safety. There's also a Bluetooth system for in-car entertainment, an immobilizer, a remote central locking system and there's even a rear view camera with a small screen in the dashboard. It's extremely unusual to find this feature as standard on any commercial vehicle, and adds even more to the NV200's urban credentials.
As refrigerated transportation for urban delivery go, there are few as suitable as the Nissan NV200.
Nissan NV200 Van Refrigeration Systems
There are an array of refrigeration systems on the market nowadays. Some goods only need to be kept under 30c, whereas other products should be transported inside a freezer van with temperatures as low as -30c. Whilst most businesses need one loading compartment, many businesses require dual (even triple) loading compartments, providing them with the ability to transport two / three products at distinct temperatures simultaneously. Some refrigeration vans must work even when the engine is totally switched off. This situation is most usually found with companies who need mobile Nissan NV200  refrigerated vans to serve cold products during outdoor events. For scenarios like these, a back up facility is required. These types of Nissan NV200 freezer vans will then be linked to an external power supply, typically a common three phase or single phase source. It has the effect of keeping the merchandise stored inside cooled, even with the engine totally off. Glacier Vehicles source equipment from all of the most reputable Nissan NV200 refrigeration van equipment companies, and we are very happy to develop a bespoke system for your particular needs.
Freezer/Refrigerated Van Insulation
Insulant is a very important component in Nissan NV200 refrigerated vans, and it is this aspect, when along with the choice of refrigeration system, which will determine the interior temperature of the vehicle. After years of experience, we have concluded that the best insulating material for vehicular use is Styrofoam. The lightweight keeps payloads high, and it's thermal qualities keep temperatures cold. For this reason we use it in every vehicle we supply.For chilled temperatures ( 5oC to 0oC) 50millimeters Styrofoam is used, for moderate frozen (0oC to -18oC) 75millimeters Styrofoam is used and for deep frozen (-18oC to -30oC) 100millimeter Styrofoam is needed. Nowadays there are two main types of 'finish' to the insulating material; dry-line and wet-lay. We believe that wet-lay is undoubtedly the superior process, as after the wet resin has been installed and fully dries, it generates a hermetically sealed environment for food products to be transported in. For this reason it is the only method we use.They are award winning engineers in their own right, and we are very lucky to have such expertise in the Glacier Vehicle ranks! The wet-lay resin coating is also very straightforward to fix in the event that the interior of the Nissan NV200 freezer van is damaged. Dry line coating is a newer process van business we prefer to stick to the original wet-, although it has found some favour in the refrigeration lay This is because the sealer used to link dry line panels can often harbour mould growth, which is a huge problem if you are hauling food.
Nissan NV200 Refrigeration Van Engineers
Our customers frequently have questions concerning the build process, plus our engineers are the very best people to turn to for all of the technical details. In addition they work hard to maintain our Nissan NV200  freezer vans build process running smoothly, meeting the frequently tight time constraints of our valued customers. Our engineers also have the skills to make totally custom refrigeration solutions, tailored for virtually any customer requirement in both large and little Nissan NV200 refrigerated vans.
Van Warranty
Buying a refrigeration automobile from us means you will be given a complete 12 month manufacturers guarantee on all equipment. The reason being it is brand-new, even in our used freezer vans. We always use GAH and Hubbard refrigeration equipment in both our little and big Nissan NV200 refrigerated vans available for sale, unless you've got some particular requirements that these companies cannot fulfill. We actually believe this is the top equipment on the market, plus they have got an excellent after sales care service. If any issues occur with the refrigeration compartment in your Nissan NV200 freezer van, these companies both send an engineer to your location to repair the problem immediately, no matter where you happen to be.
Glacier Vehicles Video