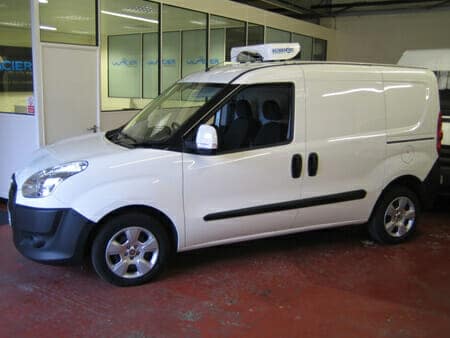 Running Costs
The 1.6-litre diesel engine is only available in one model, the L1H1, with the 2.0-litre diesel engine being the solitary choice for L2 models. Fiat says it has a fuel economy of 40.9mpg with CO2 emissions of 182g/km for the 1.6-litre diesel engine models. Funnily enough, this amount is greater than the 42.2mpg/177g/km quoted for the L1H1 Citroen Dispatch and Peugeot Expert refrigerated vehicles, with identical bodywork and paneling.
The Transit Custom refrigerated van offers more fuel for money, as does the VW Transporter BlueMotion and Vauxhall Vivaro ecoFLEX. The Scudo refrigerated van yields 18,000-mile service intervals, which are bettered by the Citroen Dispatch refrigerated van, with 20,000 miles/12 months, the Renault Traffic refrigerated van, at 25,000 miles/24 months, and the Ford Transit Custom refrigerated vehicle, at 30,000 miles/24 months.
Practicality
The Scudo refrigerated panel van comes in three different sizes, with L1H1 giving 5.0 cubic metres, the L2H1 6.0 cubic metres and the L2H2 7.0 cubic metres. The Scudo refrigerated van is suitable for all kinds of business and journeys, although this amount of customization is available with its competitors.
The Scudo refrigerated vehicle comes with two sliding side doors as standard and eight load lashing points as standard for your convenience. The side doors yield a loading width of 924mm, with 1,245mm between the wheel arches.
With cargo loads ranging from 996kg to 1,212kg, the Scudo offers a reasonable payload, offering a great deal more than the smallest Ford Transit Custom, but most competitor refrigerated vans can carry a lot more than the Scudo.
The crew van models went on the market at the 2013 CV Show and include a bulkhead behind the three rear seats.
The load floor goes towards the rear passenger seat, providing more space. L1H1 crew vans have a reported payload of 996kg.
Reliability: how safe is your refrigerated vehicle?
Side airbags come as a £190 option and Window airbags are a £390 option – although not for the crew van option. Citroen, Peugeot, Ford and other refrigerated van manufacturers use the engines, which have been on the market for quite some time. They have great prestige when it comes to reliability. There have been some issues when it comes to steering performance, which COULD mean a revamp in the future.
Performance and handling: does it handle like a refrigerated van, or car?
Fuel consumption figures insinuate that the 90bhp 1.6-litre models are better suited to smaller cargo loads in towns. If you deal in long distance or expect to run at or near capacity, choosing the two-litre diesel engines would probably be wise.
Cab and Interior
The Scudo comes with a double passenger seat, so you can fit three crew members in there. A height-adjustable driver's seat and steering wheel come as regulation in all models, meaning a comfy driving position shouldn't be an issue in this refrigerated vehicle.
Morale increases with supportive seats, and as they come as standard, it seems like a no brainer if your refrigerated fleet has a large crew. There's a practical amount of storage space, with a large glove box and door pockets, with a large storage bin in the dashboard top on the passenger side and other smaller storage spaces in the refrigerated vehicle.
This refrigerated van impresses, particularly due to its impressive fuel consumption, saving you money in the long run, as well as merely having great green credentials.