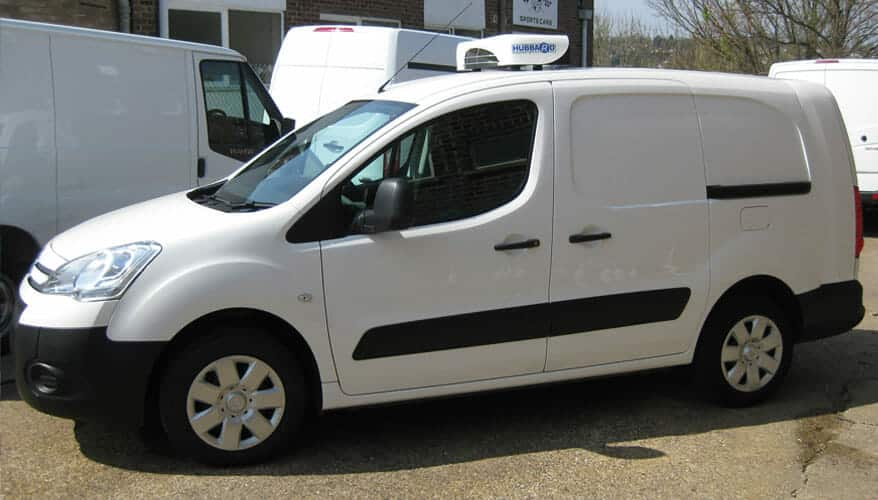 The Renault Kangoo refrigerated van is one of Europe's best sellers in on compact van market, and its offshoot Phase II range aims to keep this up.
Space
With a load volume of 3.0 cubic metres, the Kangoo refrigerated van has a fairly industry standard amount of space for its size. Its offshoot model, the Max, has an extra 1.0 cubic metre of space, bringing it up to 4, but the foldable front seats can be retracted to increase that cargo space to 3.5 and 4.6 cubic metres respectively.
The Kangoo crew refrigerated van is available for purchase including fixed-steel bulkheads and a multi-position bulkhead. The braked trailer towing capacity stands at 1,050kg for standard Kangoo and Kangoo Maxi vans, plus both of the lengths offer a range of roof bars and roof racks, which can easily support a load of up to 100kg. Other options include rear window safeguard grilles and rear parking sensors, which come at the prices of £100 and £230 respectively.
How safe is your refrigerated vehicle?
ESP is still available for the Kangoo refrigerated van; however, it isn't available for the Kangoo Debut. This is disappointing, considering the Mercedes offers the safety kit as standard on its Citan refrigerated van, which is built alongside the Renault. Ford and VW include ESP on the Transit Connect and Caddy, too. Renault customers will have to pay £200 to add ESP to a Kangoo Maxi, and £350 to add it to the standard Kangoo refrigerated van.
Cab and Interior
Every last version of the Kangoo refrigerated vehicle comes with an auxiliary input for MP3 players, as well as Bluetooth hands-free connectivity – even the budget Debut van, seemingly stripped of all luxuries and add-ons. The interior cab also provides a tremendous amount of storage space, more than enough for a large crew, while a height-adjustable steering wheel and driver's footrest make comfort simple, and adjustable to your needs, and your crews. If you decided to go for one of the hugely popular Core models, you'll get electric windows, door mirrors, and a trip computer, in the standard model, as well as disc brakes on both the front and the rear.
The refrigerated Sport models are undoubtedly the top of their class, as they stand out with extra trim on the bodywork, plus 15-inch alloy wheels and front foglights. The interior of these versions also benefit from electric folding door mirrors for your convenience, a one-touch electric driver's window and state of the art air-conditioning. This refrigerated vehicle benefits massively from its standard inclusions, more than the others.
As well as that, Renault's R-Link Multimedia system gives a superior, top of the range angle to the Kangoo Sport. It is made up of a central touchscreen, which has an app store for you or your crew can use to suit your business and leisurely needs. It has a sat-nav, which includes a free 3-month subscription to TomTom live services. You can also purchase a £350 Tech Pack made up of rear parking sensors, cruise control and front foglights for extreme conditions and safety concerns.