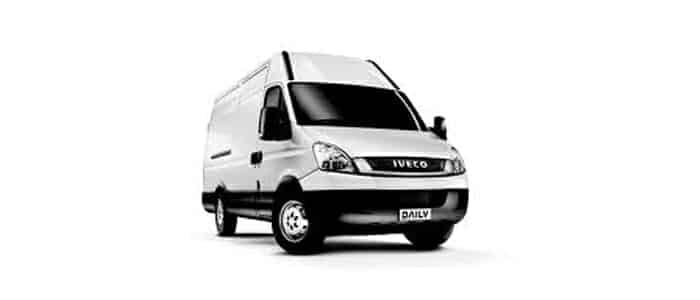 If you've never driven a commercial vehicle before then the name "Iveco" might be new to you, but this Italian manufacturer has a solid reputation amongst refrigerated van drivers that has persisted for years. The rear wheel drive Iveco Daily is one of their most popular commercial vehicles in the UK. It's a large refrigerated van with a powerful engine for those who need to move a lot of goods over long distances.
Make no mistake; this is an extremely chunky refrigerated van. Even the smallest model can cope with over 1000kgs of refrigerated cargo, and the largest model can move a staggering 4000kgs or even more. Underneath the hood, buyers can choose from a vast array of different engines. The latest changes have introduced 3.0 liter twin turbo diesel engine with a power output of either 140bhp or 170bhp. There is also the option of a 2.3 liter diesel at 96bhp, 106bhp, 116bhp, 126bhp or 136bhp. For extremely environmentally friendly businesses, Iveco have also made landfill gas and all electric models of this refrigerated van available.
As you'd expect from such a large refrigerated vehicle, the driver's cab is extremely spacious. Unlike most "three seater" commercial vehicles, the Daily can seat three extremely comfortably. There is also no shortage of storage space, with a trio of bins in each door, multiple small shelves, a decent size glove box, and a bin in the center of the dashboard that has a paperwork clip attached. There are also plenty of cup holders, bottle holders, etc.  There is plenty of room for both personal effects and delivery documentation, and the driver's seat is fully adjustable for height.
The refrigerated load bay is very easy to load. There are two doors in the rear, and also a full size sliding nearside door that allows access to the back of the loading bay. The back doors can be opened a full 270 degrees, but there is a catch at 90 degrees if you don't want to swing the doors all the way back. There are also steps and handles near all doors to make it easy for you to enter and exit the load bay.
Considering the size of this refrigerated van, it handles extremely responsively. This is partly down to the hydraulic power steering, which comes as part of the standard specification. It also drives extremely well, with effortless gear changes and smooth operation. The front suspension is equipped with a transverse leaf spring, and the rear wheels are supported by single leaf parabolic springs.  If you prefer, you can also opt for air suspension.
The standard equipment in the Daily is fairly generous. You'll get electric windows as standard, as well as a trip computer, an RDS stereo radio/CD player and a standard in-car power point.  Extras such as Bluetooth connectivity and electrically adjustable heated mirrors are available at an extra cost.Overall the Iveco Daily is a really phenomenal refrigerated van, especially if you are looking for a particularly large vehicle.
New Iveco Vehicles
USED Fridge Vans In Stock by Size
Iveco Daily Van Refrigeration Systems
There are an array of refrigeration systems on the market nowadays. Some goods only need to be stored under 30c, whereas other goods should be transported within a Iveco Daily freezer van with temperatures as low as -30c. Although the most common arrangement is to have a solitary loading compartment, there are specific scenarios in which a Iveco Daily refrigerated van will have many compartments, each kept at a different temperature.Another factor is if the refrigeration system will be required to work independently of the engine. One example is companies that cater outdoor occasions where prolonged cold storage is needed. When this is required, we'll need to use a backup power system. These sorts of freezer vans will then be linked to a peripheral power supply, typically a common three phase or single phase source. It's the result of keeping the merchandise stowed inside chilled, even with the engine totally off. Glacier Vehicles work with all the major refrigeration manufacturers and can offer and fit the necessary refrigerator / freezer equipment to cover any bespoke requirement our clients have.
Freezer/Refridgerated Van Insulation
The kind of insulation used will have just as big an impact on the inner temperature of the Iveco Daily freezer van as the refrigeration system. We think there is certainly no better option for insulation material than Styrofoam. It is not only exceptionally light, which means you can carry a heavier load, in addition, it has incredible thermal insulation properties. We use it in every vehicle we provide. The thickness of the Styrofoam is the thing that determines the amount of insulation. For cooled compartments we use 50mm Styrofoam, for frozen compartments we'll use 75mm and we reserve the utilization of 100millimeters Styrofoam for deep freezer compartments that will maintain a temperature as low as minus 30c. There are two different options to 'finish' the insulation: wet-lay and dry-line.Wet-lay is the more traditional method, and one which Glacier Vehicles adopt, because of the fact that once the 'wet' GRP resin has been implemented and dried, the loading area becomes a 100per cent sealed, washable and hygienic loading environment. Our engineers have even won several awards for their skills in creating freezer vans, and we feel extremely lucky to have them on board.Another benefit to the wet-lay process is that should the resin become damaged through pallet loading and so forth, it's very easily rectified back to an as new condition. Dry-line is a more innovative method for creating Iveco Daily freezer vans, but we believe it isn't an improvement to the conventional wet-lay coating. It consists of multiple panels that are joined using a sealer, which can degrade and trigger the forming of mould, an enormous danger in theTransfer of food.
Iveco Daily Refrigeration Van Engineers
Most of the credit for ensuring that our Iveco Daily freezer vans build process runs easily and within time constraints goes to the hard work of our engineers, and they are constantly on hand to answer any customer questions. Our engineers are also tasked with producing bespoke refrigeration systems or client's unique requirements, in both small and large Iveco Daily refrigerated vans.
Van Warranty
Every single product and service we market comes with a full 12 months manufacturers warranty. That covers the insulating material and the actual refrigeration system. Even in our used vehicles, the conversions are brand new. We have discovered that GAH and Hubbard are the greatest refrigeration equipment manufacturing companies in the whole world, and we'll use their products in both our small and big Iveco Daily refrigerated vans for sale if you don't specify otherwise. This is not only for their outstanding quality, but also their high levels of after sales service. These companies have technologists all over the mainland UK, and can come to a convenient location for you personally if the Iveco Daily refrigeration van has any issues.
Glacier Vehicles Video