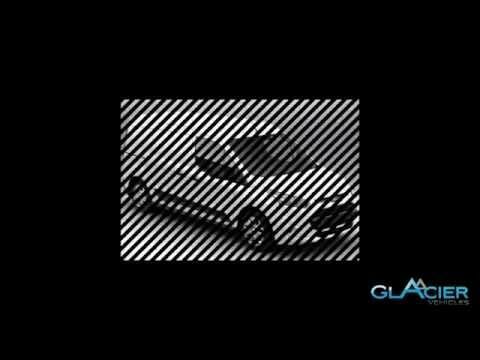 The Ford Transit needs no introduction. It has achieved almost legendary status since it was launched in 1965, when it started building up a reputation that endures today. Of course the Transit has changed a lot since then, but the great value, reliability and drivability that propelled the Transit to a market leading position has remained the same. These qualities make it an ideal choice for use as a refrigerated van.
There are a huge amount of variants available in the Transit range. Wheelbases range from short to "jumbo", which is Ford's name for their extra long wheelbase. Every variant can hold an impressive volume of load for the size, with the short wheelbase model packing away 7.4 cubic meters of refrigerated payload, with the jumbo model boasting a cavernous 14.3 cubic meters of space. As well as having a large payload volume, it can also handle a respectable weight. The smallest version of the Transit can haul 873kgs of refrigerated goods, going all the way up to an impressive 1640kgs in the largest model.
Loading the Transit is spectacularly easy. There is a huge full size nearside sliding door, which has a step so that you can access the inside of the refrigerated cargo bay. There are also two rear doors that give full access to the inside. One of the most impressive aspects of the Transit is the handling. The steering is extremely responsive, which is gratifying since this is a reasonably sized refrigerated van. It makes it easy to drive even in the urban environment. The latest engine to be put in the Transit (the 2.2. litre Duratorq, which is available in 100, 12 and 155bhp power outputs) is exceptionally quiet. The engine achieves a combined fuel economy of 44mpg, which is extremely respectable for a refrigerated van of this size.
The cab of this refrigerated van is incredibly spacious, and is one of the areas where it excels. It seats three, and is absolutely packed full of storage space. There is a lot of space for driver's personal effects and journey accouterments, such as a large bottle holder, several cup holders, and a tray which can be used for both eating and filling in documentation. The driver's seat is fully adjustable for height, which makes for an excellent driving position no matter how big you are. The standard specification of this refrigerated van is incredibly generous. There are the features that you'd expect, such as electric windows, central locking, and a powerful CD Radio, but there are also numerous extra features such as hill start assist, an electronic stability program, a heated windscreen, and a passive anti-theft system immobilizer.  There is even a hill start assist feature that is invaluable when the van is fully loaded.  Numerous extra features are available in more expensive trim levels.
Overall, the Transit is an excellent, reliable and safe choice. The wide range of specifications means that anyone who is looking for a medium sized refrigerated van should be able to find a Transit that is suitable for their needs.
Ford Transit Van Refrigeration Systems
There is no shortage of refrigeration systems available to choose from. Temperatures in the Ford Transit refrigerated van change radically, from an average 30c for goods which should be kept room temperature in the peak of summer, to arctic conditions of minus 30c for exceptionally volatile products which require very cold temperatures.Whilst most companies need one loading compartment, many businesses need dual (even triple) loading compartments, giving them the ability to transport two / three products at various temperatures simultaneously. Another factor is if the refrigeration system will have to work independently of the motor. This is most common with refrigerated van which is used to serve cold food at outdoor events. When this is required, we are going to need to use a backup power system. The auxiliary electricity supply will generally be an outside source, most generally three phase or single period. This keeps the merchandise cold, even when the engine is not running. Our proficient engineers will source equipment from leading Ford Transit refrigeration van system manufacturers and fit them in a vehicle to meet your unique requirements, regardless of what they are.
Freezer/Refrigerated Van Insulation
As with refrigeration systems, the type of insulation used depends upon the loading temperature required. Glacier Vehicles uses Styrofoam insulation exclusively, as we believe its combination of lightweight and thermal insulation properties make it the greatest material to insulate a vehicle. The thickness of the Styrofoam is what determines the degree of insulation. For cooled compartments we use 50millimeters Styrofoam, for frozen compartments we'll use 75millimeter and we reserve the application of 100mm Styrofoam for deep freezer compartments that can keep a temperature as low as minus 30c. After the insulation is installed, a protecting 'finish' will be implemented. This is done in two different ways: wet-lay or dry-line.Wet-lay is the more conventional approach, and the one which Glacier Vehicles embrace, due to the proven fact that after the 'wet' GRP resin is used and dried, the loading area becomes a 100per cent sealed, washable and hygienic loading environment. Many of our Ford Transit freezer vans engineers have even won awards for their work, and we are extremely fortunate to work with them. An added advantage to utilizing wet-lay insulation is that it's very easy to mend if any harm happens to the inside of the Ford Transit refrigeration van. Dry-line is a more innovative method for creating freezer vans, but we feel it is not an improvement to the usual wet-lay coating. It consists of multiple panels that are connected using a sealant, which can degrade and trigger the forming of mould, a big risk in the Transfer of food.
Ford Transit Refrigeration Van Engineers
They help to answer any technical questions our customers have about the Ford Transit freezer vans creation process, plus they make sure that all of our jobs are completed promptly and within budget. Our engineers may also be tasked with creating bespoke refrigeration systems for client's unique requirements, in both big and small Ford Transit refrigerated vans.
Van Warranty
All of the equipment that we supply is completely new, even in our used freezer vans. This means that you will be covered with a complete 12 month manufacturers warranty for your own peace of mind. We believe that GAH and Hubbard are the top makers of refrigeration products, and we have a tendency to use these products in all our small and big Ford Transit refrigerated vans for sale unless the client specifies otherwise. This is because we have discovered their consistency in not only high quality productsbut in addition, their after sales service is second to none. Their engineers can come to any place in the mainland UK to repair any difficulty, in the unlikely event an issue arises together with your Ford Transit deep freezer van.
Glacier Vehicles Video