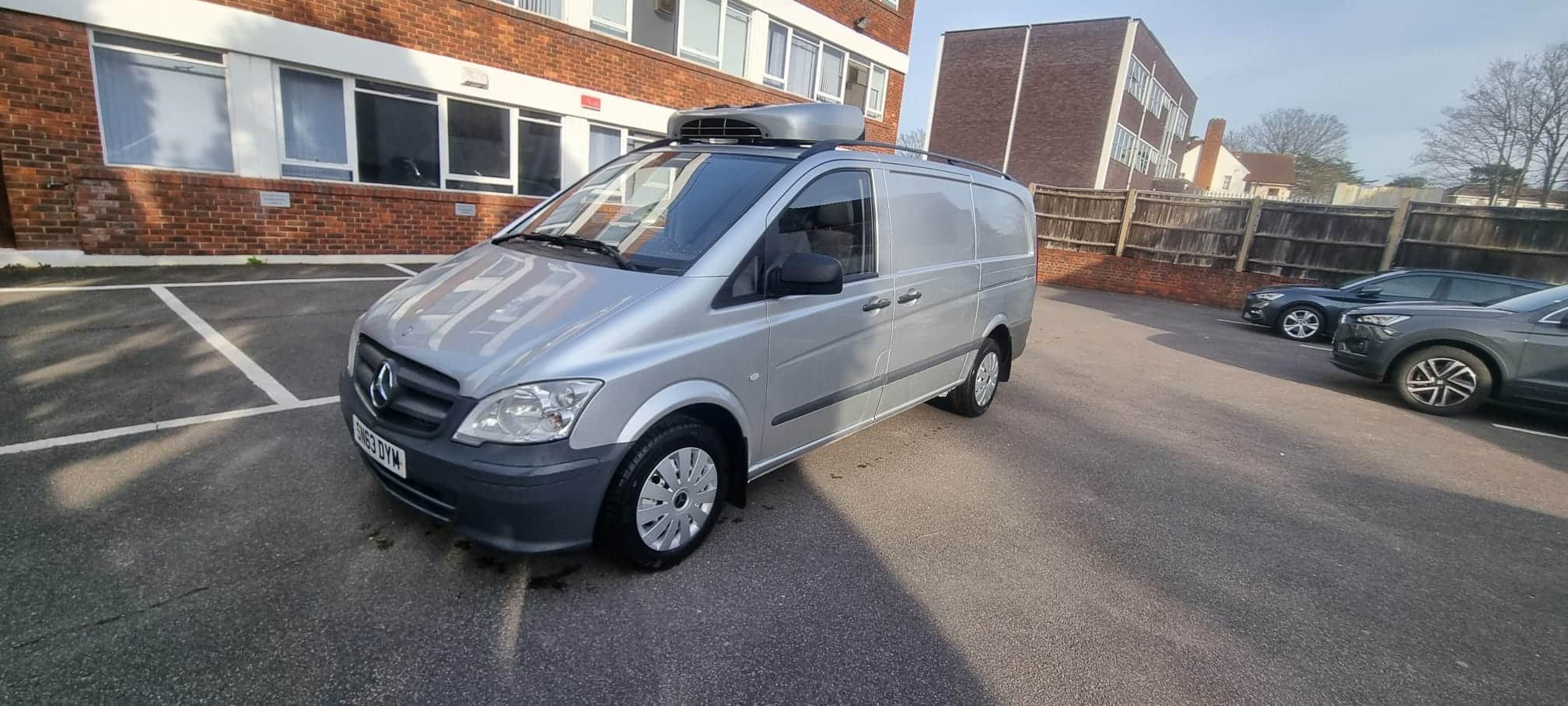 The Mercedes Vito is a small refrigerated vehicle in the Mercedes lineup. It's a popular choice among businesses in the food industry, beverage industry or medical supplies industry. It's a lot of fun to drive, and company owners like the reduced fuel consumption.
This Mercedes Vito refrigerated van is in the third generation of the commercial vehicle world. This makes it a relative newcomer; nameplates like the Ford Transit and VW Transporter have been around for decades.
But you didn't think the inventor of the automobile would overlook the medium-sized van market, did you? That's exactly what opponents hoped for. The Mercedes Vito van, on the other hand, has become a pillar of the Mercedes workhorse lineup, sitting as the Goldilocks-sized option between the tiny Citan and the massive Sprinter. Even so, there are three Mercedes Benz Vito sizes to pick from.
This review is about the Mercedes Vito which has been converted to a full refrigerated van by Glacier Vehicles.
What's new for the Mercedes Vito facelift?
The Vito is an excellent refrigerated van option. It's one of the few small light commercial vehicles that can handle both city cold chain delivery and long-distance highway travel.
The visual facelift is restricted to a new radiator grille and minor detail modifications within the cab, but the 2020 Mercedes Benz Vito gets a brand new engine lineup and a slew of new technology.
Mercedes' latest 2.0-litre turbodiesels, which debuted in the passenger car line and are said to be extremely clean in terms of emissions, are now available in rear-wheel-drive variants.
All-wheel drive Meanwhile, new 1.7-litre engines are now available for Mercedes Vitos, which improve efficiency.
There's also a new air suspension system and a more modern nine-speed automatic transmission and extra safety tech, including a sophisticated digital rear-view mirror, autonomous emergency braking, and Distronic active cruise control.
Mercedes Vito Van refrigeration systems
There are several different refrigeration systems to choose from. The most important factor in selecting a refrigerated vehicle is ensuring that it can maintain the required temperature for the duration of the journey. Inside refrigerated vehicles, temperatures range from a relatively ambient 8°C to a minus 30°C arctic freeze. These temperatures vary depending on the product within.
Some Mercedes Vito freezer vans have many compartments that are kept at varying temperatures. There may be two, and in some cases, three, but the most frequent configuration is a single chilled compartment in a single van.
Some Mercedes Vito refrigeration vans can operate even when the engine is turned off completely. This type of Mercedes Vito refrigerated van is commonly used to serve chilled foods alfresco at weddings, festivals, and other outdoor events.
A standby facility will be required in this case. This allows them to connect the refrigeration system to an external power supply (single-phase or three-phase), allowing them to keep their produce cool or frozen indefinitely.
Glacier Vehicles works with all of the main refrigeration manufacturers and can provide and install the necessary refrigerator/freezer equipment to meet any customised needs our customers may have.
Freezer/refrigerated van thermal insulation
The type of thermal insulation used is determined by the required loading temperature. Styrofoam is the ideal material for refrigerated vehicle insulation because of its lightweight and high thermal properties, which is why we use it solely in our refrigerated vehicles.
Styrofoam of varying thicknesses will be beneficial for various levels of insulation, with relatively thin Styrofoam (50mm) being used in cooled compartments and 100mm thick Styrofoam being used in deep freeze compartments. Dry-line and wet-lay insulation are the two most common types of 'finish' nowadays.
Other reviews on Mercedes Benz Vito Refrigerated Van
Comfort and design
The Mercedes Benz Vito feels as solid and durable upfront as you'd expect from a Mercedes-Benz van and other medium vans. The dash is made of tough plastic, and all of the controls are large and durable. The visibility is decent, and the seat and wheel adjust easily, making it simple to get comfortable. The rear seats can also be folded to form a basic overnight bed.
Latest-model
The Mercedes Benz Vito line was revamped in 2020, with the most notable modification being the introduction of a new electric eVito, which was geared at the urban van market but only had a 92-mile electric range when it debuted.
Aside from the Vito panel van, there are also other models including a crew cab variant and an eight-seat Mercedes Vito Tourer, the latter of which is offered in three body lengths. There's also the option of front- and rear-wheel-drive on most models.
The rest of the lineup was also redesigned, with the new model receiving a new engine lineup as well as extra technology, including a digital rear-view mirror, autonomous emergency braking, and adaptive cruise control.
The only substantial changes to the styling in the old Vito are a redesigned grille and a wider range of chevalier cheval. You can also choose the Mercedes Vito as a standard panel van with three seats, or a crew van, which gains a second row, allowing seating for six. All these variants have been converted to a refrigerated van by Glacier Vehicles.
Highlights of Mercedes Vito Pure standard kit features include:
Heated, electrically adjusted door mirrors
Heat-insulating glass
'Comfort' driver's seat
Leather steering wheel (and gearknob on manual versions)
Audio 10 infotainment system
Satellite navigation
Overhead control panel
Automatic headlights
Parking sensors
Active Park Assist automatic parking
Highlights of Mercedes Vito Progressive standard safety kit (in addition to Pure):
Electric-folding door mirrors
Front fog lights
Cruise control
Driver's seat lumbar support
Driver and passenger airbags
Metallic paint
Colour-coded bumpers
Seven-speed automatic
Audio 15 infotainment system with colour screen
Foot-operated parking brake
Highlights of the Mercedes Vito Premium standard safety equipment (in addition to Progressive):
Reversing camera
Anti-theft protection package with double lock
Velour floor mats
Pre-wiring for Becker Map Pilot sat-nav system
Air-conditioning
17-inch alloy wheels
Rear-wheel drive model
Chrome radiator grille
Steel wheels
Standard equipment (in addition to Premium) on the Mercedes Vito Sport includes:
Automatic gearbox
Sat-nav
DAB radio
Heated windscreen washer jets
Electric auxiliary heating
Sport suspension (10mm lower than standard)
Sport side skirts
Sports graphics on bonnet and side skirts
17-inch (Crew Van) or 19-inch (Tourer) alloy wheels
LED headlamps with high beam assist 'plus'
Value for money
The Mercedes Benz Vito isn't the cheapest van in its sector, as you might think given the three-pointed star on the grille. Still, with pricing starting at £23,000 (without VAT), it's actually decent value at this end of the spectrum, and surprisingly on a level with rivals.
The specification is also excellent, given that all variants come with cruise control, a reversing camera, and Apple CarPlay and Android Auto. Models become more expensive as you move up the range, with top-spec Sport variants costing more than £40,000 before VAT and optional extras are factored in.
The electric eVito variant is likewise quite expensive, with prices starting at £40,895.
Used Vitos, on the other hand, are currently available for as little as £3,000 for untidy high-mileage variants, though you'll need to spend around £6,000 to acquire one with less than 100,000 miles.
You can also order the Vito Crew Van and Vito Tourer minibus models, and there's the Vito Taxi for cabbies, while the Mercedes eVito panel van is available for zero-emissions deliveries.
While adopting the nearly-new path can save you a few thousand pounds, the savings won't be as significant as with other manufacturers. As you'd expect from the Mercedes badge on the front, it is one of the more premium choices on the market – which means you should expect to pay more for one of these than an equivalent Ford Transit Custom, Vauxhall Vivaro or Renault Trafic. As such, Vito's closest competitor is the Volkswagen Transporter.
Engines, gearboxes and handling
Renault shares the smaller 1.6-litre diesel engines. This has 88PS (in the 109 CDI) or 114PS (in the 111 CDI) of power outputs and is exclusively available in front-wheel drive, which is a first for the Vito. The engine promises a more affordable entry price and load volumes.
There are six-speed manual gearboxes and three 2.1-litre diesel engines available, each with 136PS (114 CDI), 163PS (116 CDI), and 190PS (119 CDI). These are all rear-drive and, thanks to maximum payload capacities, are better suited to heavier or longer-distance tasks.
Along similar lines, while the six-speed manual gearshift is neat and precise, the first gear itself is rather short – this will help get heavier loads moving but does mean you need to be quick with the change to second away from the traffic lights.
The 1.6-litre models drive well enough; the steering wheel is light and crisp, and smooth gear changes. However, it requires more effort than the 2.1-litre to produce effective torque, especially when loaded or merging onto a fast-moving highway. For a compact van to be able to take a Euro pallet is notable, as is the load volume of 4.65m3.
That isn't to argue that the entry-level engines aren't adequate. The front-wheel-drive 1.6-litre engines are more than competent for courier work or short trips, and while the rear-wheel-drive Mercedes Benz Vito is a little more powerful, the differences are minor, especially at lower speeds. The ride and effortless punch of the larger diesel engine make it a genuinely soothing machine to command, and it's strangely handsome for a panel van too.
MPG, CO2 and running costs
Mercedes claims a fuel economy figure of up to 39.8mpg, along with CO2 emissions of 157g/km. A front-wheel-drive model of Mercedes Benz Vito is a way to go if you're seeking the most value for money. Mercedes' mid-sized van has always been more expensive than the competition, and the new front-wheel-drive vitos FWD variants tighten the gap.
The running costs of the van are just as significant as the purchase price, and Mercedes has never been behind in this department. Surprisingly, the Mercedes Benz Vito with the best-quoted economy isn't the weakest. All Mercedes Benz Vito refrigerated van stats are based on WLTP test results, and the most fuel-efficient model is the rear-drive 2.0-litre diesel 114 CDI Premium in the L1 body type with the 9G-Tronic auto, which has a combined score of 39.8mpg.
The fuel consumption could be argued to be a little under par for a panel van at 29.4, but as you can carry more and compare to some of its competitors, a lot more for many this will be a positive trade-off.
What's it like to drive?
The 1.6-litre Renault diesel engine and front-wheel drive are standard on lower-powered Vitos, but our 114 CDI was equipped with Mercedes' venerable 2.1-litre diesel engine, rear-wheel-drive models, and a six-speed manual transmission.
The engine of Mercedes Benz Vito is smooth and quiet, and the gearbox is slick, though our barely broken-in test van was a little sticky moving into sixth gear. The ride, which is comfortable even when empty, is even more stunning. This is a comfortable van to travel long distances in.
Light and precise driving make getting around town a breeze, though we wish Mercedes would include larger door mirrors like those found on the Ford Transit and Renault Trafic. The parking brake that is actuated by the foot is also a significant throwback that is likely to divide opinions.
Which Mercedes-Benz Vito is best for me?
The Mercedes-Benz Vito is the only medium van available in both front-wheel and rear-wheel drive vito configurations (RWD).
FWD Mercedes Vito van should be the more cost-effective setup, and these versions are often less expensive to purchase. However, the mpg and list price differences aren't significant, and we've always thought the RWD Mercedes Benz Vito to be a considerably superior product. Rear wheels RWD also provides more traction when loaded.
In either variant, the middle power output is typically the most popular, but trim levels were less formalised until 2019 (with the exception of Sport models), so if buying used, double-check the exact specification of the van you're considering to ensure it has the kit you need from the options list.
Should I buy one?
The Mercedes-Benz Vito refrigerated van has got to be high on the shopping list for people in the market for this kind of vehicle with varied loading qualities and power efficient engine.
Call Glacier Vehicles on 0208 668 7579 to schedule a first hand viewing for a new Vito refrigerated van and other Mercedes Benz offers.