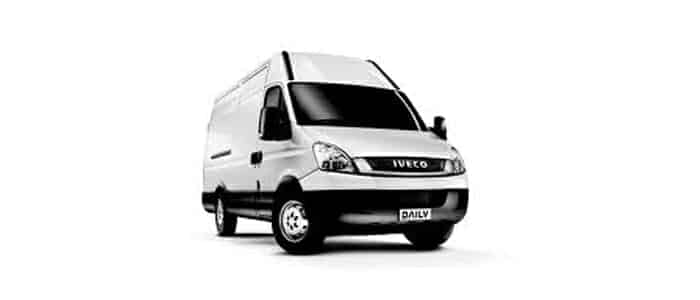 The Iveco Daily is a fairly common sight on Britain's roads, although there's nothing distinctive looking about this freezer van to pick it out from the crowd. It's a solid workhorse, and the most notable thing about it is the sheer size. The largest model of the Daily can handle a staggering 4000 kgs of frozen cargo, and even the smallest model can cope with over 1000kgs. As you'd expect, this type of haulage is achieved with a significant amount of power underneath the hood.
Iveco Daily drivers can choose between a dizzying array of engine configurations. The most recent changes in the Daily range have introduced a new 3.0 liter twin turbo diesel engine that is incredibly environmentally friendly. It has achieved Enhanced Environmentally Friendly Vehicle certification in both the 140hp and 170hp models. If you're looking for something with a bit less power, 2.3 liter diesel engines are available in power outputs of 96bhp, 106bhp, 116bhp, 126bhp and 136bhp. You can even obtain an Iveco Daily freezer van that runs entirely on landfill gas or electricity, if you are so inclined. Fuel emissions aren't bad at all, averaging out at 32.0mpg on the combined cycle.
The inside of the Daily's cab is extremely roomy, with plenty of space for three. All three of the seats are full size, so your third passenger won't have to deal with a flimsy fold down center console seat. There's also a huge amount of storage room, as you'd expect from a large freezer vehicle. The glovebox is amply sized, there are many different shelves, and there is a clip for storing important delivery paperwork on the dashboard.  It's an extremely comfortable environment for long journeys, with a fully height adjustable driver's seat and plenty of room for heads, shoulders and elbows.  The heating has easy, reliable controls that can be operated while driving without having to take your eyes off the road.
The load bay is extremely easy to load, with twin doors at the back (which swing all the way round to 270 degrees if required) and a full size sliding door on the nearside. This nearside door is absolutely vital for frozen deliveries, especially if you need to park on the side of the road rather than loading and unloading in a car park or loading bay. It's easy to get into the frozen cargo bay too, as each of the doors has steps and handles so that you can clamber in with the minimum of physicality.
The standard specification of this freezer van is fairly well equipped. Electric windows are included in the base model, as well as an onboard computer. Of course you'll also find all of the equipment that you'd expect, such as an excellent RDS stereo radio/CD player and a 12v power socket. There's even a driver's airbag.
All in all, the Iveco Daily is a great choice if you are looking for a large freezer van, and it's one of the most economical options if you are planning on hauling large amounts of goods regularly.
New Iveco Vehicles
Used Freezer Vans In Stock by Size
Iveco Daily Van Refrigeration Systems
There are an array of refrigeration systems available on the market today. Temperatures inside the Iveco Daily refrigerated van vary dramatically, from a moderate 30c for products which should be kept room temperature in the height of summer, to arctic conditions of minus 30c for exceptionally volatile products that require really cold temperatures. Although the most typical arrangement is to have a solitary loading compartment, there are certain situations where a Iveco Daily refrigerated van will have a lot of compartments, each kept at a different temperature. Sometimes it is necessary for the refrigeration van to work even without the engine running. This is most common with Iveco Daily refrigerated van which is used to serve cold food at outdoor events.In this scenario, a standby facility will be required. The auxiliary electricity supply will usually be an outside source, most normally three phase or single-phase. This keeps the merchandise cold, even when the motor isn't running. Our proficient engineers will source equipment from major refrigeration van system manufacturers and match them in a vehicle to meet your unique requirements, no matter what they are.
Freezer/Refrigerated Van Insulation
Insulation is an incredibly significant component in refrigerated Iveco Daily vans, and it is this aspect, when along with the choice of refrigeration system, that'll determine the interior temperature of the vehicle. The combined light weight and highly thermal qualities of Styrofoam make it the ideal material for refrigerated vehicle insulation, which is the reason why we use it exclusively in our refrigerated vehicles. A different thickness of Styrofoam will be useful for different levels of insulation, with comparatively thin Styrofoam (50mm) used in chilled compartments, moving to 100mm thick Styrofoam for deep freeze compartments. Two different varieties of 'finish' are employed to coat the insulation after installation. These are known as dryline and wet-lay. We believe that wet-lay is by far the superior method, as once the wet resin has been installed and fully dries, it produces a hermetically sealed environment for food products to be transported in. That is why it is the only process we use.Our engineers have even won several awards for their skills in creating Iveco Daily freezer vans, and we feel extremely lucky to have them on board. The internal finish that is created by the wet-lay insulation is also very easy to fix in case of damage to the Iveco Daily freezer van. Dryline is a more innovative method for creating freezer vans, but we feel it isn't an improvement to the conventional wet-lay coating. It consists of multiple panels which are linked using a sealant, which can degrade and trigger the development of mould, a big hazard in the Transport of food.
Iveco Daily Refrigeration Van Engineers
Most of the credit for making certain that our Iveco Daily freezer vans build procedure runs smoothly and within time constraints goes to the hard work of our engineers, plus they are always on hand to answer any client questions. Our engineers even have the skills to make completely custom refrigerated van solutions, tailored for virtually any customer requirement in both little and large Iveco Daily refrigerated vans. If you had like to learn more then please visit https://www.glaciervehicles.com/bespoke-refrigerated-vans/.
Van Warranty
You will get a 12-month manufacturers warranty on all of our products, no matter whether they come in our new or second-hand Iveco Daily freezer vans. That's because all of the refrigeration equipment and insulation we supply at Glacier Vehicles is brand new. We have found that GAH and Hubbard are the top refrigeration equipment manufacturing companies in the world, and unless you specify otherwise we will use their products in both our little and large Iveco Daily refrigerated vans available for sale. This is not simply for their outstanding quality, but additionally their high levels of after-sales service. If any problems occur with the refrigeration compartment in your Iveco Daily freezer van, these companies will both send an engineer to your location to repair the issue right away, wherever you happen to be.
Glacier Vehicles Video