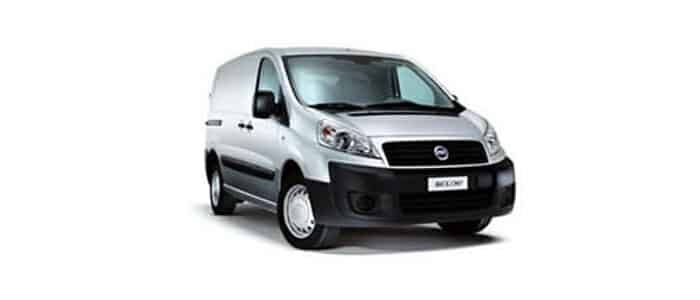 The Fiat Scudo is a small van that is perfectly suited for conversion to a small freezer van, especially if you are looking for a compact vehicle that works well in urban areas. The Scudo is extremely popular, and the fantastic quality latest models have become the most popular of all.
The Scudo range offers customers a wide selection of different configurations to suit their individual freezer van needs. There are two different wheelbase configurations, a short wheelbase and a longer wheelbase, and the long wheelbase model also carries the option of a high roof. The shortest wheelbase model has a frozen payload size of a respectable 5 cubic meters. This is extended to 6 cubic meters in the longer wheelbase version, and the high roof option brings it up to a spacious 7 cubic meters, which is practically cavernous for a small freezer van.
There is also a multitude of different engines to choose from, ranging from a small and efficient 1.6 liter engine with a bhp of 90, to two more powerful 2.0 liter versions with power outputs of 120bhp and 136bhp. The smallest engine can shift a frozen payload weighing 1000kgs and the 136bhp variant can easily haul 1200kgs of frozen products.
Loading the deep freeze cargo bay on the Scudo is a piece of cake. There are two sliding doors, one on the nearside and one on the offside, and two rear doors.  Competing models of freezer van often have only one sliding door on the standard configuration, but the Scudo generously provides two. The rear loading height is 560mm to 490mm, making it extremely easy to load even heavy items. The doors can be opened as wide as 180 degrees, which is handy for backing up to loading bays or similar types of loading situation.
The driver's cabin of this freezer van is impeccably comfortable. It's very much like the interior of a car, in terms of spaciousness, comfort, aesthetics and driving height. The layout has been extremely ergonomically designed to take into account how individual drivers use a vehicle, and both the seats and the steering column are adjustable for comfort. There is no shortage of storage space in the drivers cabin either, with an extremely spacious glove box and all the usual shelves and door pockets that you'd expect.
The standard specification is fairly generous, with some great features. The best aspect is the aforementioned double side loading doors, but it also comes with ABS braking (with emergency braking assistance), an immobilizer for security, central locking (that can be operated by remote control), electric windows with one touch operation, and a highly respectable stereo/CD player that is even compatible with MP3 files.
Overall the Scudo is a fantastic choice for a freezer van. It's comfortable, reliable, and achieves a fantastic combined fuel economy of 41.5mpg, which will appeal to cash conscious business owners all over the UK.
New Fiat Vehicles
Used Freezer Vans In Stock by Size
Fiat Scudo Van Refrigeration Systems
There are an array of refrigeration systems on the market nowadays. A wide variety of temperatures can be found inside vehicles, from a fairly ambient 30c to a minus 30c deep freeze. These temperatures change according to the product within.Whilst most companies need one loading compartment, many businesses need dual (even triple) loading compartments, providing them with the ability to transport two / three products at several temperatures simultaneously. Another consideration is if the refrigeration system will be required to work independently of the engine. One typical use for this sort of Fiat Scudo refrigerated van is alfresco serving of chilled food at weddings, festivals and other outdoor occasions. The only means to do this is by using a stand-by power supply. These forms of Fiat Scudo freezer vans will then be connected to a peripheral power supply, normally a normal three phase or single-phase source. This has the result of keeping the merchandise stowed inside chilled, even with the engine fully off. We supply a wide selection of products to meet the requirements of any customer, and we will happily fit equipment that is specifically configured for your particular needs.
Freezer/Refrigerated Van Insulation
Picking the right kind of insulation is very important also. This will work in tandem with the refrigeration system to maintain a temperature which is perfect for the goods.In all cases, Glacier Vehicles uses Styrofoam insulation which, whilst quite lightweight (aiding the vehicles payload), is a dense and highly thermal substance. For cooled temperatures ( 5oC to 0oC) 50millimeters Styrofoam is employed, for moderate frozen (0oC to -18oC) 75mm Styrofoam is used and for deep frozen (-18oC to -30oC) 100mm Styrofoam is necessary. There are two distinct options to 'finish' the insulation: wet-lay and dry-line. In our opinion, wet-lay is the best method, particularly for carrying food. The inside of the compartment is coated with a resin, which dries to make an impregnable coating on top of the insulation.We value our engineers enormously, and so does the wider engineering community. That is why they have won several awards for their work on Fiat Scudo freezer vans. An added advantage to using wet-lay insulating material is that it's extremely easy to fix if any damage occurs to the interior of the Fiat Scudo refrigeration van. Dry line coating utilizes inflexible panels that are installed within the Fiat Scudo refrigeration vans and lined with a sealant. We've found that this sealant can sometimes harbour mould, a tremendous danger in food transportation and the key reason we use wet-line coating exclusively.
Refrigeration Van Engineers
They are the essential members of the team that we refer any client questions to, and they're instrumental in insuring that our Fiat Scudo freezer vans are delivered within our customers time requirements. Our engineers will be glad to create something for you, if you are looking for a bespoke refrigerated van solution for your refrigeration vehicle needs, whether you want large or small Fiat Scudo refrigerated vans.
Van Warranty
Purchasing a refrigeration car from us means you will be given a complete 12 month manufacturers warranty on all equipment. The reason being it's brand new, even in our used Fiat Scudo freezer vans. GAH and Hubbard are our favourite refrigeration equipment manufacturing companies. In our many years of expertise we've found they provide not just the finest products, but likewise the greatest after sales service. Until you specify otherwise, we'll use their products in both our little and big Refrigerated vans for sale. Their engineers can come to any location in the mainland UK to mend any difficulty, in the unlikely event an issue arises together with your Fiat Scudo freezer van.
Glacier Vehicles Video