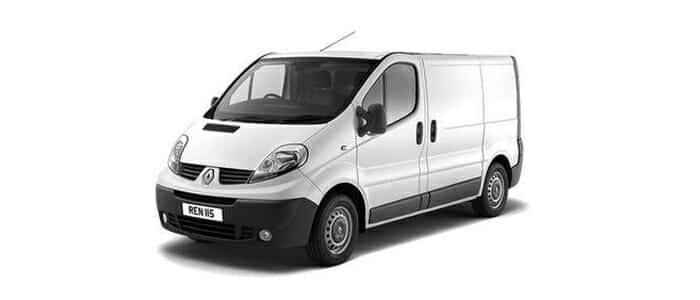 The Trafic made huge waves in the commercial vehicle market when it was launched in 2001, and it remains one of the most suitable choices on the market if you are looking for a refrigerated van. The engine is good, the payload is large, and, characteristically for Renault, the interior of the driver's cab has been expertly designed.
There are two engine choices available in the Trafic: a 90bhp and a 115bhp. Both of them are built in a joint venture between Renault and Nissan that is renowned for producing solid, reliable engines. Efficiency is good, with the Trafic comfortably achieving 35.7mpg on the combined cycle. A six speed gearbox comes included as part of the standard specification, which is a fantastic bonus if you are looking for a refrigerated van for long motorway journeys.
The Trafic is available in four different sizes: a short wheelbase and a long wheelbase, with a low and high roof option available for each. The Trafic was originally designed in 2001, which means it comes from a different era in refrigerated van terms. However, this isn't a disadvantage, as van payloads have tended to decrease in the last decade or so.  The payload is one of the largest in its class, with even the smallest version of the Trafic being able to haul 1005kgs, and the largest model able to cope with payloads of up to 1248kgs. The load volume is similarly generous, with the smallest Trafic model managing to pack away 5 cubic meters of refrigerated goods, while the largest model has 8.4 cubic meters of space.
Loading the Trafic is easy, which is particularly important in a refrigerated van. The two doors at the back swing open to 180 degrees to accommodate awkward loads or picking up at a loading bay. There's enough space between the wheel arches for you to load your refrigerated van with a standard sized pallet.  Gratifyingly, a nearside sliding door is included in the standard specification, and this is also wide enough to accommodate a pallet.
When the Trafic was launched, the design of the cab was revolutionary. Since then, Renault have built up a well deserved reputation among refrigerated van drivers for extremely well designed cabs. All of the controls are extremely easy to access from the driver's position. The steering wheel is adjustable for reach over a wide range, and is angled towards the driver for comfort. Instruments and gauges are positioned in front of the driver, so they can be read with a quick downwards glance.
The standard specification of the Traffic comes with a generous amount of kit. There are numerous safety and security features, like ABS & EBD, central locking, and an electronic immobilizer, and there are a few little extras too. These include a CD/MP3 player with fingertip controls, electrically adjustable heated door mirrors, electric windows, and even rear parking sensors. There's also a Tom Tom live satellite navigation system for difficult delivery runs.
All in all, the Trafic is an excellent choice if you are looking for a fairly large refrigerated van. The engine is efficient and the payload is one of the best in its class.
New Renault Vehicles
USED Fridge Vans In Stock by Size
Renault Trafic Van Refrigeration Systems
There is no shortage of refrigeration systems available to choose from. The temperature in the Renault Trafic refrigerated van can differ dramatically, from highs of 30c down to minus 30c for products that need extremely cold storage. Although the most common arrangement is to have a solitary loading compartment, there are specific situations where a refrigerated van will have many compartments, each kept at a different temperature. Some refrigeration vans must function even when the engine is totally switched off. One common use for this sort of Renault Trafic refrigerated van is alfresco serving of chilled food at weddings, festivals and also other outdoor events. When this is required, we shall need to use a backup power system. This helps it be possible to run the Renault Trafic refrigeration van system off a standard single phase or three-phase external power source, preventing the product from spoiling. Glacier Vehicles source equipment from all of the most reputable Renault Trafic refrigeration van equipment companies, and we are pleased to produce a bespoke system for your particular needs.
Freezer/Refrigerated Van Insulation
Choosing the right sort of insulating material is very important too. This will work in tandem together with the refrigeration system to maintain a temperature which is ideal for the product. After years of experience, we have determined that the best insulation for vehicular use is Styrofoam. The light weight keeps payloads high, and it's thermal qualities keep temperatures cold. For this reason we use it in every vehicle we supply. We'll use differing thicknesses of Styrofoam with respect to the level of cooling necessary. These range from 50mm Styrofoam for our chiller compartments to ultra thick 100millimeters Styrofoam for compartments that are created to keep deep freeze temperatures.Nowadays there are two main types of 'finish' to the insulating material; dry-line and wet-lay. We feel that wet-lay is the only one we use, and this is the most effective method. A resin is applied to the inside of the compartment and left to dry, creating a totally sealed washable coating in the insulation.We value our engineers enormously, and so does the wider engineering community. That is why they have won several awards for their work on Renault Trafic freezer vans. The wet-lay resin coating is also very straightforward to repair in the event that the interior of the Renault Trafic freezer van is damaged. Dryline coating uses stiff panels which are installed inside the refrigeration vans and then lined using a sealant. We've found that this sealer can occasionally harbour mould, a tremendous danger in food transportation and the primary reason we use wet-line coating exclusively.
Renault Trafic Refrigeration Van Engineers
They help to answer any technical questions that our customers have about the Renault Trafic freezer vans creation process, plus they make sure that all of our jobs are completed on time and within budget. Our engineers will be pleased to create something for you, if you are interested in a bespoke option for your refrigeration vehicle needs, whether you are looking for big or small Renault Trafic refrigerated vans.
Van Warranty
You will get a 12 month manufacturers warranty on all of our products, irrespective of whether they have been in our new or second-hand Renault Trafic freezer vans. That's because all of the refrigeration equipment and insulating material we supply is brand new.Unless otherwise specified by the client, we fit GAH and Hubbard refrigeration equipment as these companies products are of excellent quality, and their after sales care is always to match. These companies have technologists all on the mainland UK, and can come to a convenient location for you if the Renault Trafic refrigeration van has any problems.
Glacier Vehicles Video