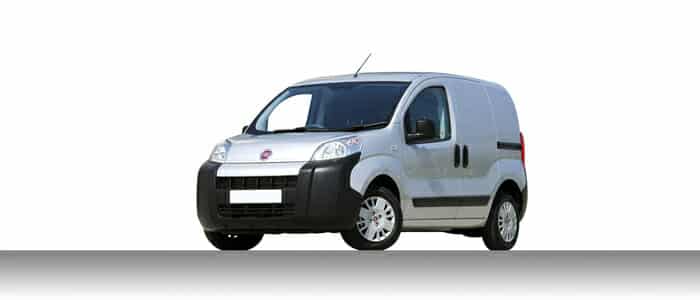 The Fiorino is a small freezer model with a length of only 3.8 meters. Nevertheless, it has a surprisingly huge frozen cargo bay. This combination of small size and spacious capacity makes it the ideal choice for any business owners who are looking for a mode of freezer transportation for urban deliveries or short hops between towns. The Fiorino has a decent amount of power underneath the hood. Buyers have a choice between two of Fiat's award winning MultiJet 1.3 liter diesel engines, a respectable 75 bhp version and a meaty 95bhp variant. There is also the option of a 1.4 liter petrol engine, which has a bhp of 73.
The fuel economy makes the Fiorino a wise financial choice. The diesel engine models can achieve an impressive 65.7 mpg, partly thanks to Fiat's "stop/start" technology, which optimizes fuel consumption in the urban environment. These figures are impressive even when you consider the small size of the freezer van, and they manage to outdo most of Fiat's competition in this class. The MPG figures are also assisted by the ECO:Drive technology, which is available in the standard specification. This neat computerized piece of technology analyzes the trip data to help with increased fuel economy.
As mentioned above, the frozen load bay is extremely spacious for a van of this size, with 2.8 cubic meters of load volume available. It's also extremely easy to load, with two large doors on the rear of the vehicle, and a sliding door on the nearside to allow access to the back of the freezer cargo bay without having to unload all of the cargo from the rear. Anyone who has driven a freezer van will know how essential this type of access is. Fiat also offers the option of an additional door on the offside of the vehicle for even greater access. The load height is fairly low, which is very helpful when loading heavy frozen products – perfect for catering or food businesses. 
The maximum payload weight is also very impressive. The Fiorino can handle up to 660kgs of frozen cargo, which is a remarkable weight for such a compact freezer van. It's comparable to the maximum payload in some larger vans, which makes the Fiorino an extremely economical choice for a business owner looking to maximize the utility of their vehicle at the lowest price possible.
The interior of the cab is spacious, and will be comfortable for drivers even on long journeys. The steering wheel and driver's seat are adjustable for height, and the cab is fitted with an excellent RDS stereo radio/MP3 compatible CD player. The standard specification also includes Bluetooth connectivity, a Blue&Me Tom Tom satellite navigation system, and a multi function steering wheel that can be used to control the electronics in the cab.
Over all, the Fiorino is an excellent choice for urban freezer van deliveries. It has an impressive ability to fit in more cargo than you would expect, the small size makes it extremely easy to navigate through the urban environment, and it's extremely economical with a great price and excellent fuel economy.
New Fiat Vehicles
Used Freezer Vans In Stock by Size
Fiat Fiorino Van Refrigeration Systems
There are a variety of refrigeration systems available on the market today. Some goods only need to be stored under 30c, whereas other products need to be transported within a Fiat Fiorino freezer van with temperatures as low as -30c. Many large Fiat Fiorino freezer vans have different sections which are kept at various temperatures, even though most have a single compartment.Another factor is if the refrigeration system will have to work independently of the engine. This scenario is most usually found with businesses who need mobile Fiat Fiorino refrigerated vans to serve cold products during outdoor events. In this type of scenario, we will need a reserve power supply. These types of freezer vans will then be connected to an external power supply, normally a regular three phase or single-phase source. It has the result of keeping the merchandise stored inside chilled, even with the engine fully off. We supply a huge range of products to meet the needs of any customer, and we'll happily fit equipment that is specifically configured for your particular needs.
Freezer/Refrigerated Van Insulation
It is just as important to pick the best type of insulating material for the Fiat Fiorino freezer van as it is to choose the right type of refrigeration system. We use Styrofoam insulation exclusively, as we consider its combination of lightweight and thermal insulation qualities make it the best material to insulate a vehicle.For chilled temperatures ( 5oC to 0oC) 50millimeter Styrofoam is employed, for medium frozen (0oC to -18oC) 75millimeters Styrofoam is used and for deep frozen (-18oC to -30oC) 100millimeters Styrofoam is necessary. Two different varieties of 'finish' are employed to coat the insulating material after installation. These are known as dryline and wet-lay. In our view, wet-lay is the best method, especially for carrying food. The interior of the compartment is coated with a resin, which dries to create an impregnable coating on top of the insulation.Our engineers are so skilled at creating freezer vans that they have even been recognized in several engineering awards, and we feel extremely proud to have them as part of our company. An additional advantage to utilizing wet-lay insulation is that it's extremely simple to fix if any harm occurs to the inside of the Fiat Fiorino refrigeration van. Dry line coating a more recent procedure van industry we would rather stick to the standard wet-, even though it has found some favour in the refrigeration lay This is only because the sealant used to connect dry line panels can often harbour mould growth, which is a huge problem when you are transporting food.
Fiat Fiorino Refrigeration Van Engineers
They help answer any technical questions that our customers have about the Fiat Fiorino freezer vans creation process, plus they make certain that all of our jobs are finished in time and within budget. If you are looking to get a bespoke freezer van solution  for your refrigeration vehicle needs, whether you want big or small Fiat Fiorino refrigerated vans, our engineers will be happy to create something  of exceptionally quality especially for you.
Van Warranty
All of the equipment that we supply at Glacier Vehicles is brand new, even in our used Fiat Fiorino freezer vans. What this means is you will be covered with a full 12 month manufacturers warranty for your own peace of mind. We always use GAH and Hubbard refrigeration equipment in both our small and big Fiat Fiorino refrigerated vans available for sale, unless you've got some unique requirements these companies cannot match. We actually believe this is actually the most effective equipment on the market, plus they've got an outstanding after sales care service. These companies have engineers all on the mainland UK, and can come to a convenient location for you in the event the refrigeration van has any problems.
Glacier Vehicles Video