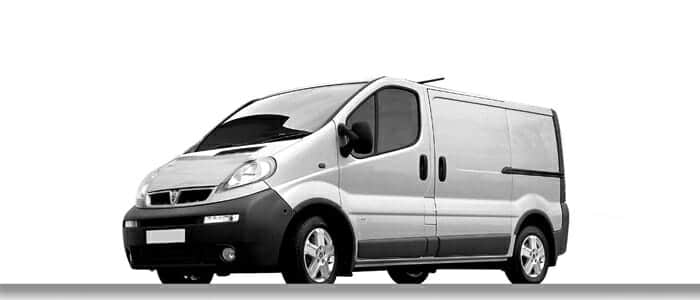 The Vauxhall Vivaro is a van produced by the British manufacturer Vauxhall. The third generation was introduced in 2019 and was based on the third-generation Citroen Dispatch.
The Vauxhall Vivaro is a versatile van that can be used for many things from a taxi to a van for moving chilled or frozen foods. It was fully updated in 2022 with a revised tailgate design and rear lights, as well as the option of satellite navigation and keyless entry.
Vivaro vans have always had a reputation for being easy and somewhat car-like to drive. And very little changes with the third-generation van, thanks to its agile handling, punchy engines and responsive steering wheel.
One important factor to note is that the Vivaro is still Made In Britain – the Luton factory where the last model was built had a multi-million-pound refit so that manufacturing could continue uninterrupted at the site.
This Vauxhall Vivaro 2022 has a large payload capacity, plenty of technology, and a low-roof design optimised for city driving. These features also make it perfect for use as a refrigerated vehicle. It entered the medium van market as one of the most capable vehicles in its class.
If you're in the food industry, pharmaceutical industry or beverage industry, you will find this van which has been fully converted to a refrigerated van by Glacier Vehicles very useful.
Vauxhall also introduced an electric version in 2020, which we cover in detail in our Vauxhall Vivaro review.
Vauxhall Vivaro van refrigeration systems
Goods that need to be transported at temperature-controlled conditions are typically shipped in insulated containers with cooling or heating elements. So, refrigeration vans are essential for anyone transporting commodities that must maintain this condition.
With so many vans on the market, deciding which one suits one's needs can be difficult. The Vauxhall Vivaro Refrigerated Van allows you to keep all of your temperature-sensitive goods cool in the fridge while driving a van that is both easy to manoeuvre and comfortable to ride in.
The Vivaro can keep the entire refrigeration section of the vehicle very cold with simple temperature settings ranging from 8°C to negative 30°C.
Although the bulk of this van model has single compartment refrigeration, some larger van models can support several compartments. When a variety of perishable goods must be carried at different temperatures, the multiple compartment models are ideal.
The type of van to buy is determined by the vehicle's intended usage. The Vivaro has a medium-sized panel that is quite easy to manoeuvre when it comes to the vehicle itself.
Freezer/refrigerated van thermal insulation
It's vital to keep the cold within the van's refrigerated compartment constant. The Vivaro Van is insulated with Styrofoam, so the cold never gets fluctuated.
Not only is Styrofoam comprised of a lightweight substance, but it also has remarkable thermal insulation capabilities. Because Styrofoam is lightweight, it adds less weight to the van, allowing it to move more cargo.
The amount of Styrofoam installed determines how cold the refrigerating chamber is. A thicker 100mm Styrofoam is not as chilly as a 50mm Styrofoam. Again, the type of Styrofoam insulation required will be determined by the needs of the van.
Wet-lay and dryline are the two options for 'finishing' the insulation. We believe that wet-lay is the preferable method since it creates a hermetically sealed environment for food goods to be carried in once the wet glue is installed and completely dried.
That is why it is the sole method we employ. Our engineers are award-winning engineers in their own right, and Glacier Vehicles is fortunate to have such talent on staff! If the resin finish inside the refrigerated van is ever damaged, it is extremely simple to repair.
Another benefit of the moist-lay coating is this. Dryline coating is a more contemporary technology, and while it has gained popularity in the Vauxhall Vivaro refrigerated van business, we prefer the classic wet-lay method. This is because the sealer used to link dry-line panels may harbour mould, which is a major issue for transporting perishable goods.
Contact Glacier Vehicles on 0208 668 7579 now if you need this refrigerated van for your temperature-controlled logistics.
Trim levels and body sizes for the Vauxhall Vivaro refrigerated van
The Vauxhall Vivaro came in three trim levels: the entry-level Edition, the popular Sportive, and the new range=topping Elite. Later, the Dynamic trim level was added to the lineup, slotting between Edition and Sportive.
The panel van comes in two body lengths, L1 and L2, as well as a double cab crew van and a platform cab for conversions. Citroen, Peugeot, and Toyota all offer the super-short compact (L0) body design, which Vauxhall does not currently provide.
Even without this, the Vauxhall Vivaro is one of the smaller mid-size vans in terms of outward dimensions, with a single roof height choice that is low enough to fit into most parking lots.
Is there an electric Vauxhall Vivaro van?
Yes, and we talked about it in-depth in our Vauxhall Vivaro-e review. It became available in 2020, along with its relatives the Citroen e-Dispatch and Peugeot e-Expert. It has a long driving range of up to 205 miles, a payload of up to 1.2 tonnes, and a towing capacity of up to 1.0 tonnes. Plus, by electric van standards, it's not that costly. For Vauxhall, this may be a game-changer.
Engines, gearboxes and handling
The Vauxhall Vivaro's all-diesel lineup consists of 1.5 and 2.0 turbocharged four-cylinder engines with power outputs ranging from 100 to 180 horsepower. This engine is powerful enough to handle the refrigeration unit of the van.
The 180PS engine is the only one with an eight-speed automatic torque converter gearbox, while all other engines have a six-speed manual gearbox as the only option.
The elevated driving position and large windscreen allow great sight, and the dashboard is well-organized, with the radio and Bluetooth phone communication controls positioned on the steering wheel in the majority of Viveiros.
The van's nimble handling makes it simple to manoeuvre into a parking spot, and the 12-metre turning circle makes it simple to navigate narrow streets.
Hill-start assist is included on entry-level Edition vans, preventing the van from rolling backwards when pulling away. However, necessities like air conditioning and an anti-theft alarm will be extra. Upgrade to the mid-spec Sportive model, which includes both, as well as rear parking sensors and a bulkhead load-through hatch.
Range-topping Touchscreen navigation, automatic door mirrors, and a blind spot monitoring system notify the driver if a car is obscured from view alongside the van in the Vivaro's elite edition.
A virtual rearview camera image can be shown on the interior mirror or the seven-inch infotainment display, among other features on the options list. After two hours of nonstop driving, the van will alert the driver to take a break, or it will monitor the driver's behaviour.
An all-road pack, which boosts ground clearance and includes IntelliGrip smart traction control, allowing the van to cope with mud, sand, or snow is available for drivers who frequently ply tough or winter roads.
MPG and fuel cost
This third-generation model of Vivaro debuted in June 2019, just in time for the September 2019 implementation of new emissions laws (known as Euro 6D Temp or Euro 6.2), which will change the way fuel economy is assessed. As a result, there are two sets of figures: NEDC and WLTP.
The newest version is WLTP, and you'll see that fuel economy isn't as impressive as it was under NEDC, even though WLTP is designed to better reflect real-world driving.
As a result, the most fuel-efficient Vivaro model — the 120hp 1.5-litre – claims 60.1mpg under NEDC rules. Under the WLTP Combined High test, this drops to 47.0mpg, and under the WLTP Combined Low test, it drops to 40.9mpg.
Despite the newer WLTP regulations, every Vivaro claims over 40mpg in the High test and at least the mid-30s in the Low test.
The 2.0-litre engine is reported to return roughly seven or eight mpg less than the 1.5-litre engine in the most efficient models, though this situation may flip in real-world conditions when you're regularly carrying very heavy loads, as the 2.0-litre will be less stressed out in those circumstances.
Is there a lot of space in the cab?
There are large lower door bins, a glovebox, several nooks, and a covered dash-top storage area. However, there are no overhead storage bins, and the place below the radio that should be ideal for holding a phone (so that it may be plugged into the infotainment system) is too small for modern smartphones.
When the FlexCargo load-through bulkhead is installed (as it is on most Vivaros), an outer passenger seat folds up and out of the way, allowing for additional in-cab storage for boxes when not using the extended load length this provides. A cargo net can be fixed in place for safety in this situation.
The Vivaro's refrigerated van practicality can be bolstered with an optional load-through hatch that extends the load space to 6.6 cubic metres for L2 models and 5.8 cubic metres (up from 5.3) in the smallest L1 version.
This is ideal if you're in the medical supplies industry, pharmaceutical industry, food industry or beverage industry and you need a lot of cargo space to carry your temperature-sensitive goods in more than a single compartment within the refrigeration system.
The van can also be fitted with electronically operated side doors, which can be opened hands-free thanks to an optional sensor on the side of the van.
Standard equipment of the Vauxhall Vivaro
These are the highlights of standard equipment for the three Vauxhall Vivaro variants; information on safety and security features is given in the section below.
Highlights of the Vauxhall Vivaro Edition standard equipment include:
Electric, heated door mirrors
Twin sliding side load doors
Adaptive cruise control
Speed limiter
16-inch steel wheels
Full-size spare wheels
DAB radio
Bluetooth
12v socket
USB connection
Remote locking
Electric windows
Highlights of the Vauxhall Vivaro Sportive standard kit (in addition to the Edition):
Body-coloured front and rear bumpers
Body-coloured door mirrors, door handles and side mouldings
Front foglights
LED daytime running lights
Automatic lights and wipers
Acoustic windscreen and thickened side glass for increased refinement
16-inch steel wheels with full trims
7.0-inch touchscreen infotainment system with Apple CarPlay and Android Auto
Air-conditioning
Rear parking sensors
FlexCargo load-through bulkhead
Six-way adjustable driver's seat with centre armrest
Dual passenger bench seat with fold-flat centre
Metallic paint
Highlights of the Vauxhall Vivaro Elite standard equipment (in addition to Sportive):
Connected 3D Navi sat-nav
Front and rear parking sensors
Electric folding door mirrors
17-inch alloy wheels
A vast increase in standard safety equipment
What safety features are included as standard?
Two airbags, electronic stability control, and hill-start assist are standard on all Vivaros, along with cruise control and a speed limiter.
The Dynamic adds a time-based driver fatigue alarm (essentially, a system that alerts you when you need to take a break), as well as automated lights and wipers.
Lane departure warning, traffic sign recognition, Intelligent Speed Adaptation (which automatically adjusts the cruise control to the legal limit), a Driver Attention Alert system (which monitors for signs of sleepiness), automatic high beam assist, and blind-spot detection are all included in the range-topping Elite.
Is there an option for autonomous emergency braking on the Vauxhall Vivaro refrigerated van?
It is, but only as an option. Similarly, if you're willing to bear the extra cost, lane-keeping assists, and a head-up display are all available as optional safety features.
Contact Glacier Vehicles today for your Vauxhall Vivaro refrigerated van
If you need a low cost, high-quality refrigerated vehicle or freezer van, then we've got just what you need. No other company matches the selection of both used and new refrigerated vans that Glacier Vehicles has to offer.
We can meet all of your temperature-controlled logistics specifications with a vehicle that's just right for you, thanks to our many years of experience in the industry, and we are happy to work with you until you are absolutely satisfied.
Call us today on 0208 668 7579