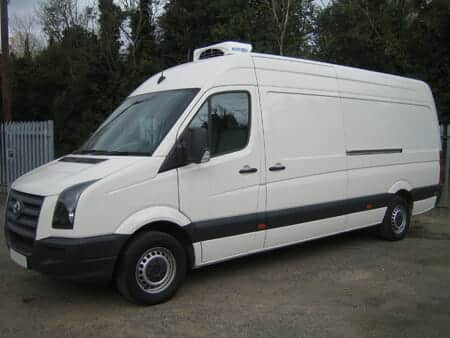 The 2015 Volkswagen Transporter  will hit the UK refrigerated van market in the autumn of this year will receive a completely updated outward aesthetic, updated engines and a much better safety kit. Reportedly, the temperature controlled Transporter is set to start at around £19,000.
The Transporter is, without exaggerating, just a large rework of its t5 predecessor, using the same platform and body. Because of this, loading areas will remain unchanged, with maximum load capacity ranging from 729kg and 1333kg. We can say the same about maximum payload volumes, which range from 5.9m3 to 9.3m3.
The Transporter refrigerated van offers a wide array of diesel engines, offering a 15 per cent improvement in fuel economy over the old powertrains. In a green conscious world, you cant afford to be too blasé when it comes to this. The new 2.0-litre line-up includes an all-new Euro 6 diesel, with 102PS fed through a five-speed manual gearbox.
Meeting the Expectations of Fridge Van Drivers
The new Transporter refrigerated van gets rewired update to the existing Euro 5 diesel engines and one new Euro 6 powertrain. All of the engines are four-cylinder 2.0-litre units, much better efficiency and torque delivery. As refrigerated vehicle drivers will know, only the most powerful engines will do over long distances.
It'll be available with f our power outputs from launch, with the choice of 84PS, 102PS, 150PS and 204PS. Transmissions will be five-speed or six-speed gearboxes, which depends on your choice from the above list of outputs.
The refrigerated van's interior cabin will get a complete revamp, with new seating materials for increased comfort. The driver will get car-like assistance and safety systems, with an adaptable cruise control system, automatic city braking and post-collision braking. As a standard, you will also be fitted with a driver monitoring. This means that audio and visual signals will be triggered when your driving pattern is analysed and shows signs of fatigue. This feature is an absolute essential if your business requires you to drive long distance.
The aesthetics of this medium sized temperature controlled vehicle have been updated to tow the party line of Volkswagen range, with robust looking LED signature headlights, updated grille and lowered engine cooling vents. Furthermore, the T6 will be offered in two lengths, with the choice of standard or high roofs, for all shapes and sizes.
An evolved, adaptable, refrigerated van
Don't expect a new beast. The 2015 Transporter is most definitely an evolution, but it doesn't rip up the book and start again.
This is completely foreseeable; the previous T5 model with its refrigerated van conversion was a massive success for Volkswagen in that particular sector, selling 1.7 million vans since 2003 and setting very high when with its smooth handling and expert refinement. Although, there's no sliding tray storage, 20-inch tablet or video conferencing system, unfortunately.
As with the T5 refrigerated van, the Transporter is available in two lengths, However, the majority of its competitors the Transporter refrigerated van doesn't have a large choice of bulkhead options, which means loading long items, will continue to be a difficult task.