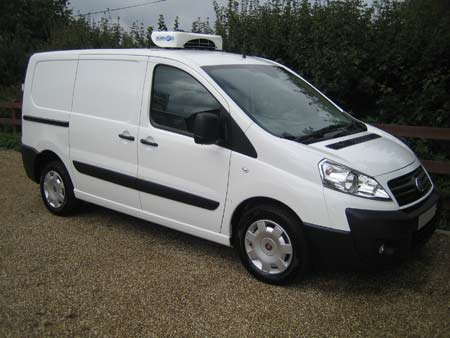 Already the winner of 2 International Van of the Year, Fiat's Doblo Cargo refrigerated van is a compact model that doesn't receive the plaudits we think it deserves.
The unorthodox and quirky Doblo Cargo refrigerated van went on the market in 2000 and won the Van of the Year crown after a facelift in 2006. It won again in 2010 and 2011. Now Fiat hopes that this revamped Doblo Cargo refrigerated van can improve its 8.9% share of the UK small-refrigerated vehicle market it held in 2014.
The Fiat Doblo has become a smarter, more sophisticated refrigerated vehicle, with a more planted look, wider grille, and a sculpted bonnet. The bumper below is bulkier to increase protective measures and to contribute to the Doblo's aesthetic.
It comes with a standard 1.4 engine or a choice of 4 Multijet II diesel. The 1.3-litre unit yields 90bhp, or you can upgrade massively with a 1.6-litre Multijet, giving you 105bhp – or 90bhp if decide on the Comfort-Matic auto.
Fiat's Doblo Cargo has more choice of cargo volume and load limit than any other van in the refrigerated vehicle market. You're really spoilt for choice with this one.
Cost to run
It is very eco-friendly and its numbers take it a long way; the 1.3-litre Multijet gives a 56.5mpg. You can make that figure even better with Fiat's stop-start system (Start&Stop), which increases that previous figure to 58.9mpg.
If you choose the 1.6-litre MultiJet diesel with the optional Comfort-Matic six-speed automated manual gearbox, you can yield 57.6mpg and 130g/km, superior to the 105bhp manual version's 54.3mpg. The best of the bunch is a 2.0-litre MultiJet with bags of power at 135bhp. Naturally, this option doesn't make for very eco-friendly trips, but 47.9mpg and 154g/km isn't disastrous if you consider the power.
Practicality as a Refrigerated Van
The largest Doblo refrigerated van is the XL model with a long wheelbase and high roof, giving you 5.0m3. It has the kind of load space you'd usually attribute to a small panel van segment above.
Doblo Refrigerated vans are available with a single sliding side door or with two side doors for convenience. The Fiat gives the option of plenty of handy utilities, such as roof bars and carriers, tow bars and interior storage extras. There's a removable torch in the doorway, as well.
Interior
We must point out at this juncture that competitors offer better cab interiors for storage and work. The basic Doblo Cargo refrigerated vehicle can quite a baron place to spend a lot of your time. Ford's transit connect refrigerated van, for example, has a much more interesting and sturdy feel to it.
The dials are quite small and minimalist, making them hard to read at first glance. Although you to quickly get used to it, this is something that other Refrigerated vans competitors do not have a problem with. Same with the radio, although the small buttons make for quite a pleasing design, it isn't particularly easy to seamlessly change station with the small buttons.