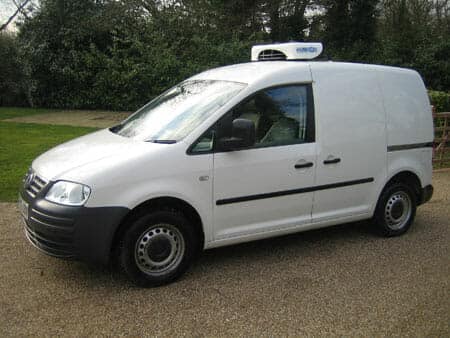 Choosing the best refrigerated van for your business is more difficult than you think. Whilst there aren't that many to choose from, they don't seem to vary that much, and it's not as though there are many reviews dedicated to finding the right refrigerated vehicles. Luckily, we've reviewed four of the best and explained the various benefits and drawbacks to each in a simple, easy to understand guide.
Freightliner & Mercedes-Benz Sprinter Refrigerated Vans
The Sprinter, available from both Mercedes-Benz and Freightliner, has dominated the full-size van market for quite some time and is leaving its mark on the refrigerated vehicle market.
Fully able to compete with its prestigious competitors, The Sprinter refrigerated van offers two body styles — one with a 144-in wheelbase and one with 170 inches with standard or tall roof sizes. Opt for the best-you-can-get Sprinter refrigerated van and you'll recieve a 76.4-in interior height, nearly 190 cu ft. of fridge space, nearly 3,000 pounds of cargo capacity, and a 5,000-lb towing capacity. The Sprinter is however quite expensive with a market retail price of around £36,000.
Nissan NV
The full-size, rear-wheel-drive Nissan NV refrigerated van is based on the Titan pickup model. It features a 4.0-liter V6 or 5.6-liter V8, the NV is the most technologically redundant and least eco friendly of the full sized refrigerated vehicles on offer, but comes incredibly cheap at around £26,000 including shipping.
The NV also has large refrigeration space. Due to its pickup truck chassis, the top-level NV3500 van has a cargo capacity of around 4000 pounds. And while the standard-roof model can only bare 55.8 in of interior refrigerated cargo height, its high roof can squeeze in76.9 in, putting it on level with the Sprinter. If you're looking to get as high a capacity as possible whilst being economical with the price, this Nissan is your best bet.
Nissan NV200
The NV200 is totally distinguishable from the larger Nissan NV; they share only the name and status as a refrigerated van. The NV200 is far smaller, with front-wheel-drive architecture and a 131-hp 4-cylinder engine mated to a fuel-saving CVT automatic. What you get is a 24-mpg city/25 mpg highway, which is some of the best petrol-for-your-money of any new refrigerated vehicle. Also, for those of you that count pricing as a concern, the NV200 starts around £22,000
The drawback, however, is that the NV200 is small. Its contending with the Ford Transit Connect as opposed to its larger namesake, the NV. Refrigerated payload volume is just 122.7 cu ft., and maximum cargo height is a tiny 53.3 in. Essentially, if you're looking to carry small loads and nothing more, this is the refrigerated van you should check out first.
RAM ProMaster
In a similar vein to its competitors, the ProMaster refrigerated van is available in three trims: a 1500, a 2500 and a 3500, with increasing numbers based on the capability. Starting at around £29,500 with shipping, the 3500 model is in the £36,000 range with shipping – and the figures only get larger.
What the ProMaster does have going for it is that has two excellent available engines and a huge refrigerated cargo area, meaning it is not only able to compete, but outdo other refrigerated vans on the market. The van's regular powerplant is Chrysler's 280-hp 3.6-liter V6, has a 6-speed automatic transmission. Most notably, the ProMaster boasts a standing interior height of 76 in, and up to 4,417 pounds of refrigerated cargo capacity. If budget is no issue, then this refrigerated vehicle potentially outdoes them all.