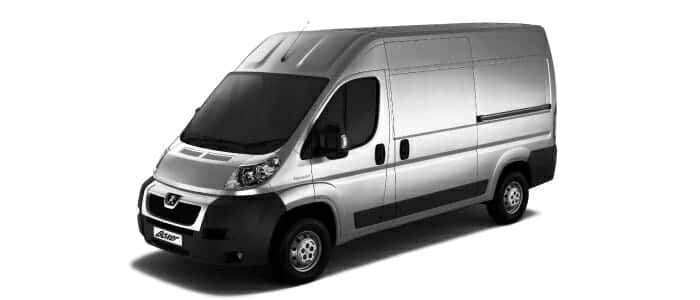 The Boxer is a big, square, chunky van from Peugeot. It has traditionally been a fairly big seller in the UK, and there's absolutely no shortage of people who are using it as a refrigerated van.
The exterior of the Boxer isn't exactly beautiful, but it is incredibly practical. The entire lower front bumper is covered in thick black plastic that stops corners and edges being knocked around or scuffed in tight situations. The back is similarly protected.  There are even a few scuff guards on the side. Many business owners will be interested to know that the Boxer works particularly well if you want to apply exterior branding to your refrigerated van. There are two huge flat panels on the side that make the ideal space for vinyl graphics, and the huge boxy shape means that it's also very easy to apply a full vinyl wrap if necessary.
As you'd expect from such a large refrigerated van the drivers cab is huge. There is plenty of room to accommodate a driver and two passengers in comfort. There's also a huge amount of storage, with ample room for both delivery documentation and the driver's personal effects. There is even a central storage box that can easily fit a laptop inside, and there's a clipboard integrated into the dashboard for documents or directions. Characteristically for Peugeot, the cab is very well designed, with all controls extremely easy to use from the driving position. Both the seat and the steering column are fully adjustable, which means that drivers of any size can find a comfortable position for long journeys. All this makes for an extremely comfortable refrigerated van.
The Boxer comes in four different lengths, ranging from short wheelbase to extra long wheelbase. The shortest wheelbase model can pack in an impressive 8 cubic meters of refrigerated goods, and this rises to a staggering 17 cubic meters of refrigerated goods in the largest model. The payload weight is pretty impressive too. Even the smallest and least powerful Boxer can easily shift 1110kgs of payload, whereas the largest can move 1995kgs.
Fuel consumption is pretty impressive for such a large refrigerated van. The fuel economy is 32.5mpg on the combined cycle. Peugeot have made a few engine tweaks on the latest model, and clearly this has made a difference. There are three different engines available for the Boxer: a 110bhp power output, a 130 bhp power output and a 150bhp power output. All of these options are 2.2 liter HDi engines.
Some large refrigerated vans drive completely differently depending on whether they are fully loaded or running empty. The Boxer is completely different. The ride is smooth and stable whether or not you have a huge load in the back. This is partly due to the innovative suspension system that Peugeot have designed.
The standard specification of the Peugeot Boxer is fairly generous. There are a few great safety features, such as ABS with Emergency Braking Assistant, an immobilizer, and an over speed warning. There are also some nice extras such as heated door mirrors, electric windows, and a CD player that is MP3 compatible.
New Peugeot Vehicles
USED Fridge Vans In Stock by Size
Peugeot Boxer Van Refrigeration Systems
There is no shortage of refrigeration systems available to pick from.Depending on the merchandise being transported, the temperature needed can vary from 30C to -30oC. Many big Peugeot Boxer freezer vans have different sections that are kept at different temperatures, even though most have a single compartment.Another factor is if the refrigeration system will have to work independently of the motor. One example is companies that cater outside events where persistent cold storage is needed. When this is required, we'll need to use a backup power system. These sorts of Peugeot Boxer freezer vans will then be linked to an external power supply, normally a typical three phase or single-phase source. It has the result of keeping the products kept inside cooled, even with the engine entirely off.Glacier Vehicles work with all the major refrigeration manufacturers and can offer and fit the required refrigerator / freezer equipment to cover any bespoke requirement our clients have.
Freezer/Refrigerated Van Insulation
Picking the right kind of insulation is very important also. This will work in tandem with the refrigeration system to maintain a temperature which is ideal for your merchandise.In all cases, Glacier Vehicles utilizes Styrofoam insulation which, whilst quite lightweight (helping the vehicles payload), is a dense and highly thermal material. A different thickness of Styrofoam will be useful for different levels of insulation, with relatively thin Styrofoam (50mm) utilized in chilled compartments, moving up to 100mm thick Styrofoam for deep freeze compartments. Two different varieties of 'finish' are employed to coat the insulation after installation. These are referred to as dry line and wet-lay. Over the years, we've found that wet-lay is the better method, and it's the one we use exclusively. It utilizes a resin to ensure the internal freezer compartment is completely sealed for safe transport of food products.Many of our Peugeot Boxer freezer vans engineers have even won awards for their work, and we are extremely fortunate to work with them. An added advantage to utilizing wet-lay insulation is it is quite simple to repair if any harm occurs to the interior of the Peugeot Boxer refrigeration van. Dryline coating is a newer procedure , even though it has found some favour in the refrigeration van industry we choose to stick to the conventional wet- lay It is because the sealer used to link dry line panels could harbour mould growth, which is a tremendous issue when you are hauling food.
Peugeot Boxer Refrigeration Van Engineers
Our customers often have questions about the build process, plus our engineers are the best people to turn to for all of the technical details. They also work hard to help keep our Peugeot Boxer freezer vans build process running smoothly, meeting the often tight time constraints of our valued customers. Our engineers are also responsible for our unbelievable bespoke freezer van service, where they will work to build a system created specifically for your mobile refrigeration requirements in both small and large Peugeot Boxer refrigerated vans.
Van Warranty
It doesn't matter whether you are buying one of our new or used freezer vans, all of our conversions use brand new equipment which comes with a complete 12 month manufacturers guarantee. We believe that GAH and Hubbard are the greatest manufacturers of refrigeration equipment, and we have a tendency to use these products in all our small and large Peugeot Boxer refrigerated vans for sale unless the customer specifies otherwise. This is because we have found their products to be of exceptionally high quality, and their after sales service is, in addition, excellent. Their engineers can come to any place within the mainland UK to repair any difficulty, in the unlikely event a difficulty arises together with your Peugeot Boxer freezer van.
Glacier Vehicles Video