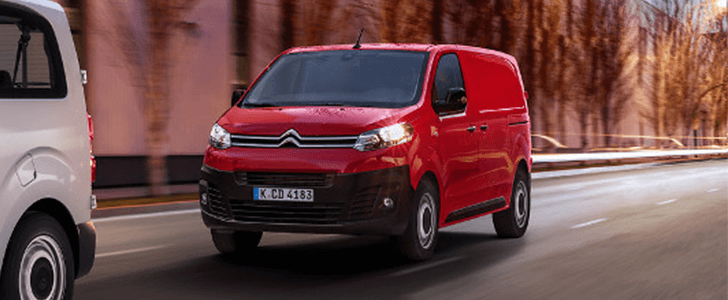 Fuel efficient and designed for lean operations, the mid-size Citroën Dispatch offers impressive safety features and a reasonable degree comfort. Unlike many of its rivals, driving the Dispatch feels more like driving a car, which is mainly due to the fact that it uses the same PSA platform as the Citroën C4 Picasso and the Peugeot 308.  This is a van that will undoubtedly improve your refrigerated van business.
Citroën Dispatch Freezer Van: Engines
A 94bhp 1.6 litre BlueHDi engine is available in both the 95 and 115 guises, which is accompanied by either a six-speed ETG6 auto or a five-speed manual. A six-speed manual is also available, but only with the 114bhp version. There is also a 2.0-litre BlueHDi diesel engine, which comes in 180, 150 and 120 forms. The 178bhp is only available with a six-speed auto, while the 148bhp and 118bhp 2.0 litres are both six-speed manuals. Notably, all Citroën Dispatch models are compliant with Euro 6 emissions regulations. The 2.0 litre motor can carry a load capacity of up to 1,400kg, while vans powered by the 1.6 litre can carry 1,000kg.
Where the Dispatch is set apart from many of its van rivals is the array of technology on offer. Car tech such as a seven-inch touchscreen on the dashboard – similar to the one you'll find in a Citroën C4 Picasso – is available, as is Apple CarPlay and Android Auto. There's even the option of a head-up display, which is a first in the van sector, although this is fairly pricey.
Citroën Dispatch Freezer Van: MPG and Running Costs
Both in reality and on the official 'combined cycle' figures, the Dispatch does very well in terms of fuel economy. No matter the terrain, it should perform admirably in the economy category. The official numbers say the Citroën range offers an average of 52.3mpg. The most efficient model in this range is the 114bhp 1.6-litre, which only produces CO2 emissions of 133g/km and can return 55.3mpg on the combined cycle.
Citroën Dispatch Freezer Van: Load Space and Practicality
The Dispatch panel van comes in three versions: XS, M and XL. It is available in two wheelbases and three body lengths, with all versions sporting a single roof height that allows them to fit in a standard multi-storey car park. To cater for different loads, we can fit the rear oblique wishbone suspension set-up with variable stiffness springs and shocks.
While the maximum load weight of all the Dispatch models is 1,400kg, the version that stands out is the smallest XS version, which manages to swallow up two pallets. With a turning circle of a little over 11m and an overall height of 4.6m, this van certainly delivers on agility. Whether your business transports refrigerated goods in rural or urban areas, the Dispatch will not disappoint.
The XL body takes as much as 4,020m, while the M version has a load length of 3,670m. The M and XS models are 1.9m in height, with the XL being taller by only 40mm. Furthermore, there is a 1,260m cargo width between the wheel arches.
Citroën Dispatch Freezer Van: Reliability and Safety
The newest Dispatch model is equipped with Citroën's latest driver assist and safety technology. Considering that Citroën vehicles feature the EMP2 platform, this includes some of the safety features typically found in passenger models. However, most of the new safety tech are only available for purchase as options. Some of these include a 180-degree overhead view rear-facing parking camera, Lane Departure Warning, Blind Spot Monitoring, a radar controlled active braking system and a head-up dash display.
At Glacier Vehicles, we proudly include the Citroën Dispatch on our list of economical vans, so if you're looking to keep costs down, this is one option you should definitely consider.