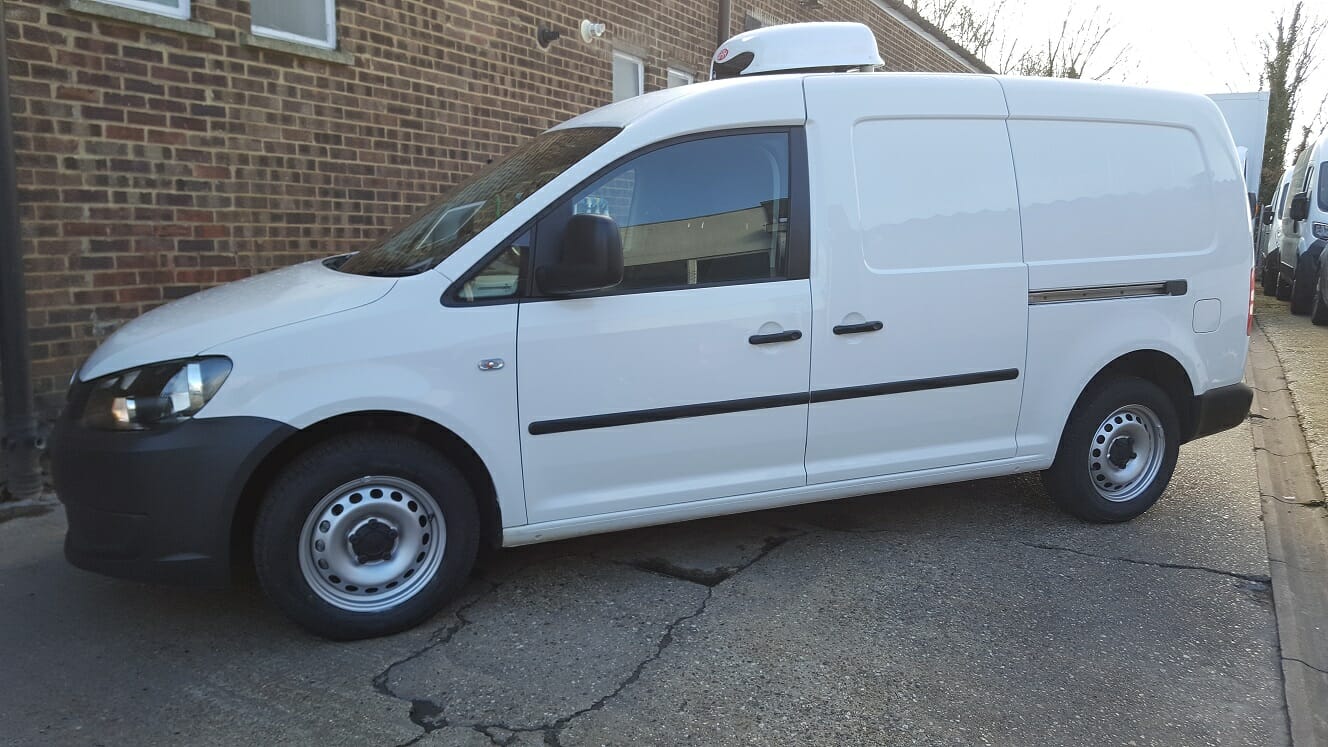 The Volkswagen Caddy Refrigerated van has long been a drawcard for the German manufacturer. The new Caddy line provides convenience for people who seek the everyday driving experience of a small van.
This popular van is well suited for temperature-controlled transportation of temperature-sensitive goods like perishables, medical supplies, chilled drinks, frozen foods, vaccines, and blood products.
This is our review of the 2022 Volkswagen Caddy Maxi Refrigerated Van. This is the first VW van to be built on the MQB platform, which underpins most of Volkswagen's automobiles. The fifth-generation compact van is a radical departure from the preceding model in more ways than one.
It is now known as the Volkswagen Caddy Cargo to distinguish it from the passenger versions. It's attractive and enjoyable to drive. Why not take one for a test drive?
This 'Maxi' version of the Volkswagen Caddy has a longer wheelbase of 3,006mm and an overall length of 4,878mm, as well as a slightly higher overall height of 1,836mm, despite the same overall width of 1,793mm (2,065mm including the side mirrors). From wall to wall, the turning circle extends to 12.2m.
The load area now accommodates items up to 2,249mm in length, with a minor increase in load height to 1,259mm. Surprisingly, the maximum load width (1,552mm) and the distance between the wheel arches are both less (1,552mm) (1,168mm).
As a result, the overall load volume jumps to 4.2 cubic metres. The refrigeration unit is also fitted with a condenser, compressor and evaporator for proper airflow passage within the thermal insulation unit.
Aside from the new chassis, the Volkswagen Caddy Cargo has new engines, a new suspension design, new trim levels, many new technologies, and a material quality boost within the cab. Not to mention a fresh new appearance.
Can the Volkswagen Caddy Maxi be fitted with a freezer compartment?
The Volkswagen Caddy Maxi is a practical van that is ideal not just for transporting your kids to school but also if you run a business and need to transport chilled goods. The Caddy can be equipped with a freezer compartment and is well adapted for temperature-controlled transport, which is the process of transporting chilled goods in a controlled environment, usually between 2 and 8 degrees Celsius.
It has ample space, features including dual climate control and front and rear electric windows make it easy to use.
Volkswagen Caddy Maxi Van Refrigeration Systems
Refrigeration systems come in a variety of configurations. Temperatures in the Volkswagen Caddy Maxi refrigerated van range from a comfortable 30°C in the summer for commodities that should be maintained at room temperature to arctic conditions of minus 30°C in the winter for highly volatile materials that require extreme cold.
While most Volkswagen Caddy Maxi freezer vans feature a single compartment with a steady temperature, some larger refrigerated vans have numerous compartments with varying temperatures for different items. Another factor to examine is if the refrigeration system will be required to operate independently of the engine.
Businesses that cater outdoor events, for example, require continuous cold chain transportation storage. A standby facility will be necessary in this case. This allows the Volkswagen Caddy Maxi refrigerated van system to be powered by a standard single-phase or three-phase external power source, eliminating product spoilage.
Highlights of the standard features present in our Refrigerated vans include:
Refrigeration unit
Thermal insulation
Evaporator
Condenser
Compressor
Fan
Temperature sensor
Controller
Defrost timer
Heating element
Glacier Vehicles works with all of the major refrigeration manufacturers and can supply and install the necessary refrigerator/freezer equipment to meet any custom requirements our clients may have.
Our Refrigeration/Freezer Thermal Insulation Options
A thermal insulating material is an important component of Volkswagen Caddy Maxi refrigerated vans. It is this factor, along with the refrigeration unit chosen, that determines the vehicle's internal ambient temperature.
Styrofoam is the most effective insulating material for automobile applications from our years of experience. The lightweight allows for higher payloads while the thermal properties keep temperatures cool.
That is why we include it in all of our vehicles. The thickness of the insulating Styrofoam will vary depending on the temperature required. We commonly utilise 50mm Styrofoam for chilled sections, 75mm Styrofoam for freezer compartments, and 100mm Styrofoam for deep freeze compartments.
Dryline and wet-lay are the two most used types of insulating material finishes today. We believe that wet-lay is the preferable way because it creates a hermetically sealed environment for cold chain transportation of products like beverages, pharmaceuticals, medical supplies, vaccines and blood products over long or short distances once the wet glue is installed and completely cures.
What is the interior of the Volkswagen Caddy Life Maxi Refrigerated van like?
The top-of-the-line Caddy Maxi van provides seats for seven people that are simple to remove and converted into a refrigerated van for cold chain transportation.  It has a large and wide-opening luggage compartment. This is convenient for moments when you need to get lots of things in for thermal transportation of your goods.
Digital services and connectivity
The Volkswagen Caddy Cargo Maxi Refrigerated van offers more onboard connection than previous models, as do other current vans. This uses a built-in eSIM to offer a continual datalink between your van and the internet and is marketed as We Connect and We Connect Plus.
At its most basic level, the We-Connect smartphone app lets you check fluid levels, lock and unlock the van, and even open the windows.
We Connect Plus includes extra anti-theft capabilities, Online Traffic Information, and – possibly less usefully – media streaming.
Over-the-air updates are also possible with these systems. On the one hand, this means the Caddy may receive software updates without visiting a dealer, but it also opens up the potential of selling Caddy add-ons that can be activated remotely.
Comfort and Convenience
Auto LED headlights with corner lighting, cruise control, climate control, multiple USB-C outlets, retractable mirrors, a removable tow bar with rear camera trailer assist, and rear park assist is just a few of the new features that welcome Volkswagen Caddy drivers.
The large dashboard arrangement has left a lot of space, and the fascia will only have a slimline touchscreen infotainment system. Inside the Volkswagen Caddy, there are very few frills to keep it honest. This van is truly temperature-controlled logistics transporter.
Performance
The new Volkswagen Caddy no longer feels like a commercial vehicle and has car-like driving thanks to the MQB platform.
The engine is carried over from the previous model with a few tweaks, resulting in 81kW and 300Nm from the 2.0 4-cylinder turbo diesel engine. This allows you to accelerate from 0-100 in 12.8 seconds and reach a top speed of 180km/h.
There are no automatic or DSG gearbox options at this time, but you do get VW's bulletproof 6-speed manual transmission.
How do the new diesel engines perform?
While engine noise is normally well muffled when driving, the new 2.0-litre TDI cars have a distinct diesel-like noise when accelerating harder. However, this is subdued rather than a full-on deep chugging. It sounds more sporting than unpleasant.
The diesels are all powered by a 2.0-litre 'twin-dosing' turbo engine that produces 75 horsepower and 250 Nm, 102 horsepower and 280 Nm, or 122 horsepower and 320 Nm. The turbo engine is powerful enough to power the evaporator, compressor, condenser and fan in the refrigeration unit.
The faster the motor, the faster the Volkswagen Caddy Cargo. The 75hp model feels acceptable for general duty, especially around town. It merely runs out of puff when the 122hp version is just getting started.
The 102hp Volkswagen Caddy continues to seem like the best of the range, with enough power for the money and the ability to accelerate quickly when unloaded.
Stretching to the more torque of the 122hp will surely be worth it if you plan to regularly max the payload. However, all of the diesels have a remarkably precise reaction to your right foot, indicating that the development and tuning have been done with great care.
In the UK, a 1.5-litre TSI turbo petrol with 114hp and 220Nm is also available. This model has even better engine refinement, plenty of muscle for moderate payloads, and will be the most enjoyable to drive if you're enthusiastic behind the wheel.
Safety
The Volkswagen Caddy Refrigerated van comes equipped with 6 airbags, ABS (Antilock Brakes), EBD (Electronic brake distribution), TSC (Traction and Stability Control), hill hold assist, PDC (Park Distance Control) front and rear, as well as a rear camera.
Volkswagen Caddy Cargo standard equipment
All Caddy models come with:
Manual air-conditioning
8.25-inch touchscreen
Reversing camera
Apple CarPlay and Android Auto
2 x USB-C outlets
Digital radio receiver
LED reading lights
Dual manual sliding doors
17-inch steel wheels
Full-size spare wheel
Halogen headlights
Seven seats
Fabric trim
Caddy Life adds:
Push-button start
Dual-zone climate control
10-inch digital instrument display
Heated front seats
12V outlet in the load compartment
17-inch alloy wheels
Adaptive cruise control
Front and rear parking sensors
Rain-sensing wipers
Entry and exit lighting
Privacy glass
A six-speed manual gearbox is standard, with DSG automatic and 4Motion options available
The Caddy Cargo Refrigerated van comes standard with a six-speed manual transmission, which puts it in a better position than the larger VW Transporter, which still only has five speeds in base variants.
Furthermore, it's a particularly pleasant gearbox to operate, demonstrating yet again how much of the Caddy Cargo's underpinnings are closely related to the Volkswagen Golf.
A seven-speed DSG automatic transmission is offered as an option on both the 122hp diesel and the 114hp petrol. We tried it out on the diesel, and it's a pretty rapid implementation, shifting gears quickly and avoiding some of the low-speed reluctance that the Transporter has. If you're willing to pay a premium, it's convenient and ideal for traffic.
All Caddy Cargos come standard with front-wheel drive (FWD), although UK purchasers can choose for 4Motion four-wheel drive on the 122hp.
Contact Glacier Vehicles today if you need a Volkswagen Caddy Maxi refrigerated van-based MPV
Glacier Vehicles offer a range of Volkswagen Caddy Maxi Refrigerated van-based MPVs for temperature-controlled logistics transportation of your chilled goods and products.
Our highly experienced team can provide the Volkswagen Caddy refrigerated van you need for your business, providing a range of features to meet your expectations. We have new and used cars in stock for sale. Call 0208 668 7579 to speak with one of our team today!