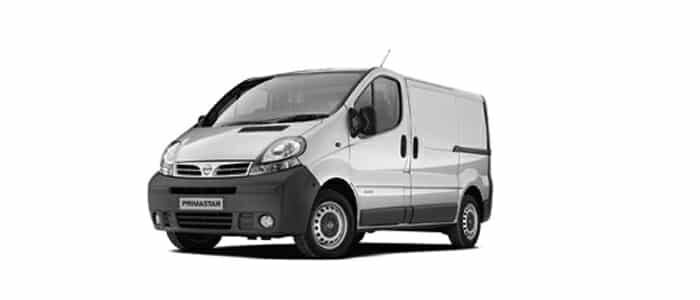 The Nissan Primastar is a chunky refrigerated van with a recently expanded range. Nissan originally only offered the Primastar in a small wheelbase version, but this has been greeted with such a favourable reception that they have decided to also offer a long wheelbase format. They have also chosen to bring UK drivers a high roof version of the Primastar, a variant that was often requested and hotly anticipated. These longer wheelbase and higher roof versions of the Primastar are often used as refrigerated vans, but the smaller version is also extremely suitable for use as a refrigerated goods vehicle.
There is now only one engine options available under the hood of the latest Primastar, a fairly hefty 2.0 liter with a respectable power output of 115bhp. This engine can haul refrigerated payloads of over 1282kgs, which is an admirable amount considering the size of the vehicle.
Loading the Primastar's cavernous refrigerated compartment is fairly easy. It comes equipped with a sliding door on the nearside, and there is an option for a door on the offside if you need it. Of course there are also two full size doors on the back of the vehicle, which provide full access to the inside. Considering the size of this refrigerated van though, you'll most likely be using the sliding doors on the side, as you'll seldom be in a loading bay. Fortunately they are pretty large, especially on the longer wheelbase version.
The maximum load volume of the Primastar is 8.3 cubic meters, which can be found on the long wheelbase, high roof model. The smallest size is 5.1 cubic meters, still a fairly large size. While the Primastar is fairly small for a panel van, when you compare it to the full light commercial vehicle market this seems like a reasonably large refrigerated vehicle. You can certainly haul a decent amount of goods.
Driving the Primastar is particularly pleasurable. No refrigerated van is going to feel like a sports car, but the front wheel power drivetrain makes for a steady delivery of power, even when the back is full of refrigerated goods. The suspension makes for a smooth ride, and the new diesel engines on the Primastar are reasonably quiet.  Handling is also very responsive, which makes all the difference on a vehicle of this size.
While business owners will surely appreciate the fact the Primastar can comfortably achieve 37.6 MPG on the combined cycle, drivers will find the cab the most attractive feature of this refrigerated van. Nissan are well known in the automotive press for ergonomic design, and the Primastar is no exception. The accessibility of the gearstick, which is mounted on the facia, is a particularly nice touch. There's also a powerful radio CD with MP3 player included.
The standard specification of the Primastar is particularly well equipped for safety and security. ABS, an immobilizer with an alarm and remote central locking with deadlocks are all included as standard.  Overall, the Primastar is an excellent multipurpose refrigerated van.
USED Fridge Vans In Stock by Size


Nissan Primastar Van Refrigeration Systems
Many different varieties of refrigeration systems are commonly used. Temperatures inside the Nissan Primastar refrigerated van vary radically, from an average 30c for goods which need to be kept room temperature in the peak of summer, to arctic conditions of minus 30c for extremely volatile products which need really cold temperatures. Some Nissan Primastar freezer vans have a variety of different compartments kept at differing temperatures. There can be two, and some even have three, although the most typical arrangement is merely to have a single refrigerated compartment in a single-vehicle. For certain applications, it's going to be required to have a refrigeration van that can continue to work even when the engine is switched off.For example, businesses who do outside events including weddings and festivals, may need to keep their produce refrigerated without the engine running. In this situation, a standby facility will be needed. This helps it be possible to run the Nissan Primastar refrigeration van system off a typical single phase or three phase external power source, preventing the merchandise from spoiling. Our relationships with leading refrigeration van equipment manufacturers means that we can create great value bespoke solutions, no matter your requirements.
Freezer/Refrigerated Van Insulation
The kind of insulating material used will have just as big an impact on the interior temperature of the Nissan Primastar freezer van as the refrigeration system.In all cases, Glacier Vehicles uses Styrofoam insulation which, although very lightweight (helping the vehicles payload), is a dense and highly thermal substance. The thickness of the Styrofoam is what determines the amount of insulation. For chilled compartments we use 50millimeter Styrofoam, for frozen compartments we'll use 75mm and we allow the usage of 100millimeters Styrofoam for deep freezer compartments that can maintain a temperature as low as minus 30c. There are two distinct options to 'finish' the insulating material: wet-lay and dry-line.Wet-lay is the more traditional approach, and one which Glacier Vehicles embrace, due to the proven fact that when the 'wet' GRP resin has been applied and dried, the loading area becomes a 100per cent sealed, washable and hygienic loading environment. Our engineers are so skilled at creating Nissan Primastar freezer vans that they have even been recognized in several engineering awards, and we feel extremely proud to have them as part of our company.Another advantage to the wet-lay process is that should the resin become damaged through pallet loading and so forth, it's very easily rectified back to an as new condition. Dryline coating a more recent process , even though it has found some favour in the Nissan Primastar refrigeration van sector we prefer to stick to the original wet- lay This is because the sealer used to link dry-line panels can often harbour mould growth, which is a huge problem if you are transporting food.
Nissan Primastar Refrigeration Van Engineers
They are the key members of the team that we refer any customer questions to, and they're instrumental in ensuring that our Nissan Primastar freezer vans are shipped within our clients time requirements. Our engineers can also be tasked with creating bespoke refrigeration systems for client's specific requirements, in both small and large Nissan Primastar refrigerated vans.
Van Warranty
Every single-product and service we market comes with a complete 12 months manufacturers guarantee. That covers the insulating material and also the actual refrigeration system. Even in our used vehicles, the conversions are brand new.Unless otherwise specified by the client, we fit GAH and Hubbard refrigeration equipment as these companies products are of fantastic quality, and their after sales care is always to match. These companies have engineers all on the mainland UK, and can come to a convenient place for you personally if the Nissan Primastar refrigeration van has any issues.
Glacier Vehicles Video