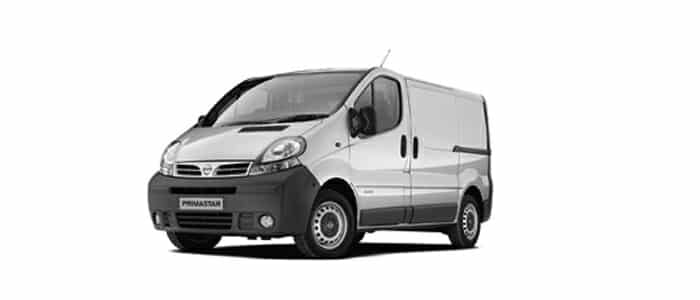 The Nissan Primastar is an incredibly versatile medium sized freezer van. Nissan make the Primastar available in a wide range of configurations, some that have only recently been added to the range. There are short and long wheelbase models, each available in a standard variant or a high roof variant for additional load volume.
Despite the range of body sizes, there's only one engine available on the Primastar: a meaty 2.0 liter diesel with a power output of 115bhp. This lack of variety shouldn't be seen as a limitation, but as a sign of Nissan's engineering prowess. This engine is more than capable of hauling any variant of this freezer van. It's also economical, achieving an MPG of  37.6 on the combined cycle.
The load space in the frozen cargo compartment is one of the greatest strengths of the Primastar. The smallest Primastar body can hide away 5.0 cubic meters of cargo, and if you opt for the largest model then you can easily fit in 8.4 cubic meters. This is extremely impressive, especially when you compare the Primastar to competing freezer vans in the same class. The aforementioned diesel engine has the power to haul frozen payloads of up to 1282kg, and even the Primastar with the least haulage strength can move over 1000kgs easily.
The Primastar is a particularly enjoyable freezer van to drive. The engine is extremely capable, with 300Nm of torque being generated under the bonnet, and the six speed gearbox is particularly suited to long motorway journeys. It's also remarkably quiet, especially when you compare it to other freezer vans with a 2.0 liter engine.
The cab of the Primastar is also a winner. This is one of the few freezer vans of this size that really provides a car-like driving experience, with an extremely well designed interior. There is also all of the storage space that you'd expect in a decent sized freezer van, with ample room in the glovebox, door pockets and under the seats for driver's personal effects and delivery paperwork. The steering wheel is fully height adjustable, so even taller drivers should be able to easily configure a comfortable driving position for themselves. This type of ergonomic adaptability is vital on long journeys, and it's particularly gratifying that Nissan have taken this need into account in their evidently painstaking design process. There's also a fantastic radio CD player with an MP3 playing facility, which is definitely also helpful on those long journeys.
If you are looking for a freezer van with a lot of safety and security equipment as part of the standard configuration, then the Nissan Primastar is a great choice. It comes with ABS, an immobilizer and an alarm, and remote control central locking with a deadlock system. Many manufacturers would make you pay extra for some of this kit, particularly the alarm, but Nissan are content to throw it into the basic package.
Overall the Nissan Primastar is an incredibly capable freezer van that is worth your consideration.
Used Freezer Vans In Stock by Size


Nissan Primastar Van Refrigeration Systems
There are an array of refrigeration systems available on the market today. The temperature in the refrigerated van may differ radically, from highs of 30c right down to minus 30c for goods that need extremely cold storage. While most Nissan Primastar freezer vans have a single compartment which is kept at a single temperature, some large refrigerated vans will have multiple compartments that are each kept at various temperatures for different products. Sometimes it's important for the Nissan Primastar refrigeration van to work-even with no engine running. One example is businesses that cater outdoor events where regular cold storage is needed. In such a situation, we are going to need a reserve power supply. This helps it be possible to run the Nissan Primastar refrigeration van system off a typical single phase or three phase external power source, stopping the merchandise from spoiling. Glacier Vehicles source equipment from all of the most reputable Nissan Primastar refrigeration van equipment businesses, and we are pleased to create a bespoke system for your particular needs.
Freezer/Refrigerated Van Insulation
Insulation is an incredibly important component in Nissan Primastar refrigerated vans, and it is this aspect, when combined with the selection of refrigeration system, which will determine the inner temperature of the vehicle. The combined light weight and highly thermal characteristics of Styrofoam make it the perfect material for refrigerated vehicle insulation, which is why we use it exclusively in our refrigerated vehicles. We'll use differing thicknesses of Styrofoam with regards to the degree of cooling needed. These range from 50mm Styrofoam for our chiller compartments to ultra thick 100millimeters Styrofoam for compartments that are built to keep deep freeze temperatures. There are two different options to 'finish' the insulating material: wet-lay and dry-line. In our view, wet-lay is the most effective method, particularly for transporting food. The interior of the compartment is coated with a resin, which dries to create an impregnable coating on top of the insulating material. Many of our Nissan Primastar freezer vans engineers have even won awards for their work, and we are extremely fortunate to work with them. If the coating of resin inside the Nissan Primastar refrigeration van is damaged at any point, it can be fixed incredibly readily. This is another advantage of the wet-lay coating. The dry-line coating utilizes multiple panels inside the freezer vans instead of a single, impregnable coating. These panels have sealer in between them, which frequently breaks down and encourages the development of mould. This can result in significant issues in a vehicle made to carry food.
Nissan Primastar Refrigeration Van Engineers
Glacier Vehicles clients frequently have questions about the build process, plus our engineers are the best people to turn to for all of the technical details. In addition they work hard to help keep our Nissan Primastar freezer vans build process running smoothly, satisfying the often tight time constraints of our valued customers. Our engineers are also responsible for our unbelievable bespoke refrigerated van service, where they will work to create a system specifically made for your mobile refrigeration needs in both little and large Nissan Primastar refrigerated vans.
Van Warranty
Whether you are purchasing a new or late, low-mileage used vehicle, the conversions (both insulating material and refrigeration system) are brand-new and supplied with the entire 12 month Manufacturers Guarantee. We believe GAH and Hubbard are the top manufacturers of refrigeration equipment, and we tend to use these products in all our small and large refrigerated vans available unless the client specifies otherwise. This is because we have found their products to be of exceedingly high quality, and their after-sales service is also excellent. These companies have technologists all over the mainland UK, and will come to a convenient location for you personally in the event the Nissan Primastar refrigeration van has any issues.
Glacier Vehicles Video