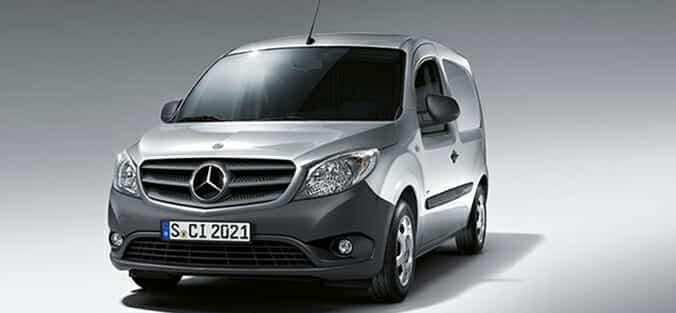 Something we're always praising Mercedes on is their ability to churn out all kinds of different styles, sizes, specs, feeds and general designs of their freezer vans and refrigerated delivery vehicles; because they are a manufacturer who recognise the importance of diversity in such a large industry – most fleets of these types of refrigerated vans will be made up of their own variety of different shapes and sizes, so it benefits them as a company to be one of the foremost suppliers.
For the most part, we've covered some of the larger industry standard vehicles for those long haul and large quantity jobs such as the Sprinter class, but today we're taking a look at something a little smaller and probably better suited to a smaller size of business.
Today, in 2016, we're talking about the 2016 Mercedes Citan 109 CDi Compact freezer/fridge van.
What Can it Offer us?
Well, the obvious place to start with this freezer van has to be the external – it should come as no surprise that this refrigerated van is, indeed, compact; resembling a sort of younger child version of some of the larger Mercedes vans.
That said, the actual appearance and features of the van aren't all that far off the usual Mercedes motif, so if you're a fan of the manufacturer's sense of style, you won't be losing out here.
Naturally, the smaller size of the CDi compact means much less storage capacity and a hugely decreased volume from the larger vans, which is why we think it's best suited for either smaller businesses making deliveries to local shops or smaller outlets, or as part of a larger fleet that incorporates a plethora of different vans.
This might seem like a drawback to some of the bigger names in the industry, and it might well be; but it's worth remembering that some small orders, or deliveries to locations out of the way of the general circulation of usual deliveries aren't always worth sending larger vans off to – especially if you're only using a small portion of their storage space.
Additionally, you'll struggle to find a more suitable freezer van for tight, urban, inner-city driving; due to its small wheel base and 'compact' chassis, making it no more difficult than a fairly standard sized hatchback in terms of manoeuvrability.
The Citan 109 CDi Compact comes with a Hubbard 360 AM refrigeration system and the usual GRP insulation to boot; meaning that, technically speaking, it's no worse off than its bigger brothers in terms of efficiency.
In terms of businesses looking for smaller vans to either fill up a space in their fleet, or looking for an ideal freezer van for short, local or smaller deliveries – the 2016 Mercedes Citan 109 CDi Compact might be the ideal choice.
Still, it's worth reviewing some of the other freezer vans due for release throughout the rest of 2016 as you expand your fleet, or buy your first logistics vehicle.