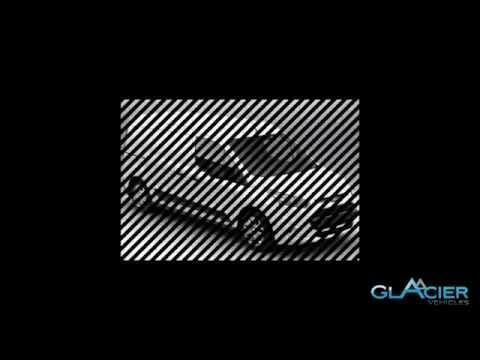 The Transit is one of the most common sights on Britain's roads. Many thousands of these vans have been sold since their introduction in 1962, and a reasonably high proportion of them have been converted into freezer vans. This is partly because the powerful engine and cavernous cargo bay make them the ideal medium-to-long distance carrier of frozen goods.
The load bay of the Transit is particularly large across every model, from the respectable 7.4 cubic meters of loading space on the short-wheelbase to a gargantuan 14.3 cubic meters in the "Jumbo", Ford's name for their extra long wheelbase model. The frozen cargo bay can be accessed in two different ways: via a large sliding door on the nearside, plus two huge full size doors on the back. For ease of access, the two back doors can be adjusted to swing open 180 degrees.  The driver can easily do this adjustment; no tools are required.
The Transit's maximum frozen payload is an excellent 873kgs on the smallest, least powerful model up to 1640kgs on the most powerful model. Unusually this maximum payload weight isn't on the largest model, it's actually on the medium-wheelbase model with the most powerful engine. This model could be ideal for use as a freezer van, especially if you need to carry around the type of compact, heavy loads that are characteristic of frozen goods delivery.
The biggest change in the latest Transit freezer van models is the engine. Ford's engineers have clearly been working extremely hard to create an engine with the most power for the least fuel consumption, and largely they have been successful. While such a large commercial vehicle will never achieve the impressive fuel consumption of smaller, nimbler rivals, the Transit still manages a very respectable 44mpg on the smallest model. An improvement in the electronic exhaust gas circulation system helps to reduce CO2 emissions too.
The improvements in engine fuel consumption and emissions have also considerably silenced the engine. Most people associate diesel engines with an annoying, rattling sound that has completely disappeared on the latest Transit. It's possibly one of the quietest freezer van model on the road. Handling is also incredibly impressive, with a staggeringly responsive steering system.
The standard specification of the Transit is pretty generous considering the starting price. The nearside door comes as standard, with an option to add an offside door too. The cab is fully equipped with electric windows, a heated windscreen and a powerful CD radio. Security features include a passive anti theft system with a Thatcham Cat 2 immobiliser and remote control central locking. Interestingly, two advanced pieces of driving equipment are included as standard: an electric stability program and hill start assist. The latter is especially useful if your freezer van is laden with frozen goods on a steep hill.
Overall, it's absolutely no surprise that the Transit is a market leader. The impressive range of features on the latest model has fully cemented that position. It's the ultimate safe bet if you are looking for a sturdy, reliable freezer van.
New Ford Vehicles
Used Freezer Vans In Stock by Size
Ford Transit Van Refrigeration Systems
There are a number of various kinds of refrigeration systems being made. Temperatures inside the refrigerated van change dramatically, from a moderate 30c for merchandise which should be kept room temperature in the peak of summer, to arctic conditions of minus 30c for extremely volatile products which need really cold temperatures. Many large Ford Transit freezer vans have different sections which are kept at various temperatures, even though most have a solitary compartment. For specific applications, it'll be necessary to possess a Ford Transit refrigeration van that will continue to work-even when the engine is switched off. One example is businesses that cater outside events where continuous cold storage is needed. In this type of situation, we shall need a reserve power supply. These sorts of Ford Transit freezer vans will then be connected to an external power supply, typically a typical three phase or single phase source. It's the result of keeping the merchandise stored inside cooled, even with the engine completely off. Our relationships with leading Ford Transit refrigeration van equipment manufacturers means that we are able to create amazing value bespoke solutions, irrespective of your requirements.
Freezer/Refrigerated Van Insulation
The kind of insulation used will have just as big an effect on the inner temperature of the Ford Transit freezer van as the refrigeration system. We think there's no better option for insulation material than Styrofoam. It's not only incredibly light, which means you can take a heavier load, it also has incredible thermal insulation properties. We use it in every vehicle we supply. The depth of the insulating Styrofoam will change based on which temperature is demanded. We'll normally use 50mm Styrofoam for chilled compartments, 75mm Styrofoam for freezer compartments and an extra thick 100millimeter Styrofoam insulation for deep freeze. After the insulation is installed, a protecting 'finish' will be implemented. This can be done in two different ways: wet-lay or dry-line. We believe that wet-lay is by far the superior process, as once the wet resin is installed and fully dries, it generates a hermetically sealed environment for food products to be transported in. That is why it is the only method we use.Many of our Ford Transit freezer vans engineers have even won awards for their work, and we are extremely fortunate to work with them.Another benefit to the wet-lay procedure is that should the resin become broken through pallet loading and so on, it is extremely easily rectified straight back to an as new condition. The main problem with the more modern dry line method of insulation, is that due to this being of a pre fab construction, after the roof, floor and walls have been installed in the back of the panel van, the joining surfaces of the panels are filled with a sealer which, as time passes, can perish and have cause for condensation to penetrate the insulating material itself and cause mould to form, which is never good when carrying food products!
Ford Transit Refrigeration Van Engineers
They help answer any technical questions that our clients have about the  Ford Transit freezer vans creation process, plus they make sure that all of our jobs are finished in time and within budget. Our engineers will be pleased to create something for you, if you are looking to get a bespoke freezer vehicle solution for your refrigeration vehicle needs, whether you want big or small Ford Transit refrigerated vans.
Van Warranty
Whether you are purchasing a new or late, low mileage used vehicle, the conversions (both insulating material and refrigeration system) are brand new and supplied with the full 12 month Manufacturers Warranty. Glacier Vehicles thinks that GAH and Hubbard are the finest producers of refrigeration equipment, and we have a tendency to use these products in all our little and big Ford Transit refrigerated vans available unless the client specifies otherwise. It is because we have found their products to be of extremely high quality, and their after sales service is, in addition, outstanding. These companies have technologists all on the mainland UK, and can come to a convenient place for you if the Ford Transit refrigeration van has any issues.
Glacier Vehicles Video