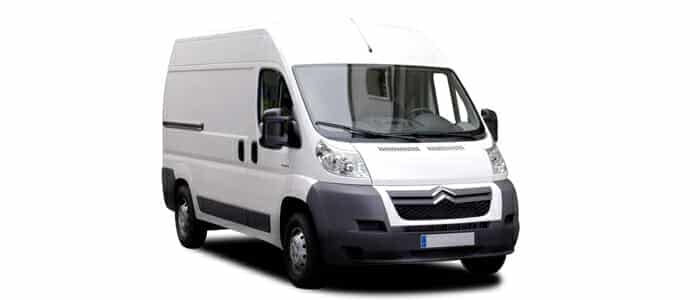 When people are looking for a freezer van, generally they are interested in two factors: the payload, and reliability. These are two areas where the Citroen Relay 35 really excels. It's a genuinely huge freezer van, with an imposing appearance and large payload capacity in every model. The smallest variant, the 30 L1 H1, will haul a highly respectable 1140kgs of frozen goods, while the most powerful model (the L2 H2) has the ability to transport a mammoth 1990kgs of low temperature products. There are various models in between these two extremes to suit your own individual needs.
It takes a lot of power to transport such large hauls, and fortunately this freezer van has some serious machinery under the hood. The 2.2 liter HDI engine has a peak torque of an excellent 320Nm, and it's available in 110, 130 and 150 Bhp variants. Those of you who are looking for an environmentally friendly freezer fan will be interested to know that the CO2 emissions are 229g/km, and the manufacturers estimate of the fuel consumption is a cost effective 32.5mpg on the combined cycle.
Of course, this is a large freezer van, and you're never going to be able to deftly maneuver through winding city streets like you are in a Mini. The six speed gearbox means it's incredibly well suited to long motorway journeys rather than short urban hops. Nevertheless, it can be surprisingly nimble considering the size. It's perfectly capable of delivering anywhere, from out of town warehouses to town center shops.
This freezer van comes with a pretty impressive set of features as standard, including ABS with Emergency Braking Assistance, a transponder immobilizer, central locking, heated door mirrors, electric windows, a trip computer and even a satellite navigation system. The RDS CD car stereo is compatible with MP3s, and has a substantial sound that amply fills the drivers cabin.
The layout of the freezer van cabin has been designed for driver comfort and ease of operation. The steering wheel is fully adjustable to suit drivers of any size, and the handbrake is ergonomically located to the right of the drivers seat. This means it is not obscured or obstructed by an armrest, an annoyance that is found in many similar vehicles. The cabin also has plenty of storage space for documents or personal items, and a fold out work surface which is handy for signing documents on the road.
The massive frozen goods compartment can be accessed in two ways: either through the large, full height side door or via the two access doors at the back. This twin door configuration is incredibly useful for applications where the freezer van will not be fully loaded and unloaded at a single destination. It also means that the van can be easily loaded at warehouse loading bays.  Overall, the Relay 35 is an extremely substantial freezer van, useful whether you are creating a nationwide cold chain network or simply looking for a reliable and powerful van for local frozen deliveries.
New Citroen Vehicles
Used Freezer Vans In Stock by Size


Citroen Relay Van Refrigeration Systems
Many different types of high quality refrigeration systems are commonly used. Some goods only need to be kept under 30c, whereas other goods must be transported inside a Citroen Relay freezer van with temperatures as low as -30c. While most freezer vans possess a single compartment which is kept at a single temperature, some large Refrigerated vans will have several compartments which are each kept at various temperatures for different products. Some Citroen Relay refrigeration vans need to function even when the engine is completely switched off. One common use for such a refrigerated van is alfresco serving of chilled food at weddings, festivals as well as other outdoor events. The exclusive method to do this is by using a standby power supply. These kinds of freezer vans will then be connected to an external power supply, usually a common three phase or single-phase source. It has the result of keeping the goods stored inside cooled, even with the engine totally off. Our associations with major refrigeration van equipment manufacturers means that we are able to create great value bespoke solutions, no matter your prerequisites.
Freezer/Refrigerated Van Insulation
As with refrigeration systems, the kind of insulation used depends upon the loading temperature which is required. The combined light weight and highly thermal characteristics of Styrofoam make it the perfect material for refrigerated vehicle insulation, which is why we use it exclusively in our refrigerated vehicles. The thickness of the insulating Styrofoam will vary based on which temperature is required. We'll typically use 50mm Styrofoam for cooled compartments, 75millimeters Styrofoam for freezer compartments and an extra thick 100millimeter Styrofoam insulation for deep freeze. There are two distinct options to 'finish' the insulation: wet-lay and dry-line. Over the years, we've found that wet-lay is the better method, and it's also the one we use exclusively. It uses a resin to make sure that the inner freezer compartment is fully sealed for safe transport of food products.Our engineers have even won several awards for their skills in creating Citroen Relay freezer vans, and we feel extremely lucky to have them on board. The wet-lay resin coating is also very straightforward to fix in the event that the interior of the  Citroen Relay freezer van is damaged. The dryline coating utilizes multiple panels in the freezer vans in place of a single, impregnable coating. These panels have sealer between them, which frequently breaks down and encourages the growth of mould. This can lead to significant issues in a vehicle made to transport food.
Citroen Relay Refrigeration Van Engineers
They are the ones we all turn to for answers to the many daily questions we get from customers at Glacier Vehicles, and they're the unsung (with the exception of this rare pat on the back!) hero's when it comes to keeping the build process smooth and moreover, on time for our customers! Our engineers are also in charge of our incredible bespoke service, where they'll work to develop a system created specifically for your mobile refrigeration needs in both large and small  Citroen Relay refrigerated vans.
Van Warranty
All of the equipment that we supply is completely new, even in our used Citroen Relay freezer models. What this means is you will be covered with a full 12 month manufacturers warranty for your own peace of mind. We always use Hubbard and GAH refrigeration equipment in both our small and large Citroen Relay refrigerated vans for sale, unless you've got some particular requirements these companies cannot fulfill. We actually believe this is the most effective equipment available on the market, plus they have got an exceptional after sales care service. If any problems occur with the refrigeration compartment in your freezer van, these companies both send an engineer to your location to repair the issue immediately, no matter where you happen to be.
Glacier Vehicles Video