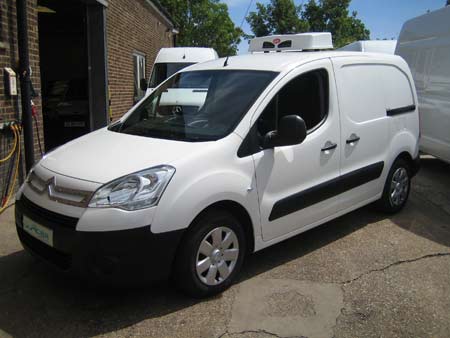 In 2012, Citroen made its refrigerated Berlingo model much larger, giving it a load volume just shy of 4 meters. This was fantastic news for the Berlingo buyers, although it left the Citroen Dispatch at a quandary. With only a touch bigger load area, questioning the need for the Citroen Dispatch was understandable. However, especially with the 2015 refrigerated vehicle models, the answer was that the Citroen Dispatch very much needed. It is larger than the Berlingo refrigerated van with a load space of five cubic meters and it offers the much-needed combination of car-like performance, economy and sleek good looks.
Refrigerated Dispatch Van: post-2012
The Citroen Dispatch refrigerated van has been seemingly ever present in the UK, having been on the market since 1998. Its massive overhaul in 2012 gave it a decidedly refreshing look and more competitive spec. Used Citroen Dispatch refrigerated vans from this time are a great punt for the used buyer. 2015 vans have a revitalized front grille with new mirror, headlamps and door handles. It comes with a reasonably capable panel beneath the refrigerated van that reduces fuel depletion by redirecting the airflow.
Height and Length
The Citroen Dispatch refrigerated van comes in either a short or long wheelbase with two roof heights. When it comes to the choice of body, Citroen offer a platform cab, six or nine-seat combi, panel or crew, for their refrigerated vehicles. Under the hood there is a choice between a 2.0 litre turbo diesel engine with common rail fuel injection giving you a whopping 125bhp or a 1.6 litre version with a modest yield of 90bhp. The 1.6 version (with the short wheel base) was aimed at the fleet market and sold far more due to bulk acquisition, which makes them much more common on the refrigerated vehicle market.
The modern refrigerated vehicle: utilities and features
Useful utilities include electric windows and mirrors, rear parking sensors and air conditioning, steel bulkhead, Bluetooth connectivity, and electronic stability control as a choice.
Stolen vehicle tracking now comes as standard along with a sat-nav and a fleet management option, which is extremely useful and effective for larger businesses with more refrigerated vehicles. Furthermore, it comes with an internal emergency telephone with a direct link to emergency operators. Fuel is reasonably economical at 42.2mpg, and the van costs an excellent £17,000 new.
There are three seats inside the actual cab, although fitting three adults in comfortably would be very difficult, although the storage space is expertly configured, with plenty of bins. Luxurious and plush, and the adjustable steering wheel increases driving comfortably. The regular loading space is five cubic meters, which is better than average for a van of this size, and can also be increased to seven cubic metes if you choose the long wheelbase and high roof model. The engine is quiet and the driving sleek; the smaller 1.6 litre version generates more than enough power for the average user. Driving and handling like a car, the used Citroen Dispatch refrigerated van has come to dominate sections of the refrigerated vehicle market.