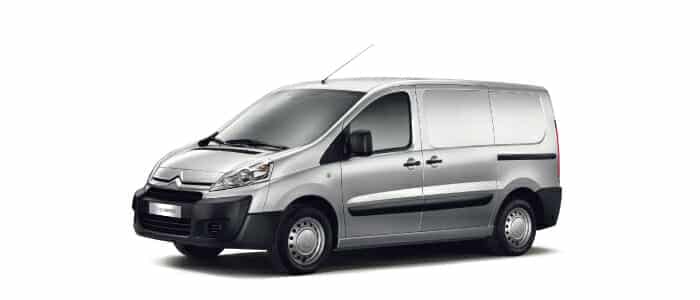 The Dispatch is an incredibly popular freezer model, and for good reason. This vehicle is ideally suited for medium size frozen payloads, and is an absolute joy to drive even for longer distances. It's a very common choice for businesses and individuals who are choosing their first freezer van, not only because of the payload size but also because of the drivers cabin. Fairly uniquely for a freezer van, the driver's cabin is at the same height you would expect a car to be. This makes it extremely comfortable for first time drivers of commercial vehicles, and this medium sized van handles much as you would expect a car to.
In addition to the height of the vehicle, comfort has clearly always been a huge factor in the design of the Citroen Dispatch. The steering wheel is fully adjustable for both height and reach, and it's not difficult to adjust the seat into an incredibly comfortable driving position no matter your size. The ample amount of storage space in the cabin also shows that Citroen's designers have definitely taken the needs of a driver on a long frozen goods delivery journey into account.
While the Dispatch is small compared to larger freezer vehicles, it is no slouch when it comes to payload. The smallest model can easily cope with 988kgs of frozen goods, whereas the largest and most powerful variant moves a mammoth 1200kgs with ease.
The Dispatch comes in two sizes, the short wheelbase and the long wheelbase. The longer wheelbase model has a maximum load length of 2500mm, and the shorter wheelbase variant can easily cope with loads that are 2200mm long. It's an incredibly easy vehicle to load and unload, with full size sliding doors at each side and two doors at the back. This is particularly useful for expeditions where the freezer van will not be loaded and unloaded fully at each stop. Having quick access to the goods is vital when you are moving frozen foods or other frozen products, and the Citroen Dispatch has an extremely practical solution to this problem.
The Dispatch has a huge amount of features, even in the standard specification. It has a phenomenal RDS stereo with excellent sound quality and an MP3 compatible CD player, one touch operation electric windows, remote control central locking with deadlocks, and ABS with emergency braking assistance.
The Smartnav satellite navigation system is also an incredible feature in this freezer van. While many competing vehicles have the satellite navigation system integrated into the dashboard, the Dispatch has a removable touchscreen console that can even be used inside the vehicle. This is an incredibly useful system if you need to get out of the vehicle and find a destination while on foot, which is an all too common occurrence when doing deliveries in pedestrian precincts.
All in all, the Citroen Dispatch is a fine option for a medium sized freezer van. The combination of great features, large payload and an extremely comfortable drivers cabin will make it the perfect choice for many businesses.
New Citroen Vehicles
Used Freezer Vans In Stock by Size


Citroen Dispatch Van Refrigeration Systems
There are a variety of refrigeration systems available on the market today. A broad range of temperatures are available inside vehicles, from a fairly ambient 30c to a minus 30c deep freeze. These temperatures change according to the merchandise within. Although the most common arrangement is to have a single loading compartment, there are particular scenarios in which a Citroen Dispatch refrigerated van will have many compartments, each kept at a different temperature. Sometimes the ongoing operation of the refrigeration van will be needed even with no engine running at all. This is most common with refrigerated van which will be used to serve cold food at outdoor events. In such a scenario, we shall require a reserve power supply. This ensures the electricity is drawn from a peripheral power source, such as a normal single phase or three phase connection, keeping the product perpetually cold through the entire event. We supply a wide selection of products to meet the needs of any client, and we'll happily fit equipment that is specifically configured for your particular requirements.
Freezer/Refrigerated Van Insulation
It is equally as important to pick the best type of insulation for the Citroen Dispatch freezer van as it is to select the right kind of refrigeration system. We believe there is no better option for insulation material than Styrofoam. It is not only extremely light, and that means you can take a heavier load, it also has incredible thermal insulation properties. We use it in every vehicle we supply. The depth of the insulating Styrofoam will change depending on which temperature is demanded. We'll generally use 50mm Styrofoam for cooled compartments, 75millimeter Styrofoam for freezer compartments and an extra thick 100millimeter Styrofoam insulating material for deep freeze.Nowadays there are two main types of 'finish' to the insulation; dry line and wet-lay. In our view, wet-lay is the most effective method, especially for carrying food. The inside of the compartment is coated with a resin, which dries to create an impregnable coating on top of the insulating material.Our engineers are so skilled at creating freezer vans that they have even been recognized in several engineering awards, and we feel extremely proud to have them as part of our company. An added advantage to using wet-lay insulating material is that it is extremely simple to repair if any damage happens to the inside of the refrigeration van. Dryline is a more innovative method for creating Citroen Dispatch freezer vans, but we feel it's not an improvement to the standard wet-lay coating. It consists of multiple panels that are connected using a sealer, which can degrade and trigger the forming of mould, an enormous risk in the transportation of food.
Citroen Dispatch Refrigeration Van Engineers
They are the ones we all turn to for answers to the many daily questions we get from clients at Glacier Vehicles, and they're the unsung (with the exception of this uncommon pat on the back!) hero's in regards to keeping the build process smooth and more importantly, on time for our clients! If you are looking for a bespoke solution for your refrigeration vehicle needs, whether you want large or small Citroen Dispatch refrigerated vans, our engineers will be happy to create something for you.
Van Warranty
Whether you are purchasing a new or late, low-mileage used vehicle, the conversions (both insulating material and refrigeration system) are brand new and given the full 12 month Manufacturers Warranty. GAH and Hubbard are our favourite refrigeration equipment manufacturers. In our many years of experience we have found they provide not only the best merchandise, but also the greatest after sales service. Until you specify otherwise, we'll use their products in both our little and big Citroen Dispatch refrigerated vans for sale.They have engineers positioned throughout great BRITAIN mainland and go to the customer's workplace (or wherever the van might be if out on deliveries) for any servicing / guarantee requirements.
Glacier Vehicles Video