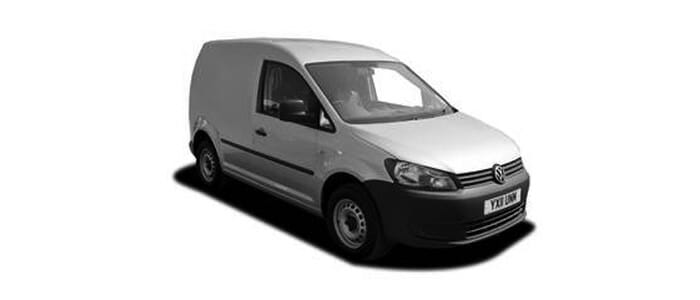 Since it is robust and easy to maneuver in the city, the Caddy is great for frozen delivery businesses. With their compact yet super cavernous design, the standard Caddy panel small freezer vans will carry an array of loads. For businesses that need even more load carrying capacity, Volkswagen has created the long wheelbase Maxi panel van version of the Caddy.
Volkswagen Caddy Standard Features
The Caddy packs in a lot of features for being such small freezer vans for sale. Included among these features are:
• Anti-lock Brake System • Electronic Brakeforce Distribution • 60 litre fuel tank • Remote central locking with two remote keys, deadlocks, and internal locking switch • Traction Control System • Electronic Stabilisation Programme • Engine Drag Torque Control
Under the Hood
The Volkswagen Caddy engines are designed to still produce more power while using less fuel than previous models. These used freezer vans (click here to learn more about our vans!) utilize engines with flexible turbo-diesel for outstanding performance, since fuel costs are only likely to continue to soar in the future. Great power comes from all of the Caddy engines while keeping fuel consumption and carbon dioxide emissions to a minimum. The Caddy engine range starts with the frugal 75PS 1.6TDI engine. And, at the top end, the torquey 140PS 2.0TDI gets the job of carrying heavy loads done. To bring fuel efficiency to a whole new level while cutting emissions even further, there are some used small freezer vans for sale in the Caddy range that feature Volkswagen's BlueMotion Technology.
New Volkswagen Vehicles
Freezer Vans In Stock by Size


Volkswagen Caddy Van Refrigeration Systems
There is no shortage of refrigeration systems available to pick from. The temperature within the Volkswagen Caddy refrigerated van can differ dramatically, from highs of 30c down to minus 30c for goods that need exceptionally cold storage.Whilst most companies need one loading compartment, many businesses need double (even triple) loading compartments, providing them with the capability to transport two / three products at several temperatures simultaneously. Sometimes the continuing operation of the refrigeration van will likely be needed even with no engine running at all. One typical use for this type of Volkswagen Caddy refrigerated van is alfresco serving of chilled food at weddings, festivals as well as other outdoor events. The only method to make this happen is to use a stand-by power supply. This means that the electricity is drawn from a peripheral power supply, such as a common single phase or three-phase connection, keeping the product perpetually cold through the entire occasion. Glacier Vehicles source equipment from all of the most reputable Volkswagen Caddy refrigeration van equipment businesses, and we are pleased to make a bespoke system for your particular needs.
Freezer/Refrigerated Van Insulation
Picking the right type of insulation is vital also. This will work in tandem with the refrigeration system to maintain a temperature which is perfect for the product.In all cases, Glacier Vehicles utilizes Styrofoam insulation which, whilst quite lightweight (helping the vehicles payload), is a dense and highly thermal substance. The depth of the insulating Styrofoam will change depending on which temperature is needed. We'll typically use 50mm Styrofoam for chilled compartments, 75millimeters Styrofoam for freezer compartments and an extra thick 100millimeter Styrofoam insulation for deep freeze. There are two different options to 'finish' the insulation: wet-lay and dry line. We believe that wet-lay is the best method, and this is the sole one we use. A resin is applied to the inside of the compartment and left to dry, producing a totally sealed washable coating in the insulant.Our engineers are so skilled at creating Volkswagen Caddy freezer vans that they have even been recognized in several engineering awards, and we feel extremely proud to have them as part of our company. If the finish of resin inside the refrigeration van is damaged at any point, it can be repaired extremely readily. This is an additional benefit of the moist-lay coating. The dry-line coating uses multiple panels inside the Volkswagen Caddy freezer vans as opposed to a single, impregnable coating. These panels have sealant between them, which frequently breaks down and promotes the growth of mould. This may lead to critical problems in a vehicle designed to transport food.
Volkswagen Caddy Refrigeration Van Engineers
They are the ones we all turn to for answers to the many day-to-day questions we get from customers, and they are the unsung (except for this rare pat on the back!) hero's when it comes to keeping the build process smooth and moreover, on time for our clients! Our engineers are also tasked with creating bespoke refrigeration systems (click here for more info on our bespoke services) for client's unique requirements, in both large and small Volkswagen Caddy refrigerated vans. If you would like to learn more about our bespoke service please visit https://www.glaciervehicles.com/bespoke-refrigerated-vans/.
Van Warranty
Every single product and service we sell comes with a full 12 months manufacturers warranty. That covers both the insulation as well as the actual refrigeration system. Even in our used vehicles, the refrigerated vehicle conversions are brand new. We believe that GAH and Hubbard are the best makers of refrigeration products, and we tend to use these products in all our little and big Volkswagen Caddy refrigerated vans for sale unless the customer specifies otherwise. This is because we have discovered their products to be of exceedingly high quality, and their after sales service is, in addition, excellent.They have engineers positioned throughout the UK mainland and see the customer's workplace (or wherever the van may be if out on deliveries) for any servicing / warranty requirements.
Glacier Vehicles Video