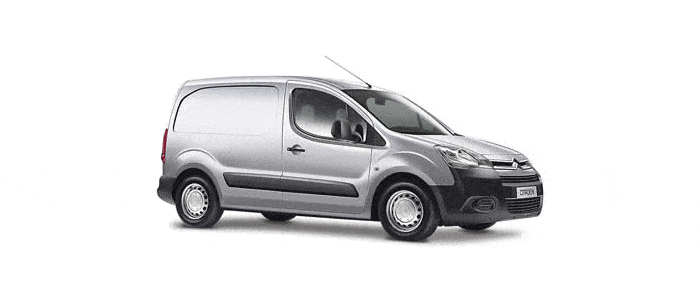 The Citroen Berlingo has been around since the 1990s, and is an incredibly familiar sight on Britain's road. The latest version has been considerably revamped, making it even more ideal for anyone looking for a small freezer van. The most immediately obvious change the appearance. Aesthetically the Berlingo has been considerably refined, with a completely new nose and new headlights and indicators. This gives it a much sleeker appearance that is more modern and attractive than the preceding models.
However, practically minded, quality seeking business owners will be much more interested in the changes that are underneath the hood. Citroen's engineers have tweaked the engine, cutting down this freezer van's fuel consumption and, importantly in these environmentally conscious times, CO2 emissions. The Berlingo is available in many different variants, each suited for a different type of business. All of them work very well as a freezer van. There are two different load lengths, a range of payload capacities going from a compact 625kg to an expansive 850kg, three different trim levels (X, LX, and Enterprise) and a selection of different diesel and petrol engines. The 95bhp 1.6i petrol engine can even be converted to run on LPG if necessary.
The interior of the Citroen Berlingo is built to be incredibly comfortable and well suited to long journeys. There is no shortage of storage space, including a large glove box and a shelf above the windscreen. Unusually for such a small freezer model, there are even three seats. If there are only two people seated in the cabin, the central seat can be folded down to provide an incredibly useful flat work surface that is ideal for filling in documentation while on the road. This surface even comes with straps that can keep documents in place when driving, which is an incredibly useful feature. Underneath the central seat there is a huge storage compartment that can be used for the driver's personal effects. The seat and steering wheel are also fully adjustable for the comfort of the driver.
The frozen cargo area is extremely easy to load, with a sliding door on the nearside and two doors on the rear. The door on the offside rear is slightly narrower than the one on the nearside. This door configuration is very convenient on this size of refrigerated van and makes it easy to load and unload no matter the size of load.
Characteristically for Citroen, a generous number of features are included as standard. These include electric windows, electrically adjustable heated exterior mirrors, and an RDS stereo CD player with MP3 compatibility. The driver can control the stereo with controls situated on the steering column. The Berlingo even comes complete with a Trafficmaster Smartnav satellite navigation system, which can be removed from the dashboard and used on foot if the need arises.
New Citroen Vehicles
Used Freezer Vans In Stock by Size


Van Refrigeration Systems
There are numerous different varieties of refrigeration systems being made. A wide range of temperatures can be found inside refrigerated vehicles, from a fairly ambient 30c to a minus 30c deep freeze. These temperatures vary according to the product within. Many big freezer vans have distinct sections that are kept at different temperatures, although most have a solitary compartment. For specific applications, it will be crucial to possess a refrigeration van which will continue to work even when the motor is switched off. This scenario is most commonly found with companies who want mobile Refrigerated vans to serve cold products during outside events. When this is needed, we shall need to use a backup power system.This provides the capacity to plug the refrigeration system in to an external power supply (single-phase or three-phase), keeping their produce cool / frozen for an indefinite period. Our skilled engineers will source equipment from leading refrigeration van system manufacturers and fit them in a vehicle to meet your unique requirements, regardless of what they are.
Citroen Berlingo Freezer/Refrigerated Van Insulation
Choosing the proper type of insulating material is essential also. This will work in tandem together with the refrigeration system to create a temperature that is ideal for your merchandise. We believe there's certainly no better alternative for insulation material than Styrofoam. It is not only extremely light, which means you can take a heavier load, it also has incredible thermal insulation properties. We use it in every vehicle we provide. We'll use differing thicknesses of Styrofoam with regards to the level of chilling necessary. These range from 50mm Styrofoam for our chiller compartments to ultra thick 100millimeters Styrofoam for compartments that are designed to maintain deep freeze temperatures.Nowadays there are two main varieties of 'finish' to the insulation; dryline and wet-lay. Wet-lay is the more conventional approach, and the one which Glacier Vehicles adopt, because of the proven fact that after the 'wet' GRP resin has been implemented and dried, the loading area becomes a 100per cent sealed, washable and hygienic loading environment. We value our engineers enormously, and so does the wider engineering community. That is why they have won several awards for their work on Citroen Berlingo freezer vans. An additional advantage to using wet-lay insulating material is it is quite easy to repair if any damage happens to the inside of the Citroen Berlingo refrigeration van. Dry-line is a more innovative method for creating Citroen Berlingo freezer vans, but we believe it is not an improvement to the traditional wet-lay coating. It consists of multiple panels which are linked with a sealant, which can degrade and trigger the forming of mould, a large risk in the transportation of food.
Citroen Berlingo Refrigeration Van Engineers
They are the ones we all turn to for answers to the many daily questions we get from clients, and they're the unsung (except for this rare pat on the back!) hero's when it comes to keeping the build process smooth and furthermore, on time for our clients! Our engineers may also be tasked with creating bespoke refrigeration systems for customer's specific requirements, in both small and big Citroen Berlingo refrigerated vans.
Van Warranty
Purchasing a refrigeration vehicle from us means you will be given a full 12 month manufacturers guarantee on all equipment. The reason being it is completely new, even in our second hand Citroen Berlingo freezer vans. Unless you have some particular requirements that these companies cannot meet, we consistently use GAH and Hubbard refrigeration equipment in both our little and large Citroen Berlingo refrigerated vans for sale. We actually believe this is the best equipment on the market, and they have an outstanding after sales care service. These companies have engineers all over the mainland UK, and will come to a convenient location for you personally in the event the refrigeration van has any problems.
Glacier Vehicles Video