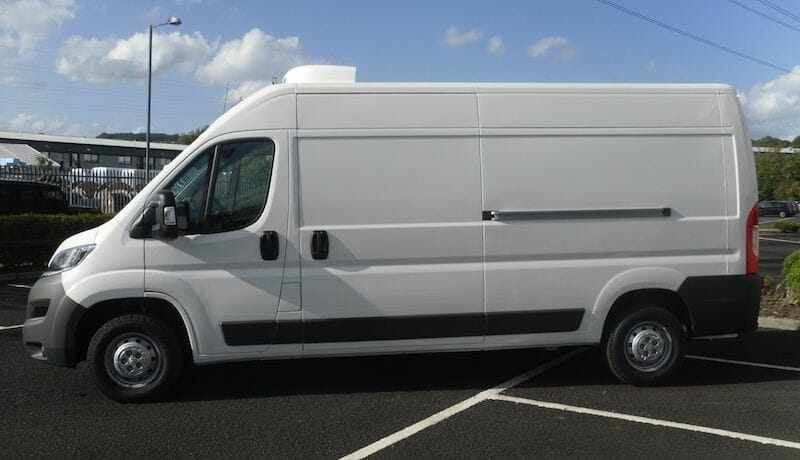 Citroen Relay 2022 is a large van that takes styling inspiration from both the old Relay and the new Berlingo. It comes with a 2.2-litre turbodiesel engine that manages to be both economical and powerful. There's ample room for up to eight people and luggage, power steering, a six-speed manual gearbox, and an option for 4×4.
The Citroen Relay was a top-flight contender in the large van industry when it was released. It was built as a joint venture with the Peugeot Boxer and the Fiat Ducato.
This review of the Citroen Relay 2022 is for the most recent version of this popular big van, which has been fully converted into a refrigerated van by Glacier Vehicles. Thanks to numerous modifications, high payload ratings, outstanding value, and decent mileage, the Relay continues to compete against the Ford Transit and Renault Master.
Can the Citroen Relay be Fitted with a Refrigeration Compartment?
All the Citroen Relay vans available at Glacier Vehicles have been fitted with a commercial refrigerator and/or freezer compartment. This is perfect if you are in Food or Beverage industry and want to ensure your goods are kept at the right ambient temperature.
Because this is an optional extra, we can always customise the van to meet your specific temperature-controlled logistic requirements. Our customer service team are on hand to help you choose the product that best suits your needs.
Citroen Relay Van Refrigeration Systems
There are different refrigeration systems to choose from. The temperature required might range from 8°C to -30°C, depending on the goods being transported. While most freezer vans have a single compartment with a single temperature, some large Citroen Relay refrigerated vans feature numerous sections with varied temperatures for different items.
It will be necessary to have a refrigerated van that can continue to perform even when the engine is turned off for specialised purposes. This is a common scenario for businesses that require mobile refrigerated trucks to serve chilled products at outdoor events.
You will need to use a backup power system if this is required. This allows the Citroen Relay refrigeration van system to be powered by a regular single-phase or three-phase external power source, preventing product spoilage.
Glacier Vehicles offer a diverse range of refrigeration systems to fulfil the demands of every client, and we would gladly install equipment that is custom-configured to match your requirements.
Our Refrigeration/Freezer Van Thermal Insulation Options
The type of thermal insulation employed, as with refrigeration systems, is determined by the loading temperature necessary. We only use Styrofoam insulation because we believe it has the optimum combination of lightweight and thermal insulation capabilities for insulating a car.
Depending on which temperature is required, the thickness of the insulating Styrofoam will fluctuate. For cooled compartments, we'll use 50mm Styrofoam, 75mm Styrofoam for freezer sections, and an exceptionally thick 100mm Styrofoam insulating material for the deep freeze. The insulation can be finished in either wet-lay or dry-line.
We've discovered throughout the years that wet-lay is the best way, and we utilise it completely. It makes use of a resin to ensure that the inside freezer compartment is completely sealed for safe food transit.
Engine Options for Citroen Relay Refrigerated Van
Originally offered with a choice of 2.2-litre HDi turbodiesel for ordinary work and a huge 3.0-litre HDi turbodiesel for more heavy-duty work, these were all superseded in 2016 by a newly built series of 2.0-litre BlueHDi engines designed for the first set of Euro 6 requirements. To achieve Euro 6.2, these were replaced three years later by new 2.2-litre BlueHDi engines in 2019.
On paper, the smaller 2.0-litre variants didn't lose any performance; in fact, they all created more power or torque than their predecessors. However, you might notice that Relays with these engines don't feel as muscular as they did before.
Unfortunately, the return to 2.2-litres hasn't addressed this issue, since the newest Citroen Relay range is confined to only two engine options, rather than the three formerly available – 110hp/300Nm, 130hp/340Nm, and more 160hp/350Nm.
The most powerful of these has only 140 horsepower and 340 Nm, while the least powerful has 120 horsepower and 310 Nm. However, while this is less than some rivals can offer if you're willing to pay top pounds, you'll only notice the 140hp Relay is underpowered when driving it fully loaded – after all, the Citroen is light for a large van.
Storage Options
Two glove pockets (one of which is lockable and offers space for a laptop computer), a dashboard-mounted document clip, and a pair of open and covered compartments elsewhere in the dashboard make up the in-cab storage.
Additionally, there are large door pockets, a storage place behind the passenger seat, and a 22-litre open overhead box.
The driver's seat is comfy and has its suspension, which is helpful if you spend a lot of time on the road. The passenger seat is less than ideal.
What About the MPG?
The Relay, like all Euro 6 vans, has an AdBlue tank that must be maintained and filled to keep emissions low (the engine won't start without it!).
Citroen now quotes the Relay's fuel economy using the latest WLTP standard, which is correct and proper, but it means that the newer models appear to have far poorer fuel economy than the versions they replaced.
As a result, the Relay's claimed mileage has dropped from 47.0 to 34.9. This isn't due to a significant reduction in efficiency; rather, WLTP is more realistic than the NEDC test it replaced.
Citroen Relay Safety
When it comes to safety, the latest Relay versions handle the fundamentals but don't go much farther. So you have electronic stability control (ESC), but unless you go into the options list, there's only one airbag (for the driver).
All Driver models, thanks to its Driver Assist Pack, have lane-departure warning and autonomous emergency braking as standard, as do those with a 4.0-tonne gross vehicle weight (the heaviest you can drive on a regular car licence is 3.5 tonnes).
These features are available as add-ons to the rest of the collection.
Standard Equipment for Citroen Relay
There are four trim levels in the current Relay lineup: X, Worker, Enterprise, and Driver.
Highlights of the Citroen Relay X's equipment:
Electrically-adjusted twin-lens door mirrors with heated upper lenses
Rear doors with 180-degree opening
Sliding side door on the passenger side
Full steel bulkhead
Half-height load area protection
DAB radio, Bluetooth and USB connectivity
Telematics box for Free2Move Connect Fleet Services
Reach-adjustable steering wheel with audio controls
Height-adjustable driver's seat
Electric windows
Highlights of Citroen Relay Worker standard equipment (in addition to X):
Underbody protection plate
Reinforced suspension
All-season tyres
Front and rear mudflaps
Cruise control with variable speed limiter
Lower central glovebox (instead of cupholders and phone storage)
Lumbar adjustment and armrest for driver's seat
Grip Control electronic traction control system with Hill Descent Control
Highlights of Citroen Relay Enterprise standard equipment (in addition to X rather than Worker):
Touchscreen infotainment system with a 5.0-inch screen
Rear parking sensors
Lower central glovebox (instead of cupholders and phone storage)
Lumbar adjustment and armrest for driver's seat
Touchscreen infotainment system with sat-nav
Air-conditioning
Cruise control with variable speed limiter
Highlights of Citroen Relay Driver standard equipment (in addition to Enterprise):
Automatic lights and wipers
USB charging socket and tablet holder on the dashboard
Driver Assist Pack for added safety equipment
Rear parking camera
LED daytime running lights in the headlights
Contact Glacier Vehicles Today if you Need a Citroen Relay Refrigerated Van
We can supply you with the latest Citroen Relay refrigerated van, ideal for transporting your perishable goods to market and keeping them fresh.
Glacier Vehicles has over forty new and used refrigerated vans in stock at any given moment, all of which are guaranteed to perform to the highest standard from the first day of purchase.
They are equipped with a refrigeration unit that maintains the desired temperature inside the truck's cargo area. So, whether you're a well-established business looking to expand your fleet of refrigerated vehicles or an individual just starting on their own, Glacier Vehicles has what you need.
Call us today on 0208 668 7579