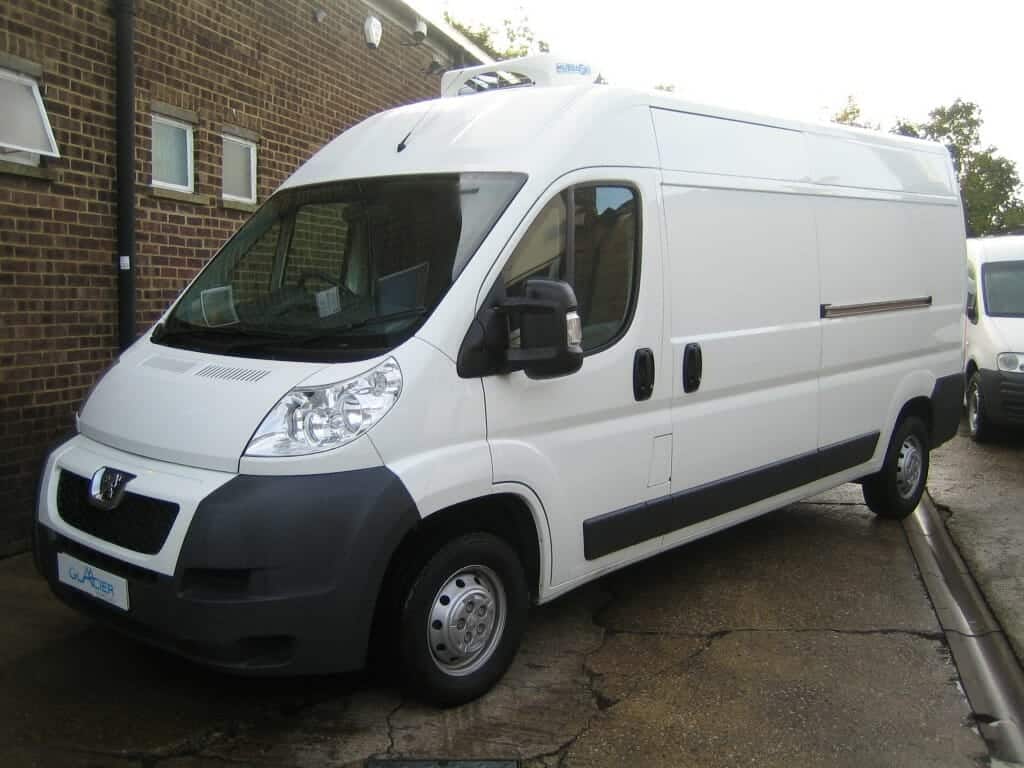 The Blipper
It might be the smallest of all of Peugeot's commercial vehicles, but that just makes the Blipper freezer van perfect for use in a dense urban environment to deal with narrow streets, difficult parking, and traffic issues— perfect for making deliveries in the city. Incredible gas mileage of 62.8mpg also makes it a solid choice for anyone that has to encounter a lot of stop and go traffic. Engineers have designed it so that the engine completely stops when the vehicle does, but then comes right back to life as soon as your foot is off the break. The energy savings this accumulates will make a big difference in your monthly expenses. Another way that it saves you money is through its smart design that uses every bit of the small space to help you have a better payload: 660 kg or 2.8 cubic meters to be exact. Companies looking for the most economical way to get around the city and get the most for their money will also appreciate the standard ABS, on board trip computer, and CD player as well.
The Partner
Smooth suspension and a variable length are the traits that set newer model from Peugeot apart. The longer version is designed to give a little extra room for deliveries without compromising driving or unloading practices, increasing the load from 3.3 cubic meters to 4.1 cubic meters. For some, it's just the extra space needed to get in one extra delivery at the end of a route. Both the longer and shorter versions feature a 1.6 litre HDi engine, but with differing power levels available for those wanting an extra boost along with the extra room. No matter which you choose though, The Partner stays true to Peugeot's commitment to efficiency, achieving 62.8 mpg through its micro hybrid technology. For the driver's comfort and safety, the vehicle also features ABS system, central locking systems, on board trip computer, and an impressive stereo that is MP3 compatible. For businesses that like to customize and expect lots of time behind the wheel, this could be the Partner you've been wanting.
The Expert
With huge changes and additions from the last time Peugeot put out an Expert van, this newer version really lives up to its name. The engines are incredible efficient with Peugeot engineers creating a system that reduces CO2 emissions and gains a remarkable 44.1mpg—a figure not usually associated with vans of this size. As far as size goes, The Expert can easily handle between 5 and 7 cubic meters of frozen goods depending on the model selected. Payloads can range from 988kgs up to 1200pkgs a huge benefit to transporting goods that are much heavier than their size would suggest. Peugeot has made the driver experience intuitive with easy controls such as a traditional gearshift instead of one located on the dashboard. Sliding side doors, ABS breaks, transponder immobilizer, and a remote central locking system are all apart of the standard features included to make your trip and delivery a little smarter and easier.
The Boxer
If you have serious need for room, then The Boxer is the freezer van you want fighting for you. A massive van that can fit up to 17 cubic meters, The Boxer also offers some deft design to compliment its impressive size. The cabin can comfortably fit three people and still have some extra storage space in the main console and fully adjustable seats. A low to the ground rear makes loading and unloading easy, while the cargo by is much wider than other comparable models, giving you plenty of room to maneuver and re-arrange your goods. For its size, it also gets a respectable 32.5mpg driven by a 2.2 liter HDi engine. Rounding out it list of impressive features are the standards found in the Expert: ABS, central locking, and MP3 compatible stereo. A massive van that's still light on its feet will be anything but cumbersome to those with big delivery demands.