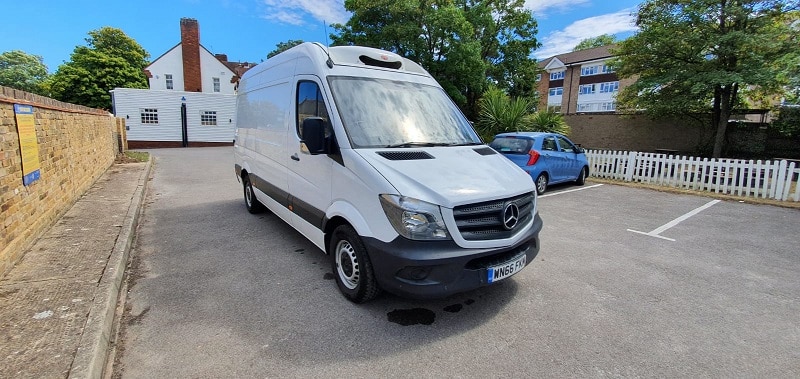 The Sprinter Refrigerated Van is the Mercedes light commercial vehicle range's best-selling van. It is one of the most popular vans on British roads. It makes up the majority of the fleet of many large temperature-controlled logistics businesses.
Its boxy appearance is extremely common in British towns and on the road network. It's also a popular alternative for small enterprises, and it's frequently adapted to transport perishable or frozen goods.
With a cargo compartment that measures 1.7 metres wide behind the wheel arches and a maximum floor length of 4.8 metres, all models are built to last.
Road handling is among the greatest advantages of any large refrigerated van, as it has been in previous generations of the Mercedes-Benz Sprinter allowing even the most unskilled drivers to feel confident behind the wheel. Even while carrying a full load, the van maintains outstanding ride composure, making it comfortable and predictable on curvy and rocky roads.
The 2022 Mercedes Benz Sprinter's latest third-generation model is a full-size van that boasts refined powertrains and countless configurations. However, it's also more expensive than similarly versatile rivals such as the Ford Transit and Ram ProMaster. Along with a standard turbo-four engine, the Sprinter offers two different diesel options and rear- or all-wheel drive.
Mercedes Pro connect allows owners to keep track of their Mercedes-Benz Sprinter. The German van maker created the technology in-house, and it delivers telemetry data on the vehicle's mechanical condition and fuel economy directly to the driver's computer or smartphone.
Driver Pack, Comfort Pack, Premium Pack, Active Safety Pack, Lane Tracking Pack and Comfort Pack Plus, all remain available. Much of the equipment is incorporated into the new trim tiers.
How comfortable is the Mercedes-Benz Sprinter Refrigerated Van?
Mercedes Benz Sprinter reliability is superb in the automotive industry. it leads the cargo van market in space and load comfort.
The Mercedes-Benz Sprinter comes in a variety of body types. There should be a Mercedes-Benz Sprinter for every job, with 1700 various types encompassing panel vans, flatbeds, tippers, dropsides, and refrigerated box vans.
On the road, this massive barn-shaped big van creates some noise, especially when the wind rushes through the towering windshield and large side mirrors. Even at full throttle, however, there isn't much noise from the road or the four-cylinder engine. The climate control system copes reasonably well with extreme temperatures, which is critical for a large group on a road trip.
The panel van will be the Mercedes-Benz Sprinter car of choice for most consumers in the food industry or medical supplies industry, and it is here that Mercedes-Benz excels, with four body lengths, three load heights, and GVW ranging from 3.0 to 5.5 tonnes.
The Sprinter, in its most powerful form, boasts some remarkable stats. There's enough room for seven Euro pallets and a payload of 3150kg. The front-wheel-drive Mercedes-Benz Sprinter will appeal to food delivery drivers due to its increased load space and 80mm lower load sill than the rear-wheel-drive variant.
Hardwearing, slip-resistant plastic flooring and wood panelling are also available, with LED illumination included in all variants so you don't have to fumble around in the dark at the end of the day looking for that elusive tool or delivery.
All Mercedes-Benz Sprinters have a load area of 1787mm behind the rear tyre arches and 1200mm between them, which is quite useful. The rear doors are now considerably easier to open to the sidewalls, and there is no longer a mechanically released catch at the 90-degree position, allowing them to be opened with one hand.
The load space is spacious enough to fit a Euro pallet thanks to the side sliding door. This gives you a great Mercedes Benz user experience.
How smoothly can the Mercedes-Benz Sprinter be used as a refrigerated van?
The Mercedes-Benz Sprinter is the ideal vehicle for use as a temperature-controlled van. The term "temperature-controlled" refers to a range of temperatures, usually between 2°C and 8°C, that are necessary to maintain the quality of perishables such as food, pharmaceuticals, and chemicals.
So, with ample space, a low centre of gravity and an extremely high level of safety due to its modern safety systems, the Sprinter has been painstakingly engineered to be reliable, economical and easy to operate when using it as a refrigerated delivery vehicle.
With a wide array of body styles, drivetrains and cab sizes available, this can be a truly custom vehicle. A highly-efficient refrigeration system that runs off the main electrical system cools the cargo compartments, even when the engine isn't running. That makes it very suitable for hauling perishable goods as with any other refrigerated van out there.
The refrigeration system is integrated into the engine compartment by an electric cooling coil, which has been tested for operation at temperatures of up to minus 30 °C. This means that there is no loss of performance due to thermal heat exchange – it operates all year round and keeps the temperature constant.
Mercedes Sprinter Van Refrigeration Systems
There are many different types of refrigeration systems on the market today. Inside refrigerated vans, temperatures can range from 8 degrees Celsius to – 30 degrees Celsius. These temperatures fluctuate depending on the cargo inside.
Although the most common configuration is a single loading compartment, there are times when a refrigerated van will have many compartments, each maintained at a different temperature. Another factor to examine is if the refrigeration system will be required to operate independently of the engine.
Alfresco serving of chilled food at weddings, festivals, and other outdoor events is a common use for this type of Mercedes Sprinter refrigerated van. You'll need a backup power supply in this situation. This allows them to connect the refrigeration system to an external power source (single-phase or three-phase), allowing them to keep their product cool or frozen indefinitely.
Glacier Vehicles obtains equipment from all of the most recognised Mercedes Sprinter refrigeration van equipment companies, and we are delighted to create a custom system to meet your specific requirements.
Contact us today on 0208 668 7579
Other reviews on Mercedes Sprinter refrigerated van
What is the Mercedes-Benz Sprinter's driving style?
The diesel engines in the Mercedes Sprinter Mk3 are the same as before, but they feel more refined. We've panned Mercedes' 2.1-litre diesels in-vehicle applications, but they're not as noisy here and only generate minor vibration when the stop-start system is engaged.
The light steering is the first thing that strikes you about the Mercedes-Benz Sprinter. That's because it now has speed-sensitive power steering, which adjusts the amount of help based on how fast you're driving. At low speeds, the help is greatly increased, making parking and three-point turns a breeze: you can even spin the wheel with just a couple of fingers on one hand.
The weighting increases as you accelerate, albeit it feels a little light when negotiating roundabouts at 20-30 mph. At higher speeds, though, the steering has a solidity about it that makes the Mercedes-Benz Sprinter feel stable.
Mercedes Sprinters with front-wheel drive and rear-wheel drive
Aside from the improved payload and lower loading floor, the new-for-this-generation front-wheel-drive Sprinters appear to be more refined — the engines are quieter, and the cab vibration is lower, albeit still higher than some rivals.
All Mercedes-Benz Sprinters come with a six-speed manual gearbox, but the front-wheel-drive version is easier than the RWD model, which occasionally takes a firm shove. However, none is especially enjoyable, and the drivetrains perform best when paired with the available automatic transmissions.
However, the old seven-speed automatic transmission (7G-Tronic) in RWD Sprinters is outclassed by the new nine-speed automatic (9G-Tronic) in FWD vehicles, which offers superior smoothness and response.
All of this makes you wonder why anyone would buy a rear-wheel-drive Sprinter in the first place. rear-wheel-drive versions, on the other hand, are better adapted to heavy loads because of enhanced traction and higher gross vehicle weights. Which explains why, at the time of writing this, the UK range had been reduced to just one front-wheel-drive engine option, down from three previously.
Engines, gearboxes and handling
When it comes to driving, the Mercedes-Benz Sprinter is one of the best large refrigerated vans. It has a reassuringly solid feel on the highway thanks to its refined engines and speed-sensitive handling.
The 2022 Mercedes-Benz Sprinter van is simple to operate, which will appeal to van operators who change drivers frequently. They'll also be comforted by the Sprinter's variety of semi-automated driver assistance, which includes everything from autonomous city braking to a sleepiness detection system that will alert the driver to take a break if it detects errors on the road. When reversing, the rear traffic alert package is a must-have feature that warns the driver of approaching vehicles.
What Equipments does the Mercedes-Benz Sprinter come with?
The standard equipment covers the majority of the essentials, and the options list is extensive.
When it was first released in 2018, this Mercedes-Benz Sprinter car came in just one variant, although it came with more standard features than the rest of Europe, as well as an extensive variety of extras.
Although the extensive options list continues, Mercedes-Benz Vans UK now offers the Mercedes-Benz Sprinter in three trim levels: Pure, Progressive, and Premium, as of mid-2022.
The Pure model is only available as an entry-level package with light-duty front-wheel-drive vans with a 143hp 2.1-litre engine and a gross vehicle weight restriction of 3,000kg. The worst part is that it has a set steering wheel position instead of an adjustable one.
There's also the option of a fully electric Sprinter van. The Mercedes-Benz eSprinter is front-wheel drive and is single drive – meaning there is no gearbox. Trim tiers in the Sprinter start with the Pure model, followed by Progressive and finally Power. Mercedes briefly abandoned dedicated new trim tiers, instead of allowing the Sprinter to be customised.
Highlights of Mercedes Sprinter standard equipment include:
Full-width partition bulkhead
Plastic floor covering
Head-insulating glass
Headlight assistant
Double locks
Integrated connected alarm system
MBUX 7.0-inch touchscreen infotainment system with Wi-Fi, DAB, Bluetooth, USB-C connection, Apple CarPlay and Android Auto
Keyless start
Keyless entry
Electric power steering
Electric heated door mirrors
Parking sensors
Adaptive cruise control
Multifunction steering wheel
Dual passenger seat
Highlights of the Mercedes Sprinter Progressive standard equipment (in addition to Pure):
Driver's armrest
Lidded dashtop storage
Wooden flooring
Extra USB-C socket
Adjustable steering column
Height and rake adjustable steering wheel
Front grille frame in body colour
Parking package (including reversing camera and Parking Assist)
Full wheel trim covers
Air-conditioning
Driver's seat
Lane Keeping Assist
Lane Tracking Pack
Upgraded seat trim
What about the MPG and fuel economy?
The Mercedes-Benz Sprinter is powered by the same Euro6 engines as its predecessor, with four-cylinder 2.1-litre turbodiesels and a powerful 3.0-litre V6 both available.
The claimed economy is 41.5mpg, with outputs ranging from 114 to 177 horsepower for the 2.1 units and 190 horsepower for the V6.
The 2500 Sprinter Passenger is a heavy-duty vehicle that is not subject to EPA fuel economy testing or labelling. When you consider how much weight the 2.0-litre engine is pulling, it's actually quite efficient. On our 115-mile city-and-highway evaluation route, our test van returned 17.1 mpg. The diesel engine is expected to outperform the base four-cylinder in this category, although it comes at a greater price.
Looking to buy a new or used Mercedes Benz Sprinter?
We have one of the largest selections of pre-owned and used vehicles around!
Glacier Vehicles is a premier supplier of new and used Mercedes-Benz Sprinter refrigerated vans. We have an extensive inventory of all models at the best possible prices, along with flexible financing options to help you get cold chain transportation faster.
Call us at 0208 668 7579 or stop by our location today!