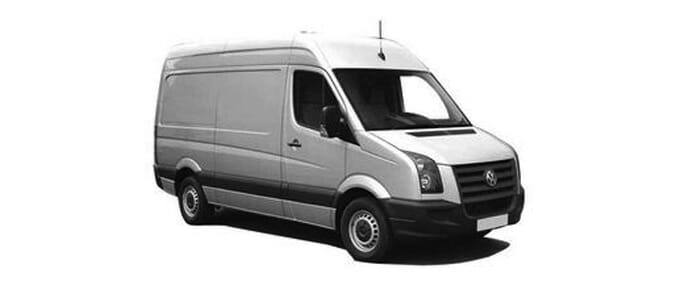 One large fridge van does it all when businesses need to move big loads of refrigerated items. That refrigerator van is the Volkswagen Crafter. For every task, there are different Crafter types. The two best varieties for refrigeration purposes have adaptable chassis cabs with tough tippers and dropsides and panel vans with choice of roof heights and wheelbases.
Features of the Volkswagen Crafter
There is a laundry list of standard features that come with the Volkswagen Crafter. Some of these include: • Reach and rake adjustable steering wheel • Electric front windows • RSD 4000 radio/audio interface with Bluetooth • Power steering • Tool kit and jack • Heat reflective glass
Under the Hood
A big burden on businesses and one of a used refrigerator van's biggest running costs is fuel nowadays. Volkswagen has applied their years of experience developing advanced turbodiesel technology to create the Crafter's 2.0 litre TDI engine range. Compared to before, the Crafters now use as much as twenty percent less fuel while delivering more power.
The engine range on the used large refrigerated van for sale tops out with a 163PS 2.0 litre TDI which has a lot of torque and power for heavy loads. The most fuel efficient engine is the 109PS 2.0 litre TDI. With the ultra-efficient BlueMotion model or other models that have added BlueMotion technology, businesses can cut emissions even furtherand save even more fuel.
Load Sizes
There are Crafter large fridge vans (click here to learn more about our fridge vans) for almost any load with three different roof heights, three wheelbases, a payload of up to 2.6 tonnes, and four body lengths. Wherever your refrigerated goods are needed, the Crafter can fit them. The smallest Crafter with the shortest wheelbase has a hefty payload of 1,428kg, seven and a half cubic metre load volume, and load bay that takes objects up to 2.6 metres long.
The medium-wheelbase used fridge van has a payload of as much as 2,604kg. The Maxi model, which has a long wheelbase and is first in its class, has a seventeen cubic metre load volume and 4.7 metre load length. A standard Euro pallet can fit through the sliding side door. To make it even easier to use the 1.56 metre load width, the rear wing doors open to a 270 degree angle, folding right around. There are at least six load lashing rings on the floor and two more on the B-pillar.
Volkswagen Crafter Van Refrigeration Systems
There is no shortage of refrigeration systems available to choose from. The temperature inside the Volkswagen Crafter refrigerated van may differ drastically, from highs of 30c right down to minus 30c for products that need extremely cold storage.Whilst most businesses require one loading compartment, many businesses need double (even triple) loading compartments, providing them with the capability to transport two / three products at various temperatures simultaneously. Sometimes it's important for the Volkswagen Crafter refrigeration van to work-even with no engine running. This is most common with refrigerated van which will be used to serve cold food at outside events. When this is required, we will need to use a backup power system. These sorts of Volkswagen Crafter freezer vans will then be connected to an external power supply, normally a general three phase or single-phase source. This has the result of keeping the goods kept inside chilled, even with the engine entirely off.Glacier Vehicles work with all the main refrigeration manufacturers and can offer and fit the required fridge / freezer equipment to cover any bespoke requirement our customers have.
Freezer/Refrigerated Van Insulation
Insulating material is an incredibly important component in Volkswagen Crafter refrigerated vans, and it is this element, when along with the choice of refrigeration system, that'll determine the interior temperature of the vehicle.In all cases, Glacier Vehicles utilizes Styrofoam insulation which, although very lightweight (aiding the vehicles payload), is a dense and highly thermal material. For chilled temperatures ( 5oC to 0oC) 50mm Styrofoam is employed, for moderate frozen (0oC to -18oC) 75 millimeters Styrofoam is used and for deep-frozen (-18oC to -30oC) 100mm Styrofoam is needed. Two different types of 'finish' are utilized to coat the insulating material after installation. These are called dry line and wet-lay. Over the years, we have discovered that wet-lay is the best method, and it's also the one we use exclusively. It uses a resin to make sure that the internal freezer compartment is totally sealed for safe transfer of foodproducts.Our engineers have even won several awards for their skills in creating Volkswagen Crafter freezer vans, and we feel extremely lucky to have them on board. If the coating of resin inside the refrigeration van is damaged at any point, it can be repaired exceptionally easily. This is an additional benefit of the moist-lay coating.The primary difficulty with the more recent dryline method of insulation, is that due to this being of a prefab construction, once the roof, floor and walls have been installed in the rear of the panel van, the connecting sides of the panels are filled with a sealer which, as time passes, can perish and have cause for condensation to penetrate the insulating material itself and cause mould to form, which is never good when carrying food products!
Volkswagen Crafter Refrigeration Van Engineers
Our clients frequently have questions about the build process, plus our engineers are the very best people to turn to for all of the technical details. They also work hard to help keep our Volkswagen Crafter freezer vans build process running smoothly, fulfilling the generally tight time constraints of our valued customers.In addition to the fitting the refrigeration systems, our engineers undertake any and all of the bespoke requirements our clients have.
Van Warranty
It does not matter whether you are purchasing one of our new or second-hand Volkswagen Crafter freezer vans, all of our conversions use brand-new equipment which comes with a full 12 month manufacturers warranty. We have found that GAH and Hubbard are the finest refrigeration equipment manufacturing companies in the whole world, and we will use their products in both our small and large Volkswagen Crafter refrigerated vans for sale unless you specify otherwise. This isn't simply for their outstanding quality, but additionally their high levels of after-sales service. These companies have engineers situated all over the country, if your deep Volkswagen Crafter freezer van wants any servicing. These engineers will go to you, instead than you needing to go to them.
New Volkswagen Vehicles
USED Fridge Vans In Stock by Size