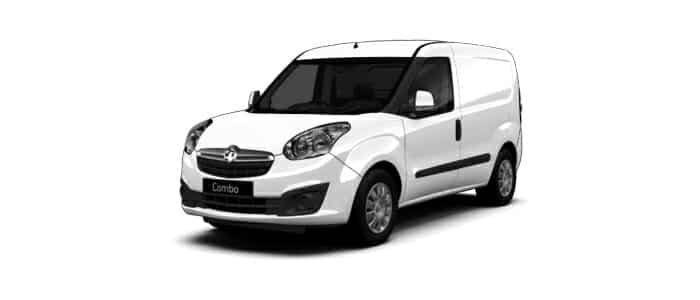 Vauxhall Combo Freezer Van Specification
Give any business a lift with the Vauxhall Combo fridge vans. The Combo delivers a long list of commercial firsts for small freezer vans. In the cargo department, it is accessible and roomy. It is also robust, efficient, and dependable. Plus, it is more practical than ever, now that there are high roof, Crew, and long wheelbase models available. A food delivery business can really deliver with a freezer van with this many capabilities.
Standard Features
While providing a cost efficient and well-equipped ride, the Vauxhall Combo small freezer vans feature stylish good looks. Included in the standard features are
• Unglazed asymmetric rear doors
• Body side protection mouldings
• Anti-lock Braking System with electronic brakeforce distribution
• Illuminated load area
• Full height steel bulkhead
• Remote control central deadlocking
Under the Hood
Even when it is hauling heavy loads, Combo's bi-link independent rear suspension gives the best possible handling and ride quality when it comes to everyday driving of a used freezer van. For all intents and purposes, the Combo is a work vehicle, yet it still performs with incredible verve. There are a variety of engine choices, including a 1.4i 16v (95PS) Start/Step petrol unit and four efficient yet powerful Euro 5 compliant turbo diesel engines.
1.6CDTi 16v (105PS) Start/Stop, 1.3CDTi 16v (90PS), 2.0CDTi 16v (135PS), and 1.3CDTi 16v (90PS) ecoFLEX Start/Stop are the units that compose the diesel range. The 1.6CDTi 16v (90PS) version comes complete with Tecshift transmission and Start/Stop. Start/Stop cuts down on emissions and fuel bills by switching the engine off when stopped in traffic or at lights. Once the clutch is depressed, it quickly restarts the small freezer van.
With urban driving, the diesel engines in this small freezer van can use as little as five and a half litres per 100 kilometres. That number drops to 4.2 for extra-urban driving. The CO2 emissions for the various engines range from 125 g/km for the ecoFLEX diesel to 168 g/km for the petrol unit.
Load Sizes
There is no mistaking the Combo's cavernous load area with a massive 3.4 cubic metre load size for the smallest, standard roof, short wheelbase used freezer vans version. All of freezer needs will be covered by this cargo space capable of comfortably swallowing just about anything. There are long wheelbase and high roof versions available for even bigger freezer needs. An huge five cubic metre loadspace is created when both are combined. Plus, with the high roof model, it reaches over one and a half metres of load height.
There is a vast array of load area options, such as internal ladder carriers and load flaps, which allow businesses to exploit the Combo's remarkable carrying potential. These are some of the best used freezer vans for sale.
New Vauxhall Vehicles
Used Freezer Vans In Stock by Size


Van Refrigeration Systems
A wide array of different refrigeration systems are currently available. The temperature in the Vauxhall Combo refrigerated van can differ drastically, from highs of 30c right down to minus 30c for merchandise that need exceptionally cold storage. While most freezer vans have a single compartment that is kept at a single temperature, some big Vauxhall Combo refrigerated vans will have several compartments which are each kept at different temperatures for different products.Another factor is if the refrigeration system will be required to work independently of the engine. One example is companies that cater outside events where persistent cold storage is needed. In this type of situation, we shall need a reserve power supply. These kinds of Vauxhall Combo freezer vans will then be connected to a peripheral power supply, normally a general three phase or single phase source. It's the result of keeping the merchandises stowed inside cooled, even with the engine totally off. Glacier Vehicles source equipment from all of the most reputable refrigeration van equipment companies, and we are very happy to create a bespoke system for your specific needs.
Freezer/Refrigerated Van Insulation
Insulant is an unbelievably significant component in Vauxhall Combo refrigerated vans, and it is this element, when combined with the choice of refrigeration system, which will determine the interior temperature of the vehicle. We use Styrofoam insulation exclusively, as we believe its blend of light weight and thermal insulation qualities make it the finest material to insulate a vehicle. We'll use differing thicknesses of Styrofoam with regards to the degree of chilling necessary. These range from 50mm Styrofoam for our chiller compartments to ultra thick 100millimeter Styrofoam for compartments that have been built to keep deep freeze temperatures. There are two different choices to 'finish' the insulating material: wet-lay and dryline. In our opinion, wet-lay is the best method, particularly for transporting food. The interior of the compartment is coated with a resin, which dries to create an impregnable coating on top of the insulation.Many of our freezer vans engineers have even won awards for their work, and we are extremely fortunate to work with them. The internal coating that is created by the wet-lay insulating material is also incredibly simple to fix in case of damage to the Vauxhall Combo freezer van. The dry-line coating uses multiple panels in the Vauxhall Combo freezer vans rather than a single, impregnable coating. These panels have sealer in between them, which often breaks down and encourages the growth of mould. This can cause significant issues in a vehicle designed to hold food.
Vauxhall Combo Refrigeration Van Engineers
Our customers often have questions regarding the build process, plus our engineers are the best people to turn to for all of the technical details. They also work hard to keep our Vauxhall Combo freezer vans build process running smoothly, fulfilling the typically tight time constraints of our valued customers. Our engineers likewise have the skills to make fully custom refrigeration solutions, tailored for almost any customer requirement in both big and little Vauxhall Combo refrigerated vans.
Van Warranty
Buying a refrigeration car from us means you will be given a complete 12 month manufacturers warranty on all equipment. This is because it's brand-new, even in our used Vauxhall Combo freezer vans. We believe that GAH and Hubbard are the finest manufacturers of refrigeration equipment, and we have a tendency to use these products in all our little and big Vauxhall Combo refrigerated vans on the market unless the client specifies otherwise. This is because we have discovered their products to be of exceptionally high quality, and their after sales service is, in addition, exceptional.They have engineers positioned throughout great BRITAIN mainland and visit the client's workplace (or wherever the van may be if out on deliveries) for any servicing / warranty requirements.
Glacier Vehicles Video