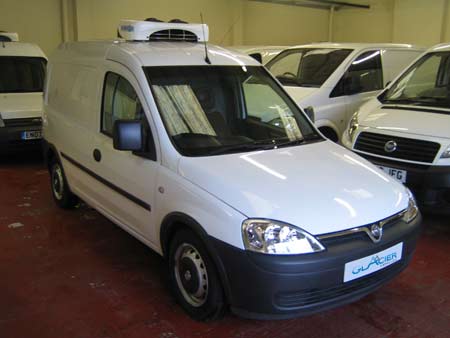 The 2015 Vauxhall Combo refrigerated van is practical and adaptable. It comes with a wide range of add-ons meaning it is customizable to the needs of you and your business. First and foremost it comes with modification to the load space, passenger space and internal storage, which makes the Combo perfect if your business is small, or doesn't carry a huge amount of refrigerated cargo.
Your Combo refrigerated van's engine can also be customized to suit your exact business needs, with a choice of two eco-friendly diesel engines which can yield up to 135PS, and a myriad of interior options, including cruise control, Bluetooth connectivity and parking sensors.
The Combo has been one of the only refrigerated vehicles to consecutively win What Van's Light Van of the Year award, in 2013 and 2014, and you can see why with the Combo's practical and inexpensive solutions to all your business needs. It has a standard trim and is also available in Sportive trim, which adds a substantial amount of features, which includes air conditioning, body-coloured mirrors and bumpers, and a soundproofed bulkhead and a nearside sliding side-access to the load-space, for your convenience.
The Combo refrigerated van has plenty more options when it comes to personalization and customization, Having a short-wheelbase model increases the storage capacity by 600 litres, taking the total prospective loading capacity to a remarkable 4000 litres. Loading the refrigerated vehicle is simpler than you think due to it's flat load lip and doors that can open 180* with a quick release mechanism. The 1230mm load width in-between the wheel arches means that the combo can easily accommodate (even it its smallest form) a large amount of refrigerated cargo.
Inside your refrigerated van
If you have a large crew, or just need a lot of space, the Combo refrigerated van is also available as a Crew Van, which adds a row of 60/40 split seats, meaning it can fit in up to 5 people whilst keeping a load-space volume of 1400 and 1900 litres for the short and long wheelbases respectively.
The Combo is ridiculously spacious inside and storage is plentiful with an overhead shelf fitted as a choice. Electric windows, a full-height, windowless bulkhead, CD radio with USB, auxiliary Bluetooth connectivity, cruise control and reverse parking sensors come as standard. This, as well as excellent temperature control make this one of the most up to date, top of the range vans on the market.
Driving
The Combo's 1.3-litre engine has magnificent green credentials and is also engine that Vauxhall reportedly feels it will shift the most units of. It has its work cut out of it, as the Combo is a sizable refrigerated vehicle, but while acceleration isn't particularly exciting, its overall performance doesn't draw too much criticism. The 1.6-litre performs better and would be better and is more suitable for a business dealing with higher payload and longer distances. If you need more, you can request a 135bhp 2.0-litre engine.