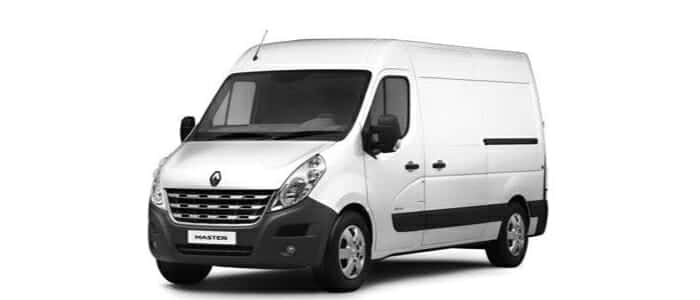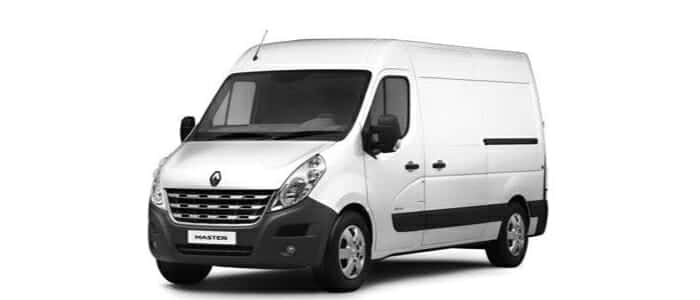 The Renault Master was launched in 2010, and since then it has found no shortage of admirers. The Master excels in many areas, but the excellent engine and the extremely well designed cab are its greatest strengths. It's no surprise that it is used as a refrigerated van so often. It's an extremely versatile vehicle, with a huge multiplicity of configurations ensuring it can be used in any situation where a fairly large to extra large refrigerated van is required. It's available in four different lengths and three different roof heights, offering load volumes of 8 cubic meters all the way up to a cavernous 17 cubic meters. This equates to a minimum payload of 1000kgs and a maximum payload of 2254kgs.
A formidable 2.3 litre engine, available in 100bhp, 125bhp and 150bhp variants, powers the Master. Renault's engineers have painstakingly crafted this ingenious piece of machinery with great fuel economy as the highest priority. The Master can deliver a fuel economy of 35.3mpg, which is absolutely staggering on a refrigerated van of this size. The CO2 emissions are similarly impressive, with just 194g of CO2 being emitted for every kilometre driven. There's also a gear change indicator as standard, which tells the driver when to shift up or down in gear for maximum fuel economy.
The quality of the engine's construction is also evident in how seldom you need to bring it in for a service, just every 25,000 miles (or 24 months). This is one of the best service intervals in this class of vehicle, and will certainly appeal to practically minded refrigerated van drivers.
The Master is also very practical when it comes to loading and unloading. There are two full size doors on the back, each swinging open a full 180 degrees, and the nearside sliding door is included as part of the standard specification. It's always nice not to have to pay extra for a side door, especially when you consider how useful it can be to access the back of a refrigerated van's cargo bay quickly.
As well as making for an extremely practical refrigerated van, the Master is actually fairly enjoyable to drive. No van of this size is going to be the most manoeuvrable vehicle on the road, but the Master's steering is responsive enough to avoid headaches in twisty urban streets. The engine is fairly quiet in comparison to competing vans.
The cab of the Master is generally regarded as one of the best designed in any van of this size. Renault have put a huge amount of thought into how the van will be driven. Intuitive design is characteristic of Renault, but the cab of the Master is impressive even by their standards. It is incredibly ergonomic and comfortable. There's also plenty of storage space, including a large compartment underneath the passenger seat where valuables can be stored out of view.
Overall, the Master is an excellent choice if you are looking for a large refrigerated van. Both the engine and the interior have been expertly designed, and are among the best available.
New Renault Vehicles
USED Fridge Vans In Stock by Size
Renault Master Van Refrigeration Systems
There are a variety of refrigeration systems available on the market nowadays. The temperature in the refrigerated van may differ radically, from highs of 30c down to minus 30c for products that need exceptionally cold storage. Some Renault Master freezer vans have a variety of different compartments kept at differing temperatures. There may be two, and some even have three, although the most frequent arrangement is only to have a single refrigerated compartment in a single-vehicle. Sometimes it is necessary for the Renault Master refrigeration van to work even with no engine running. This situation is most usually found with companies who need mobile refrigerated vans to serve cold products during outdoor occasions. For situations such as these, a back up facility is needed. The auxiliary power supply will normally be an external source, most typically three phase or single phase. This keeps the product cold, even when the engine isn't running. Our associations with major Renault Master refrigeration van equipment manufacturers means that we are able to create great value bespoke solutions, regardless of your prerequisites.
Freezer/Refrigerated Van Insulation
As with refrigeration systems, the kind of insulation used depends upon the loading temperature which is required. In all cases, Glacier Vehicles utilizes Styrofoam insulation which, whilst very lightweight (helping the vehicles payload), is a dense and highly thermal material. A different depth of Styrofoam will be used for various levels of insulation, with comparatively thin Styrofoam (50mm) used in cooled compartments, moving up to 100mm thick Styrofoam for deep freeze compartments. There are two distinct choices to 'finish' the insulation: wet-lay and dry line. We feel that wet-lay is the most effective method, which is the sole one we use. A resin is applied to the inside of the compartment and left to dry, producing a completely sealed washable coating around the insulant.Our engineers are so skilled at creating Renault Master freezer vans that they have even been recognized in several engineering awards, and we feel extremely proud to have them as part of our company. If the finish of resin in the Renault Master freezer van is broken at any given point, it can be fixed exceptionally easily. This is another benefit of the wet-lay coating.The principal issue with the more recent dry-line method of insulation, is that due to this being of a pre fab construction, after the roof, flooring and walls have been installed in the back of the panel van, the joining sides of the panels are filled with a sealer which, as time passes, can perish and have cause for condensation to penetrate the insulating material itself and trigger mould to form, which is never good when carrying food products!
Renault Master Refrigeration Van Engineers
They are the ones we all turn to for answers to the many day-to-day questions we get from clients, and they are the unsung (except for this rare pat on the back!) hero's in regards to keeping the build process smooth and moreover, on time for our customers!In addition to the fitting the refrigeration systems, our engineers undertake any and all of the bespoke refrigerated vehicle requirements our customers have.
Van Warranty
Purchasing a refrigeration vehicle from us means you will be given a complete 12 month manufacturers guarantee on all equipment. This is because it's brand new, even in our used Renault Master freezer vans. We have discovered that GAH and Hubbard are the top refrigeration equipment manufacturers in the whole world, and unless you specify otherwise we will use their merchandise in both our little and big Renault Master refrigerated vans available. This isn't just for their outstanding quality, but additionally their high levels of after sales service. If any issues occur with the refrigeration compartment in your Renault Master freezer van, these companies both send an engineer to your location to fix the issue instantly, no matter where you happen to be.
Glacier Vehicles Video