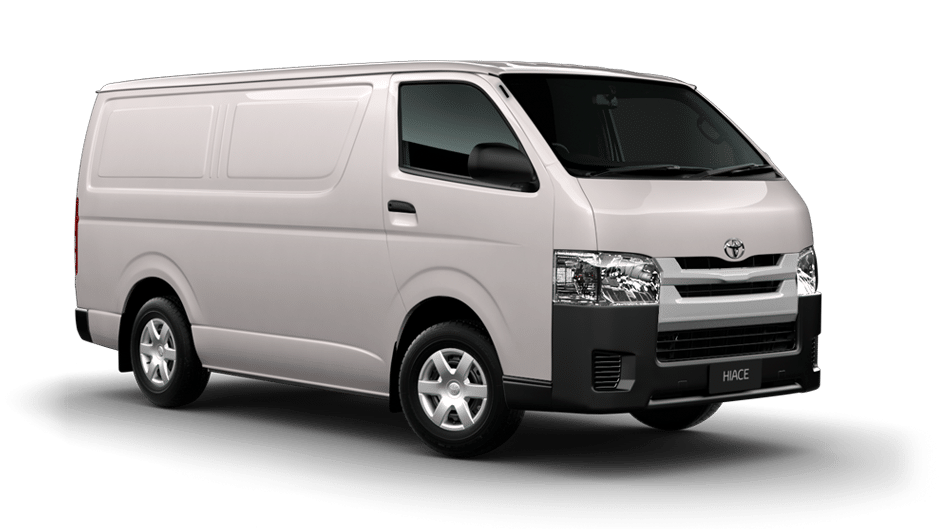 The latest Toyota Hiace Refrigerated Van is a minivan with the reliability and comfort you've come to expect from the brand. With 4 engines, 2 trims and a well-fitted refrigeration unit, this vehicle can serve your temperature-controlled logistics needs.
This new Toyota features a unique exterior, roomy interior, and durable build quality. To learn more about the Toyota Hiace 2022 Review, read below!
Toyota Connected Services, which includes a 24/7 Emergency Call Centre function that communicates the vehicle's position in the case of an accident "that demands intervention" or if an airbag deploys, is now standard on all these refrigerated van models.
A new SOS button inside the cabin can also be used to manually activate the e-call capability.
All versions get a new centre console box, which replaces the old tray, and Commuter GL variants get a LED light and updated USB charging ports.
An A4-sized binder rack and a sliding divider that can be used as a cupholder are included in the box. All-weather front floor mats and a new low-profile antenna complete the improvements.
Can the new Toyota Hiace be fitted with a temperature-controlled refrigeration compartment?
The new Hiace dash has been redesigned, so it's more spacious than ever. All the Hiace in Glacier Vehicles stock has been fitted with a temperature-controlled refrigeration unit and it is perfect for your business if you need to transport frozen goods. The new Hiace also has an optional second row of seats – this means you can fit bigger items in the back of the van.
Is the Toyota HiAce Refrigerated Van the Right Vehicle for You?
It's designed to meet your company's needs while also providing the driver and passengers with the most comfortable ride possible. This refrigerated vehicle has exceptional performance both on and off the road, making it an unrivalled van for delivery professionals in the food industry, Beverage industries, Pharmaceuticals industry and Medical supplies industry.
It features a large load capacity and ample comfort, measuring 5380mm by 1880mm by 2285mm. It barely weighs 1700 pounds, making it one of the lightest and most nimble refrigerated vans in its class, allowing for comfortable long and short-distance travel.
Engine Specifications
The 2022 Toyota HiAce is powered by a 2.8-litre turbo-diesel four-cylinder engine that produces 130kW of power and 420Nm of torque with the manual transmission and 450Nm with the automatic transmission.
The outputs of the Commuter are lower, at 120kW and 420Nm. Rear-wheel drive is standard on all variants.
The refrigeration unit has been fitted with the following standard equipment for optimum thermal insulation:
Evaporator
Condenser
Compressor
Fan
Temperature sensor
Controller
Defrost timer
Heating element
Door seal
Gasket
Fuel Economy
On the combined cycle, the 2022 Toyota HiAce uses 7.5L/100km with the manual, 8.2L/100km with the LWB auto, and 8.4L/100km with the crew van and Super LWB.
For the Commuter versions, no fuel economy figures are available. A 70-litre petrol tank is standard on all versions.
Safety Equipment
The following safety features are standard on all 2022 Toyota HiAce models:
Rear cross-traffic alert
Automatic high-beam
Traffic sign recognition
Reversing camera with front and rear parking sensors
Autonomous emergency braking with pedestrian and daylight cyclist detection
Blind-spot monitoring
Lane-departure warning
Lane-keep assist
2022 Toyota HiAce Standard Equipment
Except for the crew van, which seats five, and the Commuter, which seats 12, all HiAce models seat two people. Please note that the Toyota HiAce available at Glacier Vehicles has all their back seats removed and then fully converted to a temperature-controlled logistics van.
Except for the Commuter, which has a single sliding door, other versions have dual sliding doors.
The following features are standard on all HiAce models:
Leather-accented steering wheel
Front USB port
Full-size spare
16-inch steel wheels
The 8.0-inch touchscreen infotainment system
Wired Android Auto and Apple CarPlay
Bluetooth
Cruise control
4.2-inch instrument cluster display screen
Cargo Space
Cargo capacity has increased over the previous model, which is unsurprising given the vehicle's overall size.
Because of the semi-bonneted front, the Toyota HiAce is 570mm longer than its predecessor, measuring 5265mm from bumper to bumper. However, the wheelbase is longer, and the track is broader as well.
The new Toyota HiAce is only a centimetre taller than the previous model, with an overall height of 1990mm, but that roof height adds to the increase in load space.
The new shoebox has a load capacity of 6.2 cubic metres, but the rear length from hatch to front seats has been reduced by 470mm to a still-respectable 2530mm. The overall increase is a 5mm increase in interior height, which now measures 1340mm from floor to roof.
For the more visual, the extra cargo capacity will happily hold Euro pallets between the arches, and access has never been easier thanks to the usual feature of dual sliding doors.
Contact Glacier Vehicles today for your Toyota Hiace refrigerated van
Looking to buy a Toyota Hiace refrigerated van? Look no further than Glacier Vehicles. Contact us today!
Our Toyota Hiace refrigerated vans are perfect for food delivery or refrigeration and many other commercial applications.
These vans have proven to be reliable, durable and easy to operate. With a range of accessories available they are sure to make you more productive on the road. Contact us today to find out more about our new Toyota Hiace 2022 Refrigerated Van.
Call us on 0208 668 7579